We discount the others' discounted prices
Join Australian Escapes Holiday Club to save a genuine 15 to 60+% off the lowest (that means the LOWEST) prices advertised elsewhere. Australian Escapes is the original and biggest discounter of resort accommodation in Australia, delivering bargains since 2001. We offer genuinely discounted packages at over 300 of the best resorts, hotels and holiday parks around Australia.
We discount already discounted international travel
Save up to 40% off "unbeatable" Flight Centre, Harvey World Travel, STA and Helloworld Travel prices. This could mean thousands of dollars back in your pocket. We also discount cruises by up to 15%.
Send us your competitor travel quote even if you're not a member. We'll beat the socks off it, and show you how you can join today to save a pile of money.
Invest as little as $109 to save hundreds or even thousands of dollars off your first booking. 300% minimum guaranteed return in provable savings.
World-wide Savings Guarantee
Australian Escapes Holiday Club members receive 15% off the lowest advertised price of any hotel or resort that we can access and book anywhere in the world! We can't see every price every day, so keep an eye out - Seen a lower price? TELL US AND YOU GET 15% OFF THE LOWEST PRICE IMMEDIATELY AND WITH OUR THANKS! We beat Booking.com, Expedia, Wotif, Agoda, Hotels.com by 15% every day. Don't book with them, make sure you come back to us if you're a member.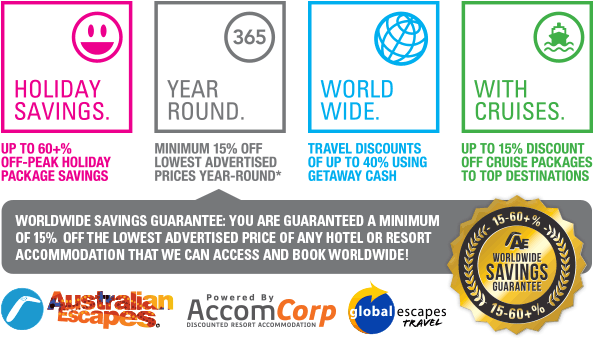 Membership Entitlements
As a member of Australian Escapes Holiday Club you are entitled to the lowest possible prices for holiday accommodation and travel. Use your Getaway Cash to receive the following discounts*
15% discount off the lowest advertised price of any resort, hotel or holiday park accommodation that we can access and book (that includes the accommodation component of any packages we promote on deal sites such as Groupon and Living Social)
Up to 60+% discount off the lowest advertised price of specially negotiated off-peak accommodation packages.
Up to 40% off international travel bookings based on quotes from equivalent full service travel agents such as Flight Centre.
Up to 15% off cruise bookings.
You are guaranteed a minimum of 300% return on your membership investment. For more information please view the member information section of our online catalogue.
* IMPORTANT: Make no mistake - we guarantee the lowest prices in the industry to you as a valued member. However we cannot possibly know every discounted price advertised by every property in Australia or elsewhere in the world week-to-week. If you see a lower price advertised for any property in our catalogue, or any resort or hotel we quote in a travel package, please tell us and we will gladly give you a minimum 15% discount off the lowest price.
2014/16 Holiday Club Catalogue
Australian Escapes Holiday Club's stunning, fully-revamped, 2015/16 catalogue is now available for online viewing. Soon it will be accessible by logged in members only but for now you can VIEW CATALOGUE ONLINE (NEW & IMPROVED CATALOGUE VIEWER).
Contact Us: 1800 636 236
Call today to make a booking or enquire about joining from under $9 per month and how you can save hundreds of dollars on your first getaway.