Get away more often for less here and overseas
As a member of Australian Escapes Holiday & Travel Club you'll enjoy Australian and overseas holidays more often because of the affordability and genuine savings we offer. Browse our catalogues of heavily discounted resort and travel packages. Access exceptional value holidays to over 300 of the best resorts, hotels and holiday parks around Australia and popular destinations such as Thailand, Vanuatu, Fiji and Bali.
Save a minimum 15% up to 60+% off LOWEST advertised resort and hotel prices. See below for our 15% World-wide Savings Guarantee.
Save up to 40% off OTA and bricks & mortar travel agents' prices for international travel including Zuji, Travelonline, Expedia, Flight Centre, STA and Helloworld. Australian Escapes is the original and biggest discounter of resort accommodation and travel in Australia, delivering bargains since 2001. Send us your quote.
How do we do it?
Bulk-buying power that comes from having many tens of thousands of members! Our product team continuously sources and negotiates the best resort and travel deals. If you see a lower price for any resort, or you receive a travel quote from another travel company, use your membership and get the savings.
Time-share-based holiday (vacation) clubs charge upwards of $20,000 for memberships. With Australian Escapes you'll invest as little as $109 (average $369) for 12 to 48 months of holiday and travel bargains. Receive up to $3,000 in dollar-for-dollar Getaway Cash discount points. No time-share seminars to attend, just genuine holiday savings.
International travel discounts with premium service
We can organise your travel to anywhere in the world and you pay absolutely the lowest prices available for accommodation, airfares, car hire, cruises and more. Plus you automatically receive our Premium Travel Service package (see below) valued at $480 whenever you travel.
Australian Escapes personnel are trained, professional travel staff who will advise you and take care of every detail so you not only receive an exceptional value package you can just turn up at the airport with your bags ready to enjoy your holiday without a care.

You'll receive the same or better service at much lower prices. Don't pay for their retail shop space and big advertising overheads. And avoid these traps and pitfalls... Insiders' info
Send us your competitor travel quote even if you're not yet a member. We'll beat the socks off it, and show you how you can join today to save a pile of money.
World-wide Savings Guarantee
Australian Escapes Holiday & Travel Club members receive 15% (up to 60+%) off the lowest advertised price of any hotel or resort that we can access and book anywhere in the world! We can't see every price every day, so keep an eye out - Seen a lower price? TELL US AND YOU GET 15% OFF THE LOWEST PRICE IMMEDIATELY AND WITH OUR THANKS! We beat Booking.com, Expedia, Wotif.com, Agoda, Hotels.com by at least 15% every day. Don't book with them, make sure you come back to us if you're a member.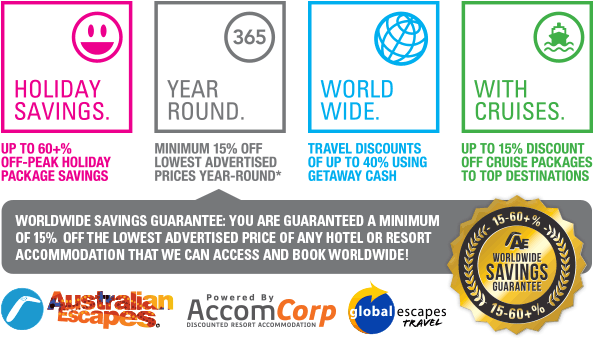 Member entitlements
As a member of Australian Escapes Holiday & Travel Club you're entitled to the lowest possible prices for holiday accommodation and travel. Use your Getaway Cash to receive the following discounts*
15% minimum discount off the lowest advertised price of any resort, hotel or holiday park accommodation that we can access and book (that includes the accommodation component of any packages we promote on deal sites such as Groupon and Living Social)
Up to 60+% off the lowest advertised price of specially negotiated off-peak accommodation packages.
Up to 40% off international travel bookings based on quotes from equivalent full service travel agents such as Flight Centre.
Up to 30% off cruises and cruise/travel packages.
15% minimum discount off comprehensive travel insurance.
Up to 30% off car hire, transfers and activities.
* IMPORTANT: Make no mistake - we guarantee the lowest prices in the industry to you as a valued member. However we cannot possibly know every discounted price advertised by every resort, online travel agent or store-based travel agency in Australia or elsewhere in the world week-to-week. If you see a lower price advertised for any property in our catalogue, or any resort or hotel we quote in a travel package, please tell us because we want to give you a minimum 15% discount off the lowest price.
Value guarantee
You are guaranteed a minimum of 300% return on your membership investment. For more information please view the member information section of our online catalogue.
Premium Travel Service Package
Our travel prices include all items (accommodation, airfares and special values) as well as our Premium Travel Service package valued at $480 (free to members) as follows:
Make accommodation booking arrangements
Source lowest available airfares and make all flight booking arrangements
Quote and arrange best-value comprehensive travel insurance
Organise and confirm all travel as well as activities and transfer itineraries
Arrange seat allocations, in-flight meals and baggage as required
Print and mail your itineraries
Provide 24 hour telephone support if you need last-minute assistance whilst overseas
Give you peace-of-mind and allow you to relax in the knowledge that everything has been done correctly