Own Your Life
We'll show you how and guide you every step of the way!
How to get started in your own work-from-home travel business with Australian Escapes & Global Escapes Travel
We're interested in applications from people who want to be self-employed in their own travel business and who are ready to get started immediately on a full-time basis. Part-time is not an option. Travel industry experience is also a must-have. Submit your application and we will provide details of the next ICP training group. Initial training is conducted online in three half-day sessions conducted from 10am to 2pm Queensland, Australia time (AEST). If applying please indicate your readiness to start immediately.
Weekly retainer (hourly rate) available for Australian or British expats with proven travel agency experience living in Thailand or Indonesia.
Australian Escapes Holiday & Travel Club, established 2002 is a member-based travel company based in Brisbane, Australia. We benefit our members with expert advice and world-wide wholesale travel pricing. Our company employs member services and support staff and have independent contractors who work from home in Australia and internationally.
For full details, please read our "Own Your Life" information package. Call or APPLY ONLINE NOW. We recommend that you complete this Suitability Questionnaire before applying.
What does it mean to you to own your life? Feeling like you're in control of your destiny? Making money, having the time to travel or do other things you enjoy doing? Not being tied to the work treadmill? Financial freedom! It means different things to every person.
Australian Escapes and Global Escapes Travel offer you the opportunity to achieve your financial and lifestyle goals working from home anywhere in the world as an independent contractor in your own member-based travel business.

There are no up-front fees, no ongoing fees, and no hidden costs. We use easy-to-learn travel management systems so it's easy for you to get started. You can get under way quickly and build a real business that generates an exceptional income even when you're on holidays! With dedicated effort you'll experience a lifestyle that most people only dream about.

Free yourself from the daily grind of driving to work and slaving away for someone else. Step into the travel industry with a team who've been marketing resorts and travel successfully for over 15 years.
This is an exciting and fun role, helping members with their travel plans, delivering great value holidays and building referrals for future business. You'll be assigned travel enquiries from existing members of Australian Escapes Holiday & Travel Club on completion of your establishment training. You'll also develop your own sources of new clients using proven methods.
With our easy-to-apply social media marketing, referral-building system and exceptional member value you'll start earning within a few weeks.

How members benefit
Genuine holiday value
Visit Australian Escapes main website for more information. After you apply we will give you access to the member area as well.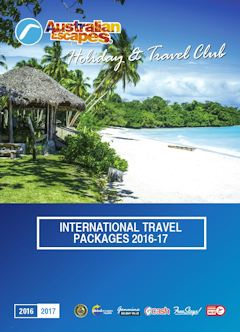 Click to view new and recent releases.
Members of Australian Escapes Holiday & Travel Club and Global Escapes Travel get your expertise to select the best value and best quality experiences without the big fees charged by shop-front travel agents. Plus they get wholesale prices for hotels, resorts and other travel products. Members use their Getaway Cash travel credits to get these discounts.
Learn more about why travel agencies have not disappeared (in fact the industry is experiencing growth) and where you fit in.
The opportunity
No up-front costs, no franchise fees, no multi-level marketing. No time-share SALES OR (holiday ownership) seminars!
Do you want to travel, have freedom to choose when you work and how many hours, spend more time with your children and have financial independence? All of these ideals are within your reach. You can work whatever hours you want to work. It is 100% flexible. You can do this!
Australian Escapes independent contractors are every-day people just like you who are licensed to use the Australian Escapes brand and build a member-based holiday and travel business.
The holiday and travel club concept started by Australian Escapes in Australia in 2002 is what distinguishes our agency program from other home-based travel agent groups such as Travel Counselors and Mobile Travel Agents Australia (MTA).
You can literally start your holiday membership and travel consulting business with a computer, internet connection and Skype account from your spare room or dining table. Your office set-up are your only up-front expenses. And you can choose your own hours.
"So it's like a franchise and our members are our clients?"
Exactly. You benefit from our knowledge, systems and expertise and operate under our banner, in your own business, dealing with existing and new clients. You get the associated tax benefits from this ATO approved structure. You receive a share of the revenue you generate from service fees, commissions and membership sales.
Own your life in 3 years or less means building a member-based travel business that allows you more freedom. It's not an MLM system; it's a system of servicing existing members and building a legitimate referral network from satisfied clients (how most service businesses are built) and then adding one or two support people over time to give you more freedom.*
Member loyalty, referrals and repeat business are all based on service and genuine value delivered.
* Eventually you can hire a part-time or full-time Personal Assistant or "Member Services Representative" to free up your time whilst continuing to provide the same exceptional service and value.
This could be perfect timing
And the perfect opportunity for you!
Have you ever wanted to get into the travel industry? The timing couldn't be better. More people than ever before are travelling regularly and many want professional advice.
Australian Escapes Holiday & Travel Club is made up of many thousands of members who have Getaway Cash discount credits to use towards their Australian and overseas holidays.
Travel industry experience and/or training will be an advantage but you don't need 5 year's travel agency experience to be successful; you just need to be willing to learn and willing to put in the effort to get established. Give us a call on 1800 669 579 and tell us why you would like to make this your new career.
Where and how do I start?
Just APPLY ONLINE or pick up the phone.
Read the information package and complete the suitability questionnaire. Then if you feel that the opportunity suits you the next step is simply to apply online or call 1800 669 579.
Only apply if you are genuinely interested in this opportunity.
There are numerous benefits of self-employment including the freedom to make your own decisions and the opportunity to earn in proportion to your abilities and efforts. If you're sold on the concept of being in the travel industry then your next decision is where to start.
If you're a "people person", responsible, service-orientated, and you pay close attention to detail then give this opportunity serious consideration because it's a great business. You can do it from home and we've made it easy for you to get started. Our expertise coupled with full establishment support will help you succeed. This is like a franchise where you are gaining all of the benefits of a proven system, but without the costs.
Existing member-base: You will start with existing customers to provide travel consulting and reservations services.
Itinerary builder software: Developed by us to automate the time-consuming process of preparing travel itineraries and pricing.
Centralised reservations: Frees you to focus on clients and business-building and avoids costly mistakes.
Easy start-up: We do not charge you anything. You only pay your home office expenses and for any promotional materials required.
On-going support and training: We offer ongoing support where you feel like you are part of a team as well as ongoing training to help make you successful.
Is this a good fit for you?
Take the time to complete our suitability questionnaire.
Read our "Own Your Life" information package then complete this Suitability Questionnaire.
Completing the Suitability Questionnaire will help you decide if working from home in your own travel business is right for you.
Often the main concern for people considering becoming an independent contractor with Australian Escapes is "How soon will I start receiving an income?". The lure of the steady pay-cheque is what prevents many people from taking the first step into their own business and more money. If you have the desire to be in your own business then in a few weeks you should start receiving an above-average, steady income. Plus you can save $4,000 to $6,000 per year or more in work-related expenses.

If you are currently employed you can start working a few nights and Saturdays to get things rolling. If you can work without money pressure for 3 to 4 weeks you'll never look back. All you really need to know is whether or not this is the path for you. You can discover that by reading our information package, talking to others in our organisation, and getting started.