Guided Tours
Australian Escapes Guided Tours

Australian Escapes Guided Tours started in 2020 in response to growing demand for affordable and interesting Australian group trips. Jump on board for a truly Australian experience.
Australian's are travelling close to home in 2020 and 2021 so we're gearing up accordingly. Also the New Zealand border will hopefully open up in early 2021 and many Australians will want to head over there for a holiday. We'll be operating tours in New Zealand under the Kiwi Escapes brand.
We've introduced tour packages to suit people who would like to share the trip experience with other people rather than travelling on their own.
Benefits of a guided tour
A guided tour by our definition is one where a person manages the tour from commencement to completion ("Tour Director") and includes one or more guided activities. The guided aspect can be varied. On package details: "AE Guided" is where we supply the tour director, and "Group-guided" is where the trip organizer manages the trip.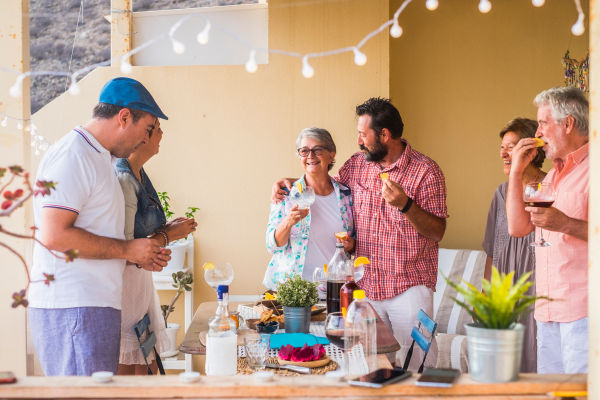 As a participant on a guided tour, you benefit from the following:
The thinking is done for you. You don't have to worry about logistics at all.

You get to see and do the most important sights and experiences.

You make new friends and have a great time.

You benefit from the savings we achieve on group bookings.

You can travel as a single or couple.

You learn much more about the new places you visit.

You can blend independent time with group time for the best of both worlds.
The main benefit and the real joy for you comes from the new friendships that you form. The trip itself is just the glue that keeps you together each day. That experience alone can be worth the price of the trip and will represent a large part of the fond memories you keep.
Our tours come in configurations to suit singles, couples, small groups and larger charter groups. Some are bus tours whereas others are tour packages that merge local experiences with varying levels of tour management.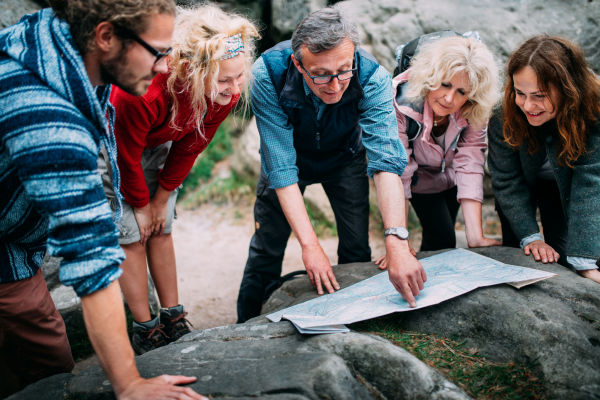 In general, each tour package is a template that can be customised to your needs and requirements. Let's look at the key differences according to what you might need:
For medium to large groups
If you are a trip organiser for Probus, Rotary, Apex or even a corporate group then your needs and requirements are different from those of a small group of say three couples. You might be considering a trip for 10, 20, 30 or more travelers. In that case, some of the factors to consider will be:
Great value and overall affordability
Marketing considerations (getting the word out)
Exclusive charter or shared charter
Quality bus to suit numbers
Flight and/or train arrangements if part of the package
Quality, central accommodation with breakfast
All other meals included
Full tour management (tour director on the bus or "group-guided")
Flexible itinerary to meet preferences
Fully-guided activities
Walking tour audio-guide technology
Most of our packages already include these elements in the base pricing.
One of the key variables is tour management. A professional tour director means you can relax knowing that every detail is being handled. As a group size increases so do the organisational aspects. However, for smaller groups, this tour can be managed by the group trip co-ordinator (see "Tour Manager Notes & Guide" below).
Another factor is whether or not you are open to sharing a tour with another "affinity group" such as another Probus branch, or if you prefer exclusivity to your group (see "Shared group charter" below).
Shared group charters
A shared charter with another group from a branch of the same organisation, or even external couples and groups, distributes fixed expenses across a broader base and reduces prices for all. Apart from price benefits, there's the extra fun and camaraderie involved.
Travel planning and marketing
After we review your needs, we'll prepare a travel plan for that will set you the full details. From there we will further tailor the plan as needed so that you receive exactly what you want. Then we'll prepare a customised brochure for you to hand out or email to your group members for input and to determine numbers.
For small groups
Small groups are typically groups of friends, perhaps two to four couples. If this is you, your options include joining a shared charter as above, or organising your own group trip. Factors of importance to you will be:
Great value and overall affordability
Vehicle type to suit numbers
Flight and/or train arrangements if part of the package
Quality, central accommodation with breakfast
Other meals optional
Flexible itinerary to meet preferences
Fully-guided and self-guided activities
Small groups should consider any available shared group charters going in the same direction, however your own self-guided trip is easy to do. If you go self-guided then you'll love our "Tour Manager Notes & Guide" (see below). The key is having everything planned in advance as much as possible otherwise you find yourself continually trying to make decisions on-the-fly which quickly unnerves fellow travellers.
Our role
If you are a 100% DIY (do-it-yourself), experienced trip organiser, then you might not need us. However there are plenty of traps and pitfalls for the unwary. There is also the burden of responsibility to consider. For simple trips, this can be fine. For medium to larger groups or more complex trips, our job is to make sure everything is set up correctly, exactly as planned, from the outset, so you and the rest of your group can simply enjoy your holiday. At the same time, we can generally deliver better overall value than you can on your own.
Tour Manager Notes and Guide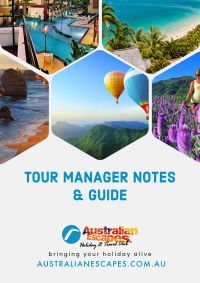 A complete guide is supplied to the group leader (trip organizer) if he or she would like to take on the role of tour director. Included is a comprehensive daily itinerary, driver instructions and information about each part of your tour to enable you to provide entertaining commentary. Also included are checklists and reminders about daily tasks.