HEAVILY-DISCOUNTED RESORT HOLIDAYS SINCE 2001
How does a "Deposit voucher" benefit me?
Gives you access to specially discounted holiday packages not available elsewhere.
Locks in the savings for up to a year (sometimes longer) giving you flexibility.
Deposit value comes off the discounted price as your initial deposit.
Australian Escapes negotiates special "bulk-buy" packages at Bronze to Diamond standard resorts with genuine discounts up to 60% off the lowest prices offered elsewhere. We pass on those huge discounts directly to you saving you heaps.
We promote a range of very affordable stays, for example 2, 3, 5 and 7 nights. You can make an immediate booking or you can buy a "Deposit voucher". The real value to you is that you can get away more often.
The first advantage to you of an Australian Escapes voucher is that it holds the discounted prices for up to 12 months, sometimes longer. You can decide later when you want to get away. You can stay 4 nights, 6 nights or more than 7 nights as well.

Special Offer: $118 Deposit Value for $79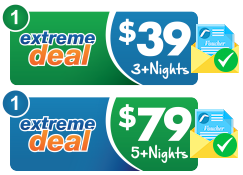 Two-stays Extreme Deal Voucher Bundle (Total deposit value: $118)
Price: $99
RECOMMENDED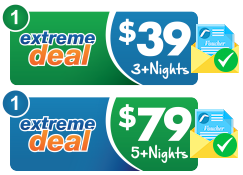 Two-stays Extreme Deal Voucher Bundle
1 x $39 deposit voucher, 1 x $79 deposit voucher to use on two holidays at Ki-Ea Apartments
Access maximum discounts on all accommodation packages
Locks in the discounts until 31/05/2021
$79 voucher comes off the already discounted price of any stay of 5 nights or more
Bonus $39 voucher comes off the already discounted price of any stay of 3 nights or more
Vouchers can be transferred to another person such as a friend or family member
Can also be transferred to a different resort with no transfer fee
Flexible options
Vouchers showing this symbol are fully transferable.
The voucher may be transfered (gifted) to any other individual or the deposit value may be transferred to a booking at a different participating property. Voucher expiry date and terms and conditions continue to apply. Voucher transfers are done in the "MY RESORT VOUCHERS" section of our website.
The best deal is to buy a "Voucher Bundle". You will receive more deposit and discount value for your investment with access to multiple discounted holidays.
The voucher deposit value comes off the discounted price of the holiday. So for example, let's say you have a $79 voucher and you want to stay 5 nights at the promoted resort. The discounted price is $549 for example. We will deduct your $79 voucher and you pay the balance at the time of booking, being $470. It's simple, and the overall advantage to you is you get to stay at top-class resorts at a much more affordable prices.
Book your first stay as soon as possible after you receive your vouchers to get the dates you want, especially if booking for spring and summer.
Why haven't I heard of this before?
If you have heard of Australian Escapes resort vouchers (marketed since 2001) you will already know that we offer by far the best deals available.
Discounted resort marketing using vouchers has been done in Australia since the early 1980's. Packages were originally promoted via telemarketing however that method has become less popular in recent years. There are only a few companies that continue to sell discounted resort packages by phone. If you only have a mobile phone, chances are you have not been called.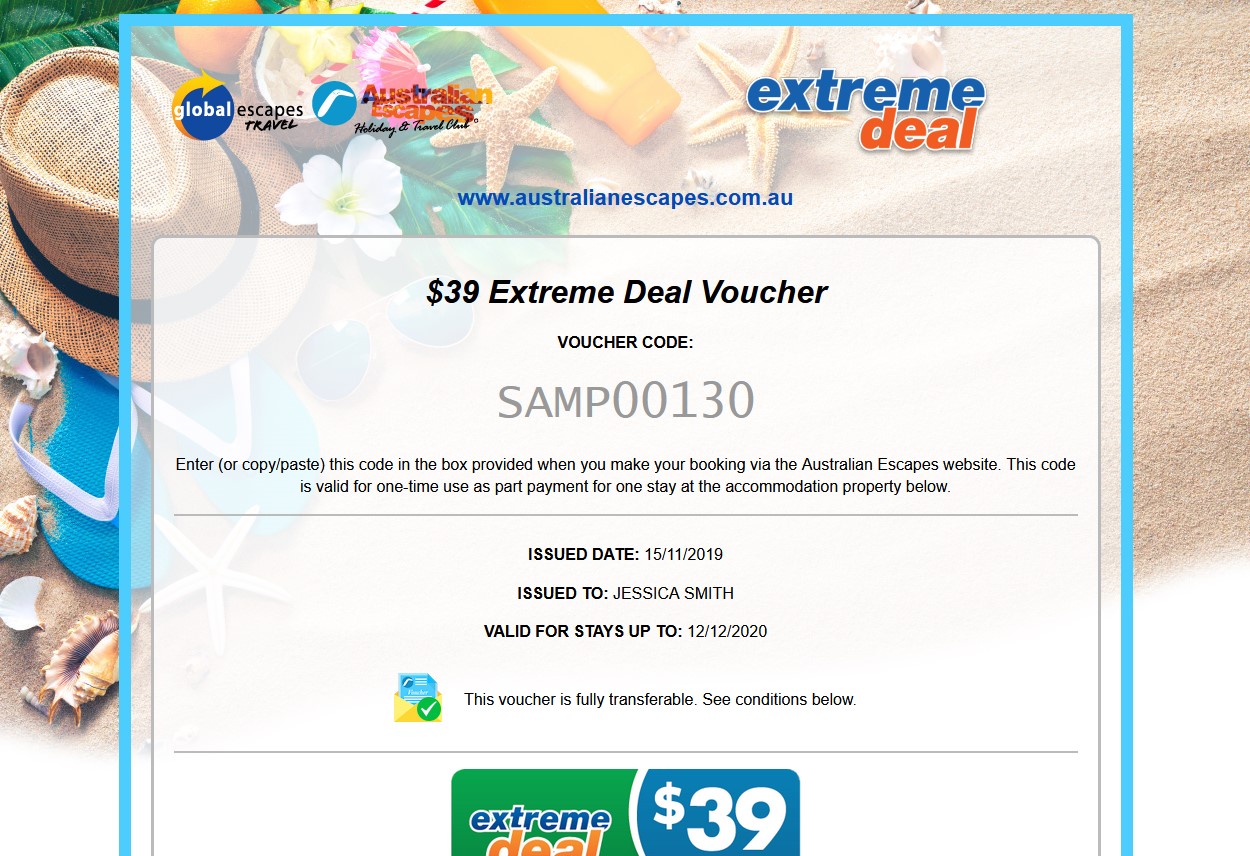 Australian Escapes has been at the forefront of discounted resort marketing since 2001. This was long before any online hotel & resort promoters appeared. We stopped promoting resorts by phone in 2016. We have now made discounted resort packages available via online channels such as Facebook and Google. From 2019 Australian Escapes returns with its legendary discounted holiday deals. You'll never pay retail again!
What's the catch?
There are no catches: no time-share seminars to attend, nothing extra to spend. These are simply specially-negotiated, bulk-buy packages that enable resorts to fill rooms that might otherwise go empty.
How it works in a nutshell:
You buy a voucher or voucher bundle
You receive an email with order confirmation linking you to the "My Resort Vouchers" area of our website.
You can print the vouchers and rate package details.
When you are ready to make a booking you log into "My Resort Vouchers" and submit your booking request.
No payment is required until the booking is confirmed with the resort or hotel.
The resort will usually confirm your booking on the same business day.
You'll receive an invoice and will have 24 hours to pay the final balance.
Savings off retail (including other accommodation and travel websites) can be as high as 60%.
What is involved in the travel club membership?
Travel club membership is optional and gives you many additional advantages. Read about the membership.
For more details visit our FAQ's page