Your Itinerary
From Budapest to Strasbourg, enjoy a unique cruise crossing three rivers and four countries. From the Danube to the Rhine via the Main, you will be dazzled by the beauty of landscapes but also by the sweetness of these rivers that form a link between people, cultures and traditions. Hungary, Austria, Germany and France will unveil their history and rich heritage for an unforgettable trans-European getaway. Join one of Europe's largest river cruise companies for this unique river cruise experience...
Cabins
After dinner, retire to your private cabin in comfort for the night: all our tastefully decorated cabins are equipped with air-conditioning, central heating, shower/toilets, satellite TV, safe, hairdryers— and each gives you a view of the river.
"Things that matter most: experienced and friendly staff and crew, clean and comfortable cabins and beds, reliable and safe ships, excellent food, incredible itineraries."
Lounge area and sun deck
The lounge bar is good place to spend time indoors with friends, or enjoy some entertainment. The sun deck of each boat offers a panoramic view of the landscape's beauty as you cruise. A great place to relax outdoors and enjoy the weather sipping a glass of wine.
Crew
We have a dedicated and knowledgeable staff of almost 1,000 people on our European river cruises, whose conviviality, attentiveness and professionalism ensures that your voyage will be comfortable and pleasurable. Our staff and crews speak French, English and many of them speak other major European languages as well. So you'll be in the heart of European culture and charm, but you'll always be able to find someone who understands you.
"Live life with no excuses, travel with no regret." - Oscar Wilde
DAY 1: ARRIVE BUDAPEST (1 NIGHT HOTEL, 2 NIGHTS CRUISE SHIP)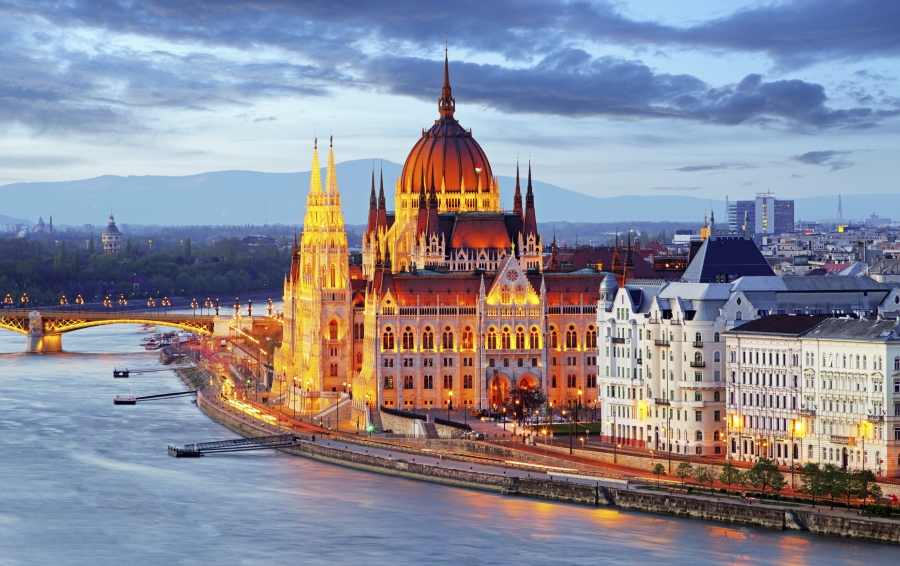 Arrive in Budapest and be picked up at the airport by your waiting driver. Tonight you'll stay at one of our featured hotels, the Prestige Hotel (or similar) where you can relax and unwind from your flight. Depending on arrival time, you can spend the night out at a local restaurant. (The hotel accommodation component is supplied by Global Escapes Travel.)
DAY 2: BUDAPEST
Passengers are welcome to board the cruise ship from 6:00 pm. After comfortably settling into your cabin, we'll introduce our crew at a welcome cocktail. Dinner tonight will be followed by an excursion for both packages: An evening of traditional entertainment in Belgrade.
DAY 3: BUDAPEST - VIENNA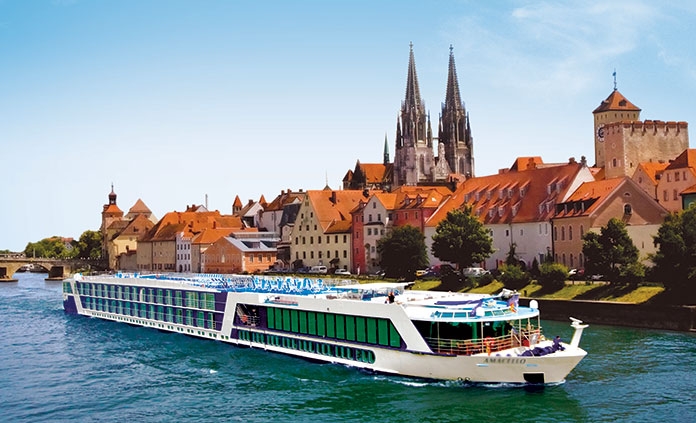 Join us for the excursions proposed:
CLASSIC: Guided tour of Budapest.
DISCOVERY: Discover Budapest by bike. You'll bike down the streets of Budapest and past the most renowned sites and locations of the city.
We'll return on board in Esztergom. In the afternoon, enjoy some time on your own exploring the former capital of Hungary. The city is full of treasures such as the Neo-classical basilica and former Royal palace. We'll return on board and depart for Vienna. Enjoy an evening of entertainment.
DAY 4: VIENNA
Upon arriving in Vienna, join us for an excursion for both packages: A visit to the Hofburg Palace, former residence of the Hapsburgs. Tonight, join us on an excursion for both packages: Tour Vienna by night.
DAY 5: VIENNA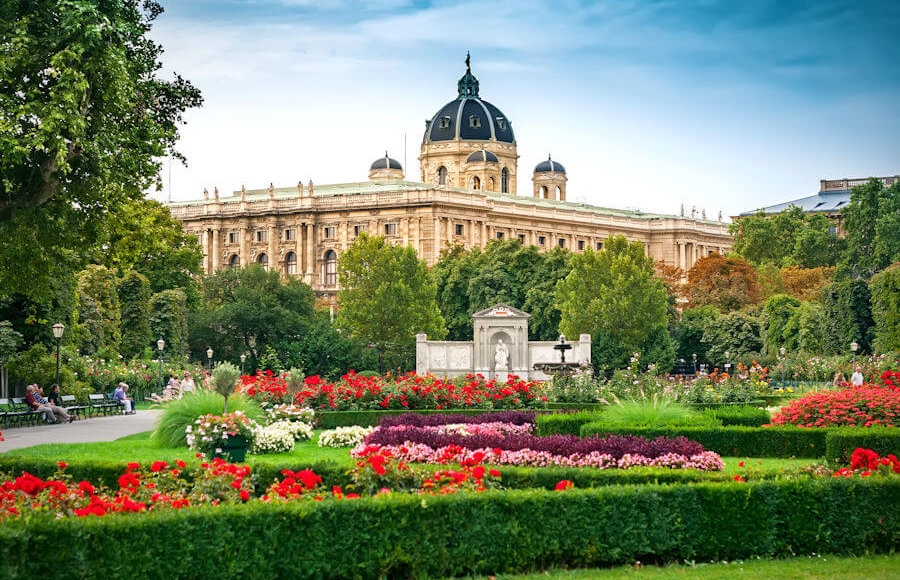 This morning, join us for the excursions proposed:
CLASSIC: Guided tour of the Schoenbrunn Palace, the summer residence of the Imperial family, followed by a panoramic tour of Vienna.
DISCOVERY: The high art of Viennese living, music and Viennese cafes. We'll stroll through the city and visit back stage in the Konzerthaus concert hall(1).
After our tour, enjoy a steaming cup of Vienna Coffee and a delicious pastry. Enjoy a free afternoon to explore this marvelous city at your own pace or take part in our optional excursion: Horse-drawn carriage ride through the old town and the famous Ring road in Vienna. This evening, join us on an optional excursion (not included in packages): Concert of Viennese music (subject to availability.) Our ship will depart at midnight.
DAY 6: MELK - PASSAU
We'll cruise along the most beautiful section of the Wachau Valley this morning, arriving in Melk in the morning. We'll then set off on an excursion for both packages: Tour of Dürnstein, the fortified village where Richard the Lionheart was once held prisoner. In the afternoon, join us on an excursion for both packages: Visit the Melk Abbey. Originally a Baroque-style palace built between 1702 and 1736, it is now a Benedictine monastery that hosts a prestigious coed school with more than 900 students. We'll return on board and cruise towards Passau. Enjoy an evening of entertainment.
DAY 7: PASSAU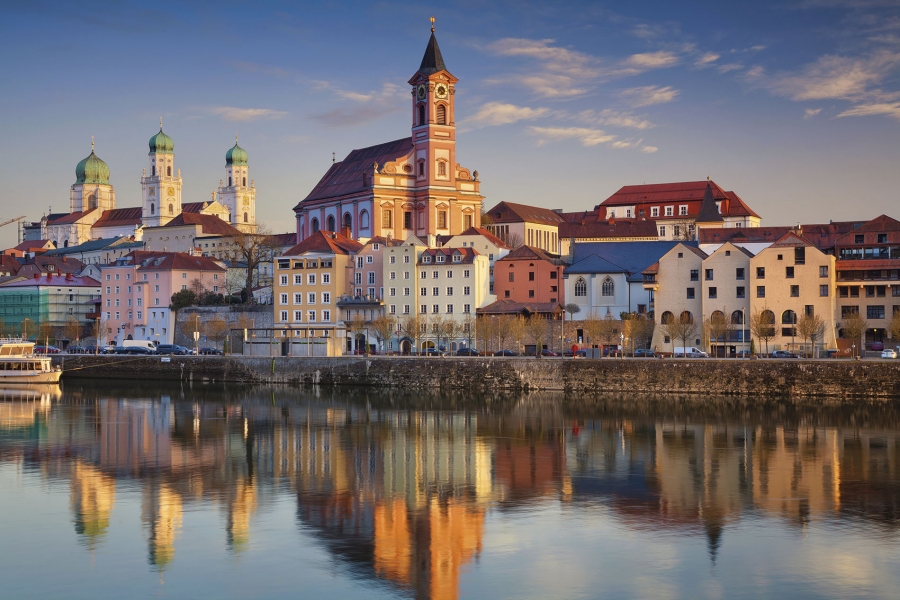 We'll set out to explore Passau in the company of hostess, strolling the narrow romantic streets and admiring is Baroque-style buildings. We'll then cruise to Regensburg through the night.
DAY 8: REGENSBURG - HILPOSTEIN
Join us on an excursion for both packages: Guided tour of Regensburg and the Walhalla hall of fame which overhangs the river. We'll return on board in Kelheim and cruise the Rhine-Main-Danube Canal to Hilpostein.
DAY 9: HILPOSTEIN - NUREMBERG - BAMBERG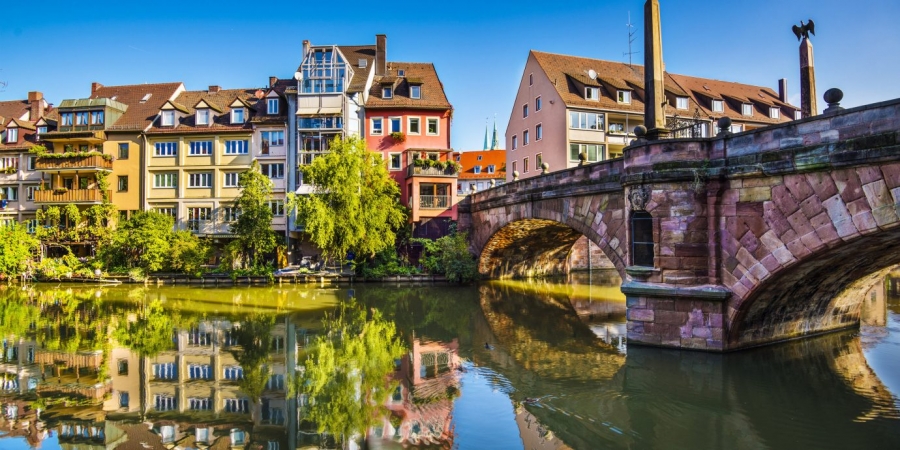 We'll arrive in Nuremberg in the morning. Join us on an excursion for both packages: Guided tour of the city and tasting of its famous gingerbread. We'll return on board in Erlangen and start sailing towards Bamberg. Our ship will cruise through the night.
DAY 10: BAMBERG - ROTHENBURG
We'll spend this morning cruising to Schweinfurt. Join us on an excursion for both packages: Tour of Rothenburg, one of the oldest cities in Germany. This magnificent walled town located on the historic Roman Road has managed to keep its authentic charm. We'll return on board in Kitzingen. Our ship will cruise through the night.
DAY 11: WÜRZBURG - WERTHEIM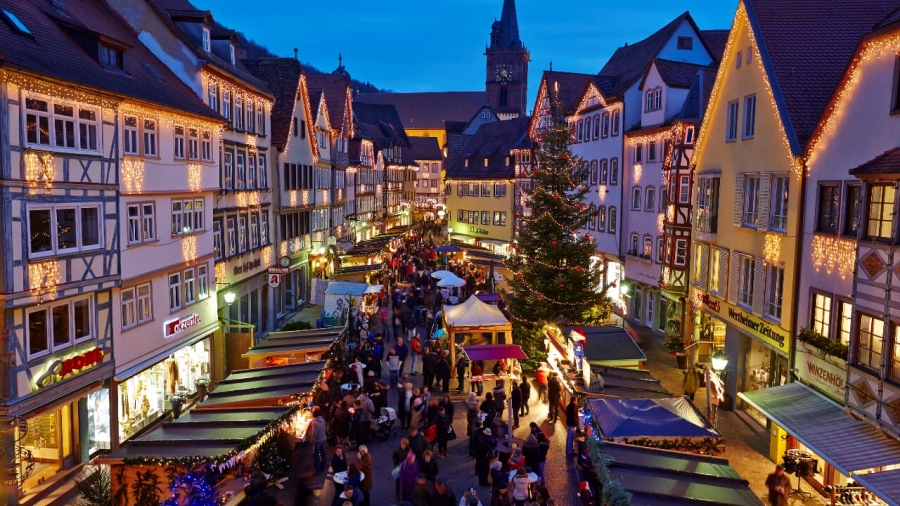 Join us on an excursion for both packages: Guided tour of Würzburg and the former Residence of the Prince-Bishops of Würzburg. We'll return on board in Karlstadt. Our ship will cruise through the night.
DAY 12: WERTHEIM - MILTENBERG - ASCHAFFENBURG
We'll set out to explore Miltenberg in the company of our hostess and discover this charming, very typical German village. Its marketplace surrounded by half-timbered houses, its Grande Rue and former Town Hall make Miltenberg a unique town and the "pearl of the Main". We'll cruise to Aschaffenburg.
DAY 13: ASCHAFFENBURG - FRANKFURT - MAINZ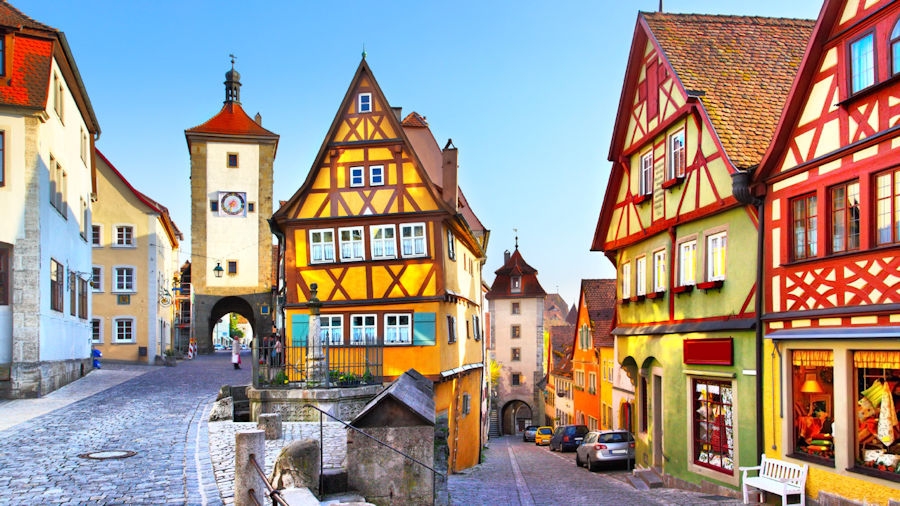 Our ship will depart for Frankfurt. Join us for the excursions proposed:
CLASSIC: Tour of Frankfurt.
DISCOVERY: Panoramic tour of Frankfurt and ascent of the Main Tower.
We'll return on board and cruise to Mainz. Gutenberg's hometown, Mainz lies at the confluence of the Rhine and the Main and is a perfect blend of past and present. Its age-old cathedral is not to be missed. You'll be able to explore the city in the company of our hostess. Tonight is our gala dinner and evening.
DAY 14: MAINZ - STRASBOURG - PARIS (4 NIGHTS)
Enjoy buffet breakfast on board as we cruise towards Strasbourg, passing through two impressive locks on the Rhine, Iffezheim and Gambsheim. We'll reach Strasbourg at 2:00 p.m. and disembark after lunch. (End of cruise.)
This afternoon you'll travel via the TGV high-speed train to Paris. It takes just 1 hour 45 minutes for this train to go from Strasbourg to Paris. The safety figures for the TGV system are exceptional; there have been no fatalities in high-speed operation since service started in 1981. Today TGV trains accumulate of the order of 50 billion passenger-kilometres per year on lignes à grande vitesse (high-speed lines) alone. 1.2 billion passengers have travelled on the TGV.
You'll arrive in Paris early enough to be able to spend some time enjoying the first evening stolling by the river Seine.
Included: 4 nights' 4-star+ accommodation, Eiffel Tower dinner for two, Seine River Cruise tickets for two, tickets for two to The Moulin Rouge show.
Why I Love Paris
By Catherine Le Nevez, Writer
"Paris' grandeur is inspiring but what I love most about the city is its intimacy. Its quartiers (quarters) are like a patchwork of villages, and while it's one of the world's major metropolises – with all of the culture and facilities that go with it – there's a real sense of community at the local shops, markets and cafes that hasn't changed since my childhood. Yet because every little 'village' has its own evolving character, I'm constantly discovering and rediscovering hidden corners of the city."
DAYS 15 TO 17: PARIS
Here's your opportunity to really get to know Paris, "the city of light". Your Lonely Planet guide is your best help to decide how you will spend your time. Rest in the afternoon of Day 15 because tonight you'll be dining at the 58 Tour Eiffel restaurant at Eiffel Tower, followed by a river cruise and the most famous cabaret show in the world, Feerie at The Moulin Rouge.
Small-Group Mona Lisa & Best of the Louvre Tour: See if you can catch the eye of the mysterious Mona Lisa on this engaging tour that hits all the highlights of France's most famous museum. With a group of no more than 6 people and an art-loving expert to lead the way, scope out masterpieces like the Venus de Milo on this short and sweet tour of the Louvre's must-see works.
Paris package highlights:
4 nights' staying in the beautiful St Germain Des Pres area of Paris within walking distance of the main attractions
Visit the Louvre to see masterpieces like the Mona Lisa & Venus de Milo
Enjoy a sumptuous French dinner at the Eiffel Tower joning a small group
Take an evening cruise down the Seine river and see the Eiffel Tower lit up
Be mesmerized by the Moulin Rouge show (optional Palace of Versailles tour)
Have plenty of free time to explore other parts of Paris
Refer to your Lonely Planet guide for things to see and do. Top of the list must be Musee D'Orsay (entry fee applies), the world's greatest museum of impressionist art. Here are some other suggestions:
City of love, fashion capital, literary paradise… Paris has many different guises. And while museum entry can be steep and fine dining comes at a premium, the French capital can also be a cheap date. Whether you go weak at the knees for soaring church spires or want to rub elbows at an authentic French market, let yourself be seduced by... Lonely Planet's top 20 free things to see and do
DAY 18: RETURN TO AUSTRALIA
It's time to say farewell to Paris and the beautiful cities and towns you've experienced on your European holiday.