Your Itinerary
From the spires of London, Edinburgh and York to wild, windswept landscapes of the Scottish Highlands and Ireland, explore all the nooks and crannies of Britain and Ireland - their historic cities, cultural diversity and breathtaking countryside on display as you explore such highlights as Dublin and Cardiff.
TT = Trafalgar Tours - Applies to the guided holiday option only.
Unless otherwise indicated, all inclusions apply to both the self-drive holiday and the Trafalgar guided holiday.
"Traveling it leaves you speechless, then turns you into a storyteller." - Ibn Battuta
Day 1: Australia - Singapore (2 nights)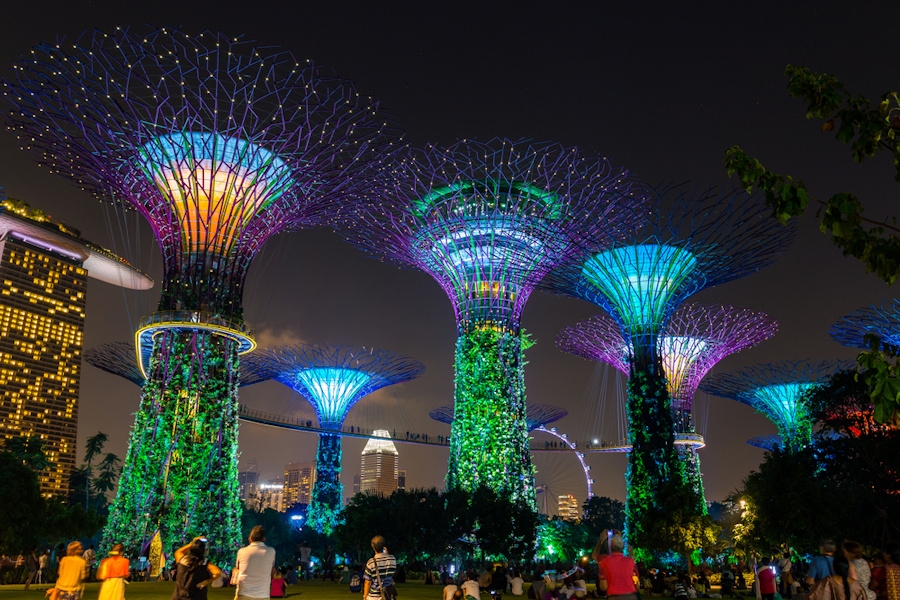 Arrive in Singapore and be picked up by your private car driver who will be waiting for you. Check in to your 4-star hotel in central Singapore and this evening we recommend dining at one of the many great restaurants nearby. You'll have at least one full day in Singapore.
The Flower Dome at Gardens by the Bay is the World's Largest Glass Greenhouse and home to plants and flowers from five continents, from thousand-year old olive trees to magnolias and orchids. Also visit Floral Fantasy with each of its four distinct zones taking inspiration from fairy tales and the storied Hanging Gardens of Babylon, with cavernous spaces, dramatic driftwood sculptures and works of floral art.
Gardens by the Bay's third conservatory is the aptly named Cloud Forest. It is a mist-filled landscape of rare vegetation and dramatic vistas. As you exit the conservatory you'll notice a grove of soaring, surreal structures, known as the Supertrees. These vertical gardens span 25 to 50 metres in height, with two of the towering structures connected by the dramatic arch of the OCBC Skyway. When dusk falls, the grove lights up with the Garden Rhapsody, a spectacle of light and sound.
Day 2: Singapore
Refer to your Lonely Planet guide for things to do during your second day. Optional excursions include a morning walking tour and Singapore zoo amongst many others.
Day 3: Singapore - London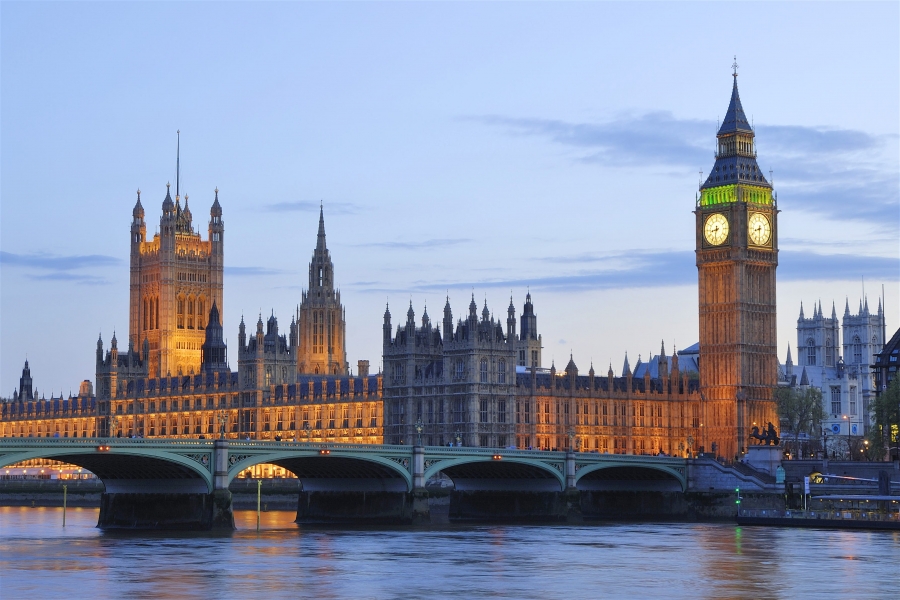 Fully refreshed from your stop-over in Singapore, the flight to London will seem like a walk in the park.
Day 4: London or Stratford-upon-Avon (1 night)
Upon arrival in London, depending on arrival time, you'll stay either at a hotel either near the airport or in central London (depending on preferred car pick-up point) or, if you have the energy, you can pick up your hire car on arrival in London and head on up to Stratford-upon-Avon to relax and stay the first night. From there you'll continue your UK adventure.
(TT) If you are travelling with Trafalgar we'll have accommodation for you near to the tour start point in central London.
If your flight arrives on the morning of Day 4 we'll ensure that you can immediately check into your hotel room and not have to wait until after 2pm. You'll then have time to have a look around.
DAYS 5 TO 20: ENGLAND, IRELAND, SCOTLAND & WALES TOUR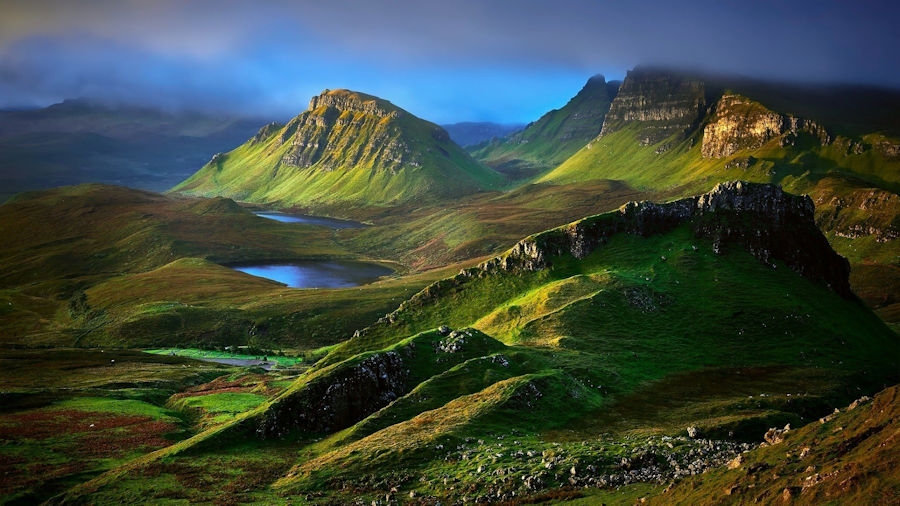 The Isle of Skye is a truly magical place and home to some of Scotland's most iconic landscapes. The island has countless ways to enchant you, with its mountain ranges, miles of dramatic coastline and captivating history. You'll visit Skye on Day 9.
Day 5: London - Stratford-upon-Avon - York (1 night)
A scenic drive through beautiful countryside brings you to Stratford-upon-Avon where you'll Visit Shakespeare's Birthplace and Visitor Centre and see Anne Hathaway's cottage. Later in the Viking city of York, enjoy a walk along historic streets. View the cobbled Shambles, the ancient city walls and the magnificent York Minster.
This is your first B&B (Bed & Breakfast) stay. Ask your friendly and knowledgable host for dining-out suggestions for this evening.
Day 6: York - Jedburgh - Edinburgh (2 nights)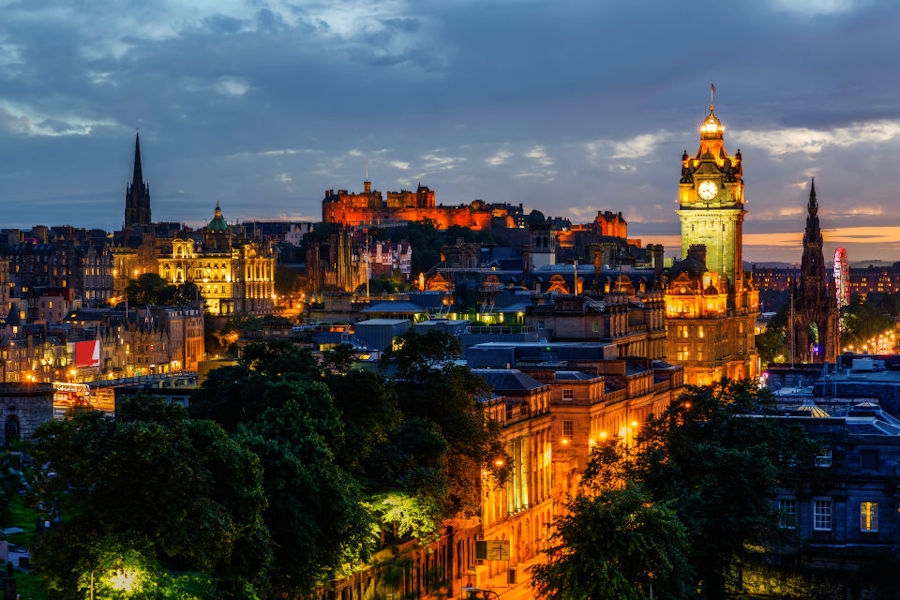 Rugged, dramatic and spectacular, the Northumberland National Park is all these things and more. View the remarkably intact ruins of the l2th century Jedburgh Abbey on your way to the beautiful Scottish capital, Edinburgh.
Optional: Edinburgh by Night and Dinner
We'Il drive into the old city of Edinburgh to see the city at night with photo opportunities of the Castle and the Grassmarket, famous for historic executions and when possible visit one of the most haunted graveyards and see the grave of Greyfriars Bobby, the famous Skye Terrier. Then, we'll make our way to a local restaurant for a delicious dinner and drink.
Optional: Ghosts & Ghouls of the City Evening Walking Tour
Explore a darker and more mysterious side of Edinburgh. Set your imagination free and listen to true tales of punishment that gave life to the city's ghost stories. The famous sights, underground vaults, and tucked-away corners of this Old Town walk expose legends and stories generations old.
Your B&B host will be delighted to recommend some great places to dine during your first night in Edinburgh.
Optional: Edinburgh Tattoo (August)
Up to twenty-four performances take place on the Esplanade of Edinburgh Castle, the iconic home of the world's best known military spectacle. Performances take place Monday to Friday at 9pm and on Saturday's at 7.30pm and 10.30pm. Tickets can be arranged for you.
Day 7: Edinburgh Sightseeing
Enjoy a guided visit of Edinburgh Castle. Tonight enjoy a traditional Scottish night out with haggis, dancing and bagpipes.
Optional: Rosslyn Chapel
We'll drive out of Edinburgh to the tiny village of Rosslyn, where you'll hear the inside story on the famous Rosslyn Chapel. You'll also visit one of Scotland's most unusual l5th century buildings, famed for its associations with the Knights Templar, the Masonic movement, and now "The Da Vinci Code".
Tonight is your chance to put on that tartan and join us for an evening of singing, dancing and bagpipe playing at an internationally famous venue. You'll enjoy delicious food and wine, join in the singing and watch a Highland dance or two. There's even a chance to sample Scotlands national dish - haggis.
Day 8: Edinburgh - St. Andrews - Pitlochry - Scottish Highlands (2 nights)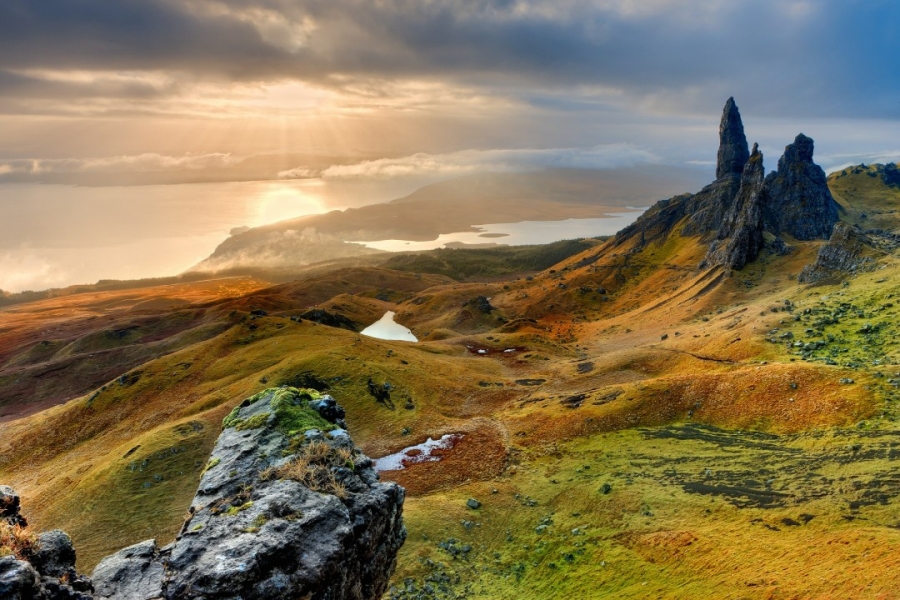 Travel across the Firth of Forth to St. Andrews to view the celebrated ancient university and the home of golf. Stop in Pitlochry, a charming village on the banks of the River Tummel. Explore the village or join an Optional Experience to visit Blair Castle, ancestral home to the Dukes of Atholl.
Optional: Highland Farm Experience
Visit a real Highland sheep farm and meet Neil the Shepherd and his border collies. He'll show you how he uses different whistles to command each dog to carry out different tasks. You'll also have the opportunity to try your hand at sheep shearing, feeding the pups and discover his training techniques. Weather permitting.
Optional: Pitlochry, Visit to Blair Castle
Set in its own grounds against a backdrop of glorious scenery, you'll visit the castle and find out more about the home of the Duke of Atholl - the only man in Britain to have a private army.
Day 9: Isle of Skye, Culloden and Scenic Highland Excursion
This morning travel to the coast via the Glenfinnan Monument which was erected to commemorate where the 1745 Jacobite Rising began. Take a ferry over the sea to Skye from Mallaig to Armadale. Drive up the Sleat Peninsula and admire the spectacular scenery before stopping for time to have lunch. Cross over a road bridge to view scenic Eilean Donan Castle back on the mainland.
Continue your journey past the lochs and glens of the Scottish Highlands including the famous Loch Ness before stopping to view Culloden battlefield. This site was where the final confrontation of the Jacobite rising of 1745 took place. Later return to your hotel in Laggan. Day 10: Scottish Highlands - Glencoe - Loch Lomond – Glasgow (1 night)
Stop at the Commando Memorial near Fort William for breathtaking views of Britain's highest mountain, Ben Nevis. Continue south through Glencoe known as the "Glen of the Weeping".
This afternoon your orientation tour of Glasgow includes views of the Cathedral and magnificent George Square. Visit the Necropolis for a Cultural Insight into one of Europe's most important l9th century burial grounds.
Optional: Glasgow City Evening
You'II enjoy a chance to experience a night out in the city of Glasgow. Your Travel Director will take you for an evening of good food, a drink, and undoubtedly interesting conversation.
Optional: Loch Lomond Boat Trip
Discover the wild beauty of the "Bonnie Banks of Loch Lomond" As we cruise across the loch, the skipper will share stories of the area and point out Rob Roy's cave as you relax and savour the stunning scenery.
Day 11: Glasgow - Lake District – Liverpool (1 night)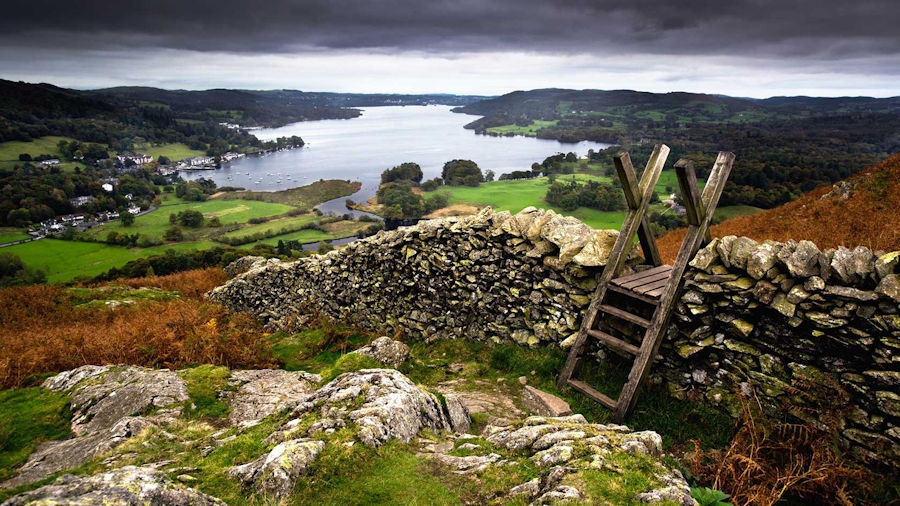 (TT) Cross the border into England and enjoy a special Be My Guest lunch at a working farm in the idyllic Cumbrian countryside. Learn about traditional farming methods and see the sheep, goats and cattle before enjoying lunch in the farmhouse.
Later arrive in Grasmere where you view the grave of William Wordsworth. See England's largest lake, Windermere before travelling to Liverpool.
Optional: Beatles Story Experience
Are you a Beatles fan? Stay an extra day and visit the world's leading permanent attraction dedicated to the lives and music of the "Fab Four". Follow the journey of four lads from Liverpool who went on to reach heights of worldwide fame and fortune and become regarded as the greatest band of all time. Travel from their Liverpool childhood all the way to world domination and, eventually, on to their solo careers.
Day 12: Liverpool - Chester - Dublin (2 Nights)
In Chester see the timbered buildings known as the "Rows" before travelling along the scenic North Wales coast to Holyhead. Cross the Irish Sea to Dublin, the Irish capital.
(TT) This evening join your companions for a delicious Regional Meal at a local restaurant in Dublin.
Refer to your Lonely Planet guide or ask your friendly and knowledgable host for dining-out suggestions for this evening.
Day 13: Dublin Sightseeing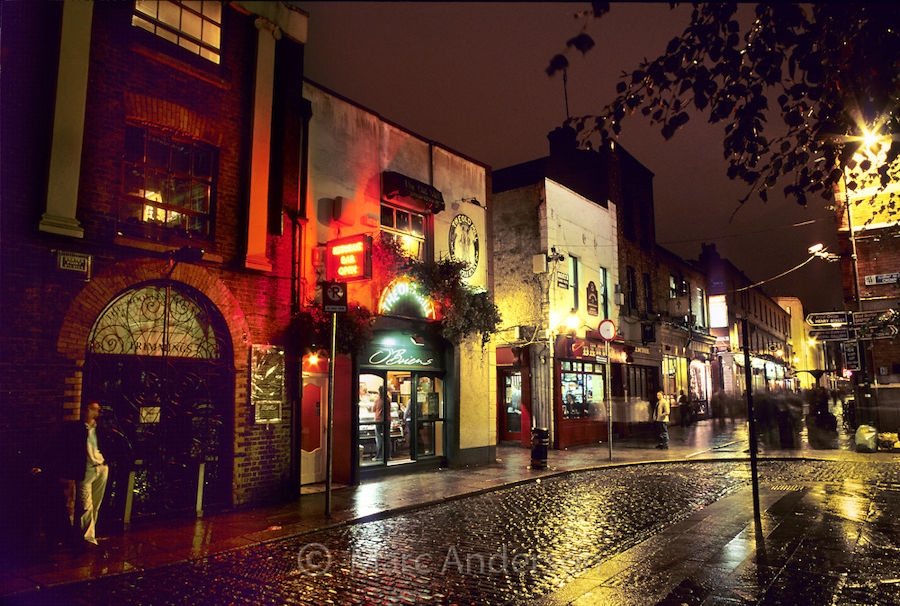 This morning discover the city of Dublin see the famous sights including Trinity College, St. Patrick's Cathedral and the stately Georgian Squares with your Local Specialist, followed by a visit to Guinness Storehouse to find out about the famous brew and the Guinness family. Spend the rest of the day as you please.
Enjoy an evening of fine food and non-stop fun as Ireland's history unfolds in a cabaret of comedy, song and dance. The cast will have you tapping your toes and joining in the show all in the spirit of Irish humour. And you'll even be served an Irish coffee to round off your dinner.
Optional: Experience the Ancient Monastic Site of Glendalough
Enjoy a visit to one of the most important monastic sites in Europe, which dates back to the 6th century. Your Local Specialist will tell tales and show you around this sacred area, famous for its tranquil beauty amidst the rolling countryside of County Wicklow, the garden of Ireland.
Day 14: Dublin - Galway - Limerick (1 night)
Travel to the West coast and the city of Galway. View Galway Cathedral and Eyre Square before continuing to Limerick.
Optional: Bunratty Castle And Folk Park
Come on a visit to the l5th-century Bunratty Castle and admire its fine furnishings, antiques and paintings. With your local specialist, you'll experience an Ireland of the past, as you wander through the folk park with its thatched cottages and smoky turf fires. In the village, we'll have free time to explore the quaint shops and relax in the local tea room.
Optional: Irish Ceilidh Evening
Come along and experience the craic at a special ceilidh evening. Enjoy a drink and some local specialities, watch some traditional Irish dancing, and sing along to some familiar Irish melodies.
Day 15: Limerick - Ring of Kerry - Cork (1 night)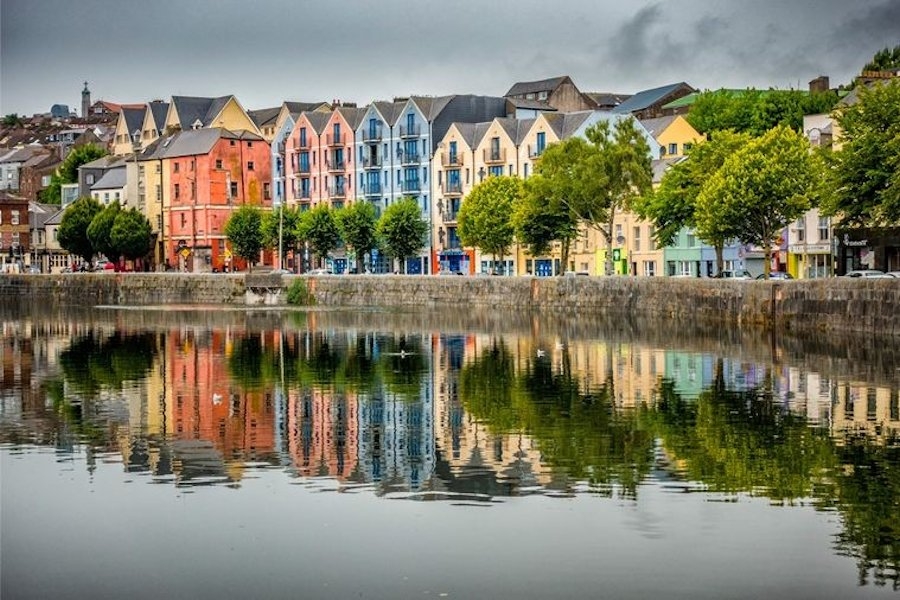 Today we experience Ireland's most scenic coastal drive around the Iveragh Peninsula, better known as the Ring of Kerry. Here mountains, valleys, lakes and sea blend into a landscape that is often breathtaking beyond words. This evening enjoy dinner at your hotel in the city of Cork.
Day 16: Cork - Blarney - Cobh - Waterford - Wexford (1 night)
Visit Blarney Castle and kiss the famous stone. (TT) Later stop in picturesque Cobh for a walking tour with a Local Specialist. This was the final port of call for the Titanic on its fateful voyage. This afternoon visit the House of Waterford Crystal. Watch the master craftsmen at work during your Cultural Insight tour of the workshop, and see the exquisite completed pieces in the showroom.
Day 17: Wexford – Cardiff (1 night)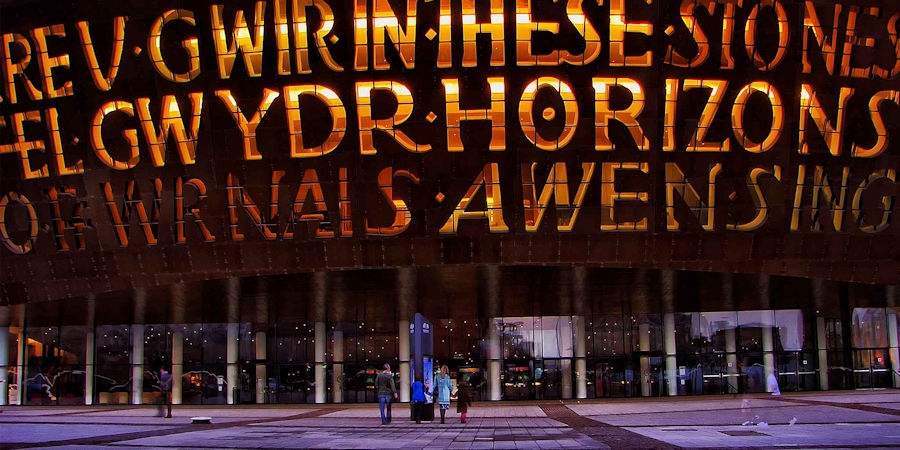 Cross the Irish Sea to Wales, and continue your journey to Cardiff Bay to view the Millennium Centre and the National Assembly.
View the historic Cardiff Castle and see the Millennium Stadium before arriving at your hotel.
Optional: Cardiff Castle Tour
You'll explore this unique castle on a private tour and hear tales about the eclectic refurbishments. Done in the 1800's by architect William Burgess, his influences included Islamic art, Hans Christian Anderson's fairy tales and even Aesop's fables. You'll also walk on the battlements and climb the 1,000-year-old Norman keep for superb views over Cardiff.
Optional: Traditional Welsh Evening And Dinner
Join us for a traditional Welsh country dinner. We'll take you to a l4th century thatched inn called The Blue Anchor. While you're eating and enjoying your drink, you'll be entertained with a performance from a Welsh harpist.
Optional: Welsh Evening At Millennium Centre
Enjoy an evening of Welsh music, culture and humour. The venue for the evening is the Welsh Millennium Centre, an iconic building in the fashionable Cardiff Bay area. After a warm reception, you'll enjoy a first-class meal of seasonal Welsh specialities, sourced and produced locally. Quality wine or soft drinks are included and the meal will be accompanied by our enchanting Welsh harpist. You'll then be entertained by the finest local musicians presenting the beautiful music of Wales.
Day 18: Cardiff - Bath - Glastonbury - Plymouth ( 2 nights)
Drive east, over the Severn Estuary, to Bath. On arrival in the city, admire the Georgian buildings and visit the Roman Baths after which the city is named.
Spend some time exploring before making your way to Glastonbury to visit the Abbey to see where King Arthur is believed to be buried. Later, we arrive in the city of Plymouth, our home for two nights.
Optional: Devonshire Village And Dinner
Visit a beautiful village in Devon, where you'll see cob walled houses with thatched roofs and the parish church, which dates back 1000 years. You'll also savour a tasty pub dinner and meet the locals, in an 800-year-old village pub.
Day 19: Polperro and Dartmoor Excursion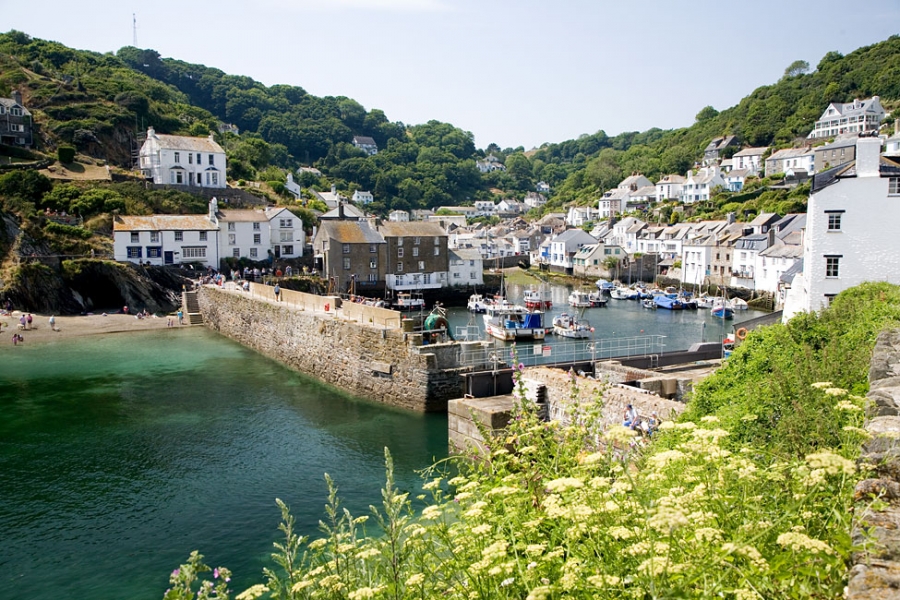 The springboard to a New World takes centre stage as we start our day with an orientation of Plymouth. View the Mayflower Steps, where brave pilgrims embarked on their epic voyage to America, and see the Royal Citadel overlooking Plymouth Sound.
Visit the quaint fishing village of Polperro with its narrow streets and picturesque harbour before enjoying a scenic drive through the brooding landscapes of Dartmoor, renowned for its wild ponies. (TT) Our epic adventure through Britain and Ireland almost at its end, we join our travel companions and Travel Director for a memorable Farewell Dinner.
Day 20: Plymouth - Stonehenge - London
Meander across the Salisbury Plain and visit the mystical ancient monoliths of Stonehenge, whose myths have yet to be fully revealed. We journey back to London this afternoon where we close the curtain on a memorable journey.
Upon arrival in London you'll return your rental car. Tonight you'll stay either near the airport where you'll have a quiet evening before returning to Australia or in central London before heading off to Paris for a three-night Parisian experience. You also choose just to stay in London for a few nights. (See "Optional holiday extensions" below.)
Day 21: Return to Australia
It's time to say farewell to Britain and Ireland remembering the fun times you've had, interesting people you've encountered and beautiful scenery and amazing history you've witnessed.
Optionals:
4-day London extension package: From $899 per person.
Includes:
3 nights, 4-star+ accommodation in central London (eg. Soho, Kensington, Paddington)
Tickets to a West-end show such as the original Phantom of the Opera
Plenty of free time to explore London (Lonely Planet guide supplied)
Price might vary according to which West-end show is selected.
Take your time to explore the many attractions of London, all within a short distance of tour hotel. Add an optional hop-on-hop-off bus tour for just $29 per person.
2. 4-day Paris package: From $1,149 per person.
Includes:
Train trip from London to Paris on the Eurostar (high-speed rail)
3 nights, 4-star+ accommodation in central Paris
Eiffel Tower dinner for two followed by Seine River cruise and the Moulin Rouge show
Small-group Mona Lisa & best of the Louvre tour for two
Plenty of free time to explore Paris (Lonely Planet guide supplied)
Here's your opportunity to really get to know the gorgeous city of Paris. Base yourself at one of our preferred hotels in St Germain Des Pres. During your free time, go shopping at Galleries Lafayette or just wander through the Jardin des Tuileries (gardens), then across the river Seine via a scenic bridge to Musee D'Orsay, the world's most beautiful art museum to be absolutely captivated by priceless artworks at every turn.
On your second night you'll experience three of Paris' most iconic activities: Dinner at the Eiffel Tower, Seine River cruise and The Moulin Rouge show.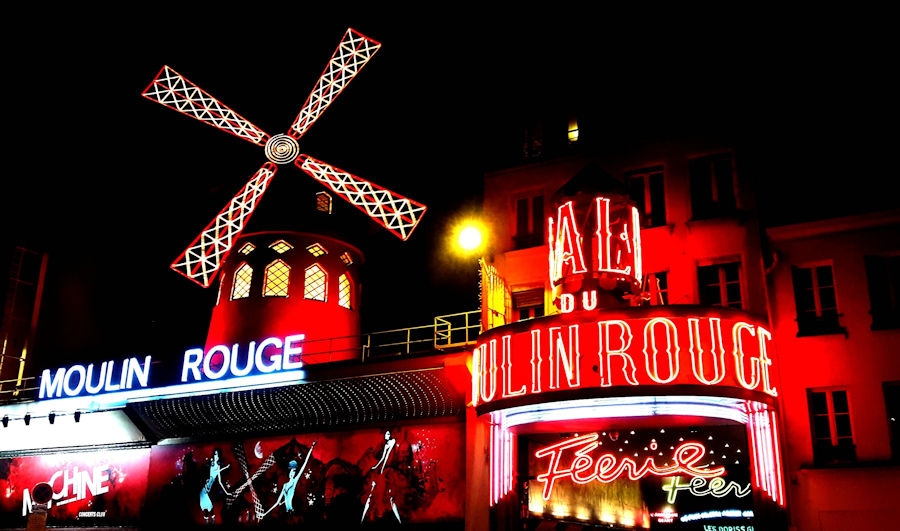 With a group of no more than 6 people and an art-loving expert to lead the way, scope out masterpieces like the Venus de Milo on this short and sweet tour of the Louvre's must-see works.