Your Itinerary
Add our 5 day Rocky Mountain tour from Vancouver for just $699 per person!
This means you start in Vancouver, do the Rockies tour including Kamloops, Jasper National Park, Banff and more. Immerse yourself in beautiful scenery and maybe even see some of the local wildlife. Then on your return to Vancouver continue on your rail journey.
"It's not what you look at that matters. It's what you see." - Henry David Thoreau
DAY 1: ARRIVE VANCOUVER (3 NIGHTS)
Welcome to Vancouver. You are met on arrival and taken to your Downtown Vancouver hotel.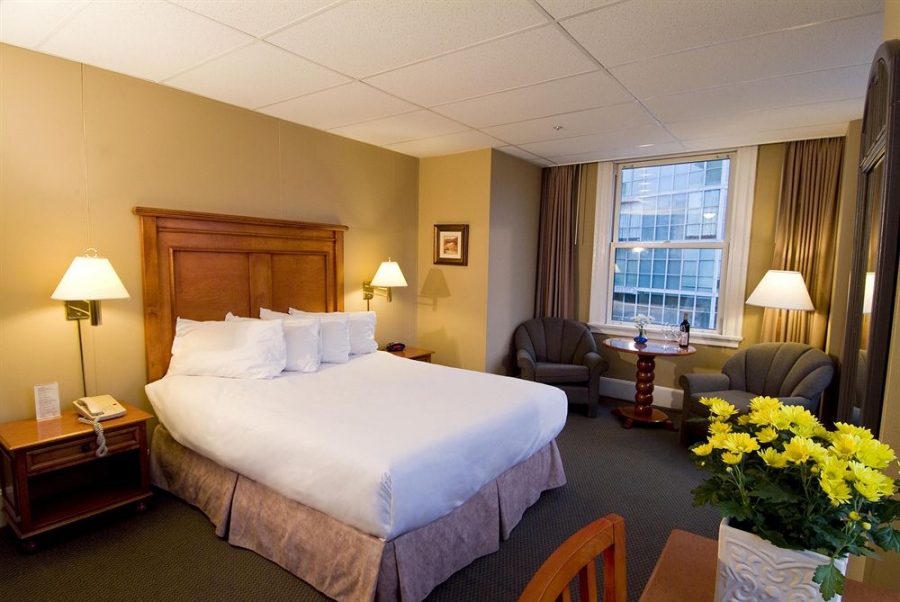 After check-in spend the rest of the day relaxing or exploring the city.
DAY 2: VANCOUVER - WHISTLER & SHANNON FALLS
Today after an early breakfast you'll leave the city behind and experience the natural wonders surrounding Vancouver and Whistler. This all-day excursion takes you from the scenic coastline of Howe Sound to the lush forested mountain peaks for an all-encompassing look at the amazing landscapes of Canada's West Coast. As you drive out on the Sea-to-Sky Highway, gaze over ever-changing landscapes along the road. Your first stop is at Shannon Falls, where you can walk out on viewing decks and feel the mist from the powerful 1,099-foot-high (335 m) falls.
Continue the journey, catching views and snapping photos of the Tantalus Glacier through the massive viewing windows. Once in Whistler, explore the pedestrian village at the base of the world-famous Whistler-Blackcomb resort and check out sites that hosted events from the 2010 Winter Olympic Games.
Have a bite to eat, and then spend the rest of your afternoon browsing eclectic downtown shops, hiking along nature trails, or relaxing and breathing in the fresh mountain air. On your return to Vancouver, savour the beautiful views overlooking Howe Sound, following the mountains as they give way to the rugged coastline surrounding Vancouver's gleaming skyline.
DAY 3: VANCOUVER - GROUSE MOUNTAIN & CAPILANO BRIDGE TOUR
Today's you have a choice of flexible hop-on hop-off city tour or the grouse Mountain and Capilano Bridge tour which begins mid-morning. If you want free time to explore Vancouver city itself then the hop-on hop-off city tour is a gret idea. Otherwise you can choose to breathe in the fresh Pacific air and immerse yourself in the breathtaking canyons, rivers and mountainside at Capilano Suspension Bridge Park and Grouse Mountain. Look down over towering evergreens from the Cliffwalk or Treetops Adventure and admire mountain vistas from the Skyride.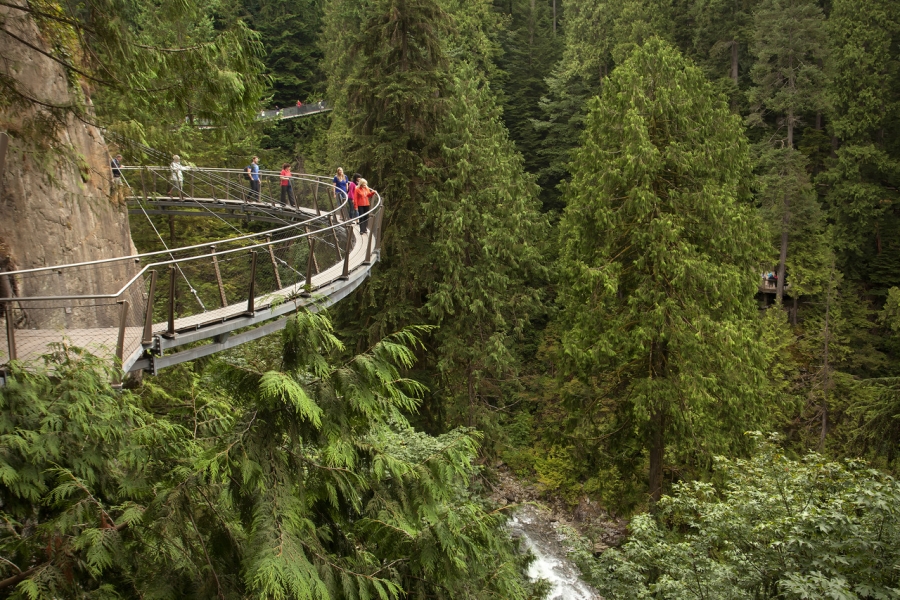 Cross the Capilano Suspension Bridge, 230 feet (70 m) above the Capilano River. Feel the rush of adrenaline at the Cliffwalk, a cantilevered walkway clinging to the granite cliff, or embark on the Treetops Adventure's 7 suspension bridges through the evergreens – 100 feet (30 m) above the forest floor. Continue to the Capilano River Hatchery, dedicated to several species of salmon and trout from British Columbia. Learn about the life cycle of salmon, with an opportunity to view hatching and juvenile fish before they are released into a nearby river.
Spectacular Grouse Mountain is the next stop. Here, dare to take the courageous trek up the 2,788-foot (849 m) mountain known as Mother Nature's Stairmaster. Or ride the relaxing Skyride, a giant airborne gondola, offering a bird's-eye view as you glide up the mountainside. At the mountaintop, you can explore the wildlife refuge, a 5-acre (2 ha) habitat that is home to a pack of grey wolves, two grizzly bears and two peregrine falcons that participate in flying demonstrations three times a day. While there, you can take in a short IMAX film at the Theatre in the Sky.
DAY 4: VANCOUVER - FREE TIME & BOARD "THE CANADIAN"
Take your time to explore Vancouver and surrounds. Refer to your Lonely Planet guide for things to do. Your train to Toronto departs at 8.30pm tonight so you'll have an extra night's lay-over hotel accommodation. This means you can be out all day and return to your room to freshen up before your taxi ride to Pacific Central Station where you'll check in for your train departure.
Tonight you'll sleep aboard The Canadian in your private cabin. Tomorrow morning you'll awaken to some of the world's most beautiful scenery.
DAYS 5, 6, 7: "THE CANADIAN" (3 NIGHTS)
Your Window to witnessing Canada's diverse beauty. Watch the Canadian landscape transform before your eyes as you travel across Canada's five most southern provinces; British Columbia, Alberta, Saskatchewan, Manitoba and Ontario.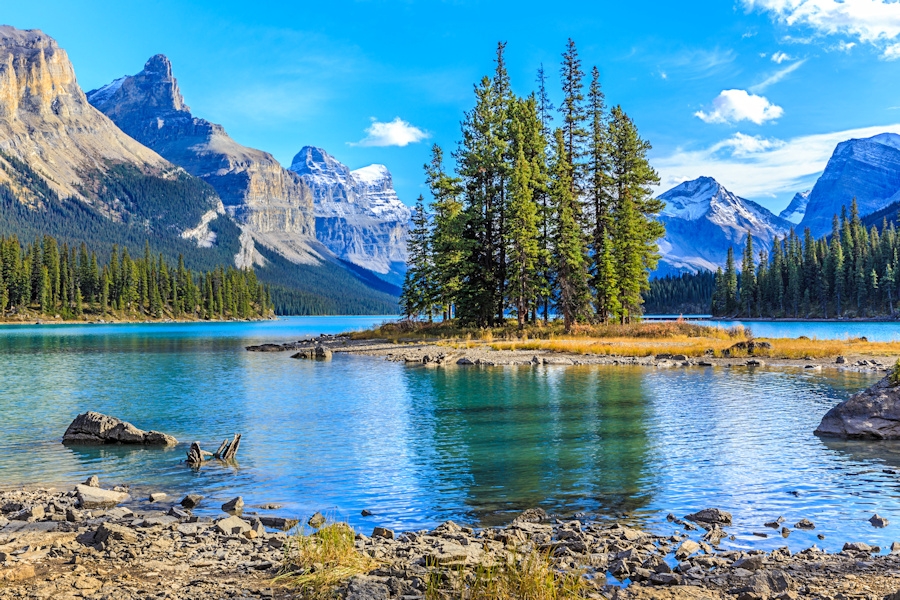 From the harbour side metropolis of Vancouver through the heart of Canadian Rockies and onto the multicultural mecca of Toronto, this epic journey encompasses many of the natural, urban, cultural and historical contrasts that make Canada such a great place to visit and why it tops the 2017 list of travel destinations.
DAY 8: TORONTO (2 NIGHTS)
This morning after breakfast, you'll disembark from The Canadian and say goodbye to the wonderful staff and new friends you made on board. Drop your bags at your central Toronto hotel and head off to explore the city. Lonely Planet introduces Toronto as follows: "Welcome to Toronto, the most multiculturally diverse city on the planet: over 140 languages are spoken. It's estimated that over half of Toronto's residents were born outside Canada, and despite its complex makeup, Torontonians generally get along. When the weather is fine, Toronto is a blast: a vibrant, big-time city abuzz with activity. Some of the world's finest restaurants are found here, alongside happening bars and clubs and eclectic festivals.
Come with an open mind and during the delightfully temperate and colorful spring or fall, and you're bound to have a great time. There is a fresh international buzz about Toronto. Perhaps it's the influx of flush new residents from across the globe; or was it the Pan-Am Games that shone a spotlight on Toronto? Either way, this is a city that is waking up to its own greatness."
Take advantage of your hop-on-hop-off bus tour and Lonely Planet guide to find your way around the major sights and attractions. Remember, Niagara Falls is included in your east coast USA & Canada tour so take your time exploring the city and nearby surrounds.
DAY 9: TORONTO - FREE TIME
Toronto is the country's largest city and home to a dynamic mix of tourist attractions, from museums and galleries to the world famous CN Tower (visited during the last day of your East coast USA & Canada tour) and, just off shore, Toronto Islands. The city also offers a vibrant Entertainment District, featuring the latest musicals and other performing arts, and the historic Distillery District. The city center is still relatively easy to navigate, with many of the top attractions within walking distance of each other and a subway system to cover longer distances. The Royal Ontario Museum, known as the ROM, is one of Canada's premier museums with an international reputation for excellence. It houses an outstanding collection and also features major exhibitions from around the world. Toronto's huge zoo, with its collection of several thousand animals, lies on the Red River some 40 kilometers northeast of the city center. One of the major attractions is the panda exhibit, which opened in Toronto in 2013.
DAY 10: START "EAST COAST CANADA & USA HIGHLIGHTS" TOUR - MONTREAL (1 NIGHT)
Today we'll begin our fantastic 7 day tour as we depart Toronto and head out to the gorgeous Thousand Islands. Here we'll join a cruise to experience the beauty of the scenic wonders (own expense). Next we'll head to Ottawa, and visit the Canadian Parliament Building, the seat of this great country's government. Here we'll also see the Peace Tower, an impressive bell and clock tower and Canadian icon. In the afternoon, we'll travel to Montreal, a charming UNESCO City of Design, and visit Old Town Montreal before settling in for the night.
DAY 11: QUEBEC, BOSTON (1 NIGHT)
Today we'll proceed to another beautiful French-Canadian city, Quebec. The street signs, cafes, buildings, the people's dressing and the atmosphere will tell its rich French descent. As you wander past period buildings along cobblestone streets, enjoy the area's boutiques, art galleries, and restaurants. We'll visit the Notre-Dame de Quebec Basilica-Cathedral and you will see a large number of amazing pieces of art. You will also have a chance to take pictures with the world's most photographed hotel, Château Frontenac, and the Quebec Parliament Building, as well as enjoy the authentic French cuisine (own expense). After that, we will head to Boston, an American city rich in culture and history.
DAY 12: BOSTON, NEW YORK (1 NIGHT)
Visit Harvard University in Boston, the nation's oldest and one of world's best university. Campus tour guided by the Harvard student. Then photo stop by the Massachusetts Institute of Technology (MIT). Quincy Market - Sample some famous eateries and do some shopping.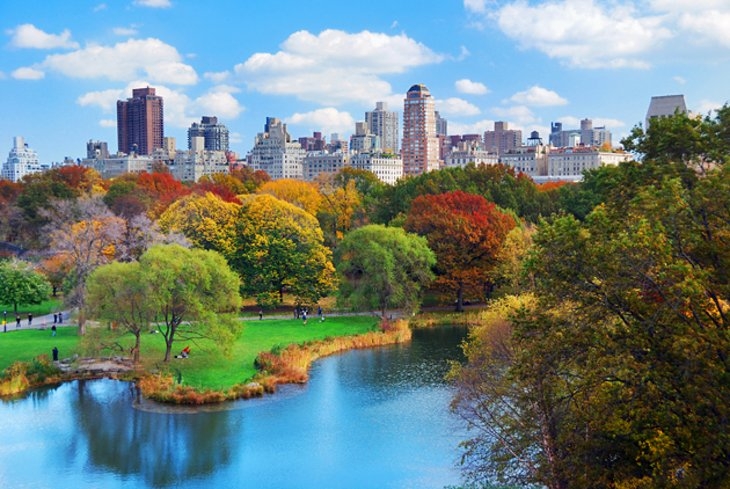 The journey continues to New York, the nation's largest city. Check into the hotel. If you desire, you may sign up for an optional night tour.
DAY 13: NEW YORK, PHILADELPHIA (1 NIGHT)
Today we'll take a sightseeing tour of New York and discover its great attractions, including the One World Trade Center, Wall Street, Trinity Church, Federal Hall, Empire State Building Observation Deck (admission not included), United Nations Headquarters, Intrepid Sea, Air & Space Museum (admission not included), Rockefeller Center, 5th Avenue, St. Patrick's Cathedral and the Metropolitan Museum (admission not included). We'll head to Philadelphia in the afternoon.
DAY 14: PHILADELPHIA, WASHINGTON DC (1 NIGHT)
Begin today with a lovely sightseeing tour of Philadelphia. First up we'll head to Independence National Historic Park and see the historic Liberty Bell and Independence Hall, the site where the US Constitution and Declaration of Independence. From here we'll continue to Washington, D.C. Our tour of Washington, D.C. begins with a view of this vibrant US capital district features the Capitol Hill, White House, Thomas Jefferson Memorial, Lincoln Memorial, Korea War Memorial, Vietnam War Memorial, and of course the Smithsonian Institution & President Museum.
DAY 15: NIAGARA FALLS (1 NIGHT)
Leaving the District of Columbia, we'll visit the Corning Museum of Glass (admission not included) to see how glass is made. We'll arrive in Niagara Falls in the late afternoon. We will visit the American Falls, Horse Shoe Falls, and the Bridal Veil Falls.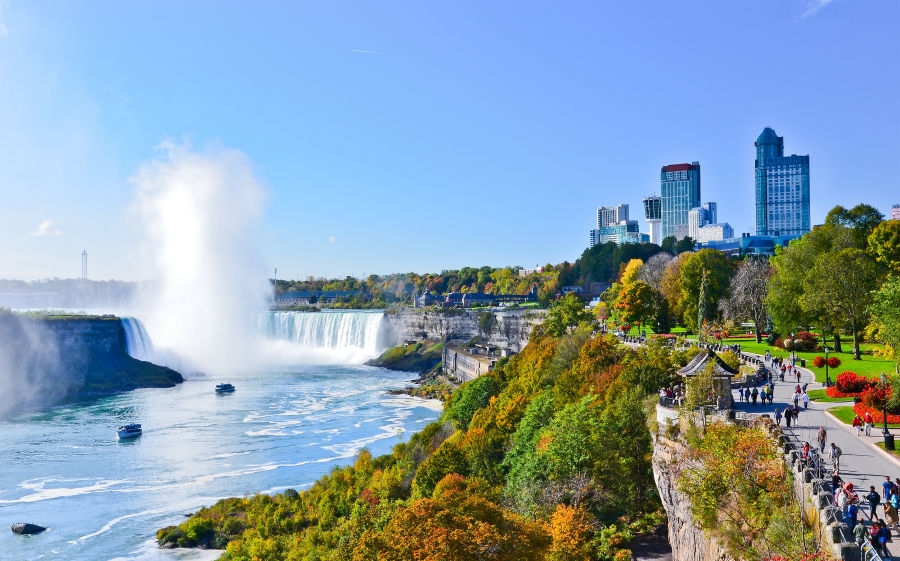 Geared-up rain poncho & Sandels into the stormy Zone: The Cave of Wind. Later Niagara In-Depth Tour: Whirl Pool, and the Old Fort of Niagara. You can also enjoy the charming night view of Niagara Falls.
DAY 16: NIAGARA FALLS, TORONTO (2 NIGHTS)
Today we'll continue to enjoy the stunning power of Niagara Falls. If you wish to get close to the falls you can join the Maid of the Mist cruise (seasonal, own expense). Watch an IMAX movie called The Legends of The Falls, which cost $15 million to make. Next, we'll cross the border to Canada via the Rainbow Bridge to visit the Skylon Tower (admission not included) that offers the best view of Niagara Falls! Afterwards, we'll arrive in Toronto and see the Ontario Parliament Building, University of Toronto, City Hall, and CN Tower (admission not included).
DAY 17: TORONTO - FREE TIME
Time to relax after your tour and just do your own thing but save some energy because tonight you'll end your famntastic Grand Canadian Adventure with a special and unique dining experience when you board the Mariposa Cruise ship. Cruise the Toronto Habour while enjoying the beautiful sunset and experience the sights and sounds of the city's waterfront and breathtaking skyline. Your memorable evening includes a 3-hour cruise through Toronto's spectacular Harbourfront and a delicious buffet-style dinner prepared fresh by our Chef. Dance the night away under starry skies with our professional DJ. Review: "Sunset dinner cruise and beautiful views of Toronto all in one night...what more could you ask for! The food was fantastic and the wine was amazing! The views were unbelievable. Definitely something that must be experienced by all!"
DAY 18: TORONTO - RETURN TO AUSTRALIA
Depending on flight time you will have some extra time to relax and enjoy Toronto before returning to Australia. You'll think back on this Grand Canadian Adventure as being one of your best holidays ever.