Your Itinerary
You start with a flight to Adelaide airport where you'll be picked up by a private car transfer service, and spend a night there before departing on the legendary Ghan, experiencing the magnificence of Central Australia. On the way you'll stop at Alice Springs and Katherine, giving you the opportunity to see some more natural wonders.
And that's just the start! Once you've arrived in Darwin you'll discover a gorgeous city surrounded by natural beauty unique to the area. You'll be staying at a hand-picked resort right on the marina where you'll have a couple of days to enjoy Darwin before taking guided day tours to both Litchfield and Kakadu national parks. Of course you'll also be doing an essential sunset cruise on Darwin harbour with a delicious buffet dinner as well.
You can customise this holiday to suit with extra nights or less nights, alternative tours and still get the benefit of our great member prices. You can even reverse the trip and start from Darwin.
"I travel not to go anywhere, but to go. I travel for travel�s sake. The great affair is to move." � Robert Louis Stevenson
DAY 1: ARRIVE ADELAIDE (1 NIGHT)
Today is the first day of an amazing holiday where you will experience the Australian Outback in Luxury and style. Fly to Adelaide and check-in to your hotel which is located only 10 minutes from Adelaide Airport and Adelaide Parklands Terminal for The Ghan departure the next day.
DAY 2: EMBARK ON ONE OF AUSTRALIA'S MOST POPULAR TRAIN JOURNEYS (2 NIGHTS)
Step aboard the legendary Ghan at noon and take time acquainting yourself with the friendly staff and your comfortable private cabin.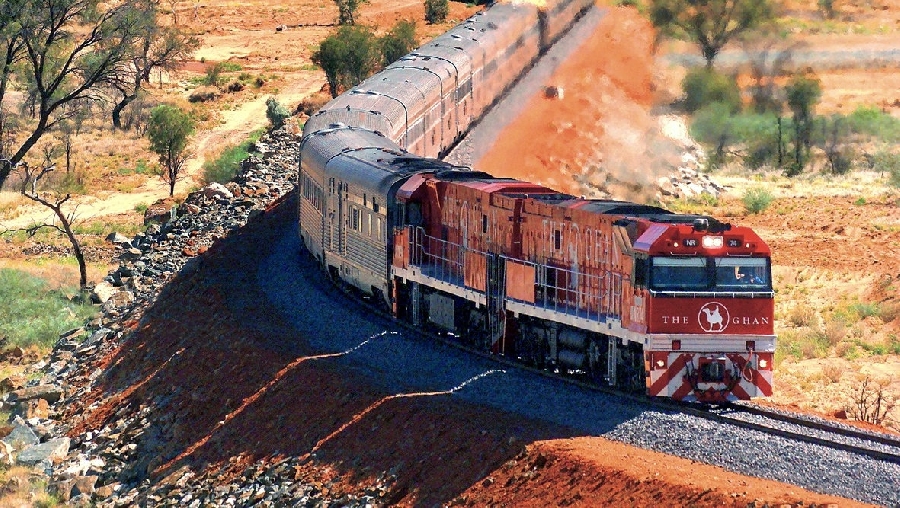 Once you've settled in and the big wheels start turning, make your way to the classically styled Queen Adelaide Restaurant carriage for a delicious lunch, accompanied by your choice of fine wines. With all meals and beverages included in your Platinum or Gold Service fare, you can afford to leave your credit card tucked away in your cabin.
Watch the rolling pastoral lands of South Australia merge into rugged mallee scrub. Marvel as the spectacular Flinders Ranges disappear into the horizon, all the while enjoying the solitude of your cabin, reading or catching up on your favourite podcast, then mingling with fellow travellers in the Lounge car for afternoon tea.
A three-course meal in the Queen Adelaide Restaurant is bound to satisfy and as darkness falls outside the train's windows, talk inevitably turns to the impressive outback gourmet menu. Entrees include a South Australian Regional Seafood Tasting Plate, a succulent rack of lamb for mains, and your choice of desserts including a regional cheese plate with Barossa Valley brie, Limestone Coast clothed cheddar and Lobethal goat blue.
The selection of wines is equally outstanding and staff are expert in helping you find the perfect drop to match your meal.
DAY 3: SECOND DAY ON THE GHAN AND ALICE SPRINGS
Wake up with a coffee or juice and witness an unforgettable outback sunrise at our new morning stop in Marla in the remote reaches of SA. For those travelling Southbound, you'll be treated to an amazing showcase of outback stars in Manguri, a remote town around 40kms from Coober Pedy.
Back on board, it's time for brunch. Enjoy a light bite from the extensive menu or order something a little more substantial - perhaps a full breakfast complete with eggs just the way you like them. And while you're in the Queen Adelaide Restaurant why not try the Belgium chocolate waffle with strawberries, chocolate saucy and double cream? You are on holiday after all! After a few more coffees, fresh juices and more incredible outback scenery, you'll be arriving in iconic Alice Springs.
Here you can glimpse the history of yesteryear, the thriving culture and unique lifestyle of today. Visit local landmarks, or take a front row seat at a spectacular bird show at the Desert Park. To fully appreciate this breathtaking part of Australia, you might like to take a helicopter ride over the ancient MacDonnell Ranges. Experience this 300 million year old mountain range's unique beauty with 360 degree views. Alternatively experience a serene camel ride across incredible ochre land or continue further into the interior of Australia and visit the iconic Uluru and Kata Juta.
Back on the train there's time to talk through the day's discoveries with newfound friends in the Outback Explorer Lounge before freshening up for dinner in the Queen Adelaide Restaurant. Tonight, try the Roasted kangaroo fillet with crocodile boudin blanc, potato purée and quandong jus. Crocodile has long been a Northern Territory bushfood staple. The crocodile boudin blanc (white sausage) featured on the menu has been created in collaboration with award-winning smallgoods purveyor, Barossa Fine Foods.
DAY 4: THIRD DAY ON THE GHAN AND KATHERINE
Welcome to Katherine! Upon reaching the Northern Territory you'll enjoy another full breakfast before leaving the train for a day of cultural delights. Endless options await in Katherine.
Enjoy a leisurely cruise on the Katherine River gazing in wonder at towering sandstone cliffs. Alternatively, gain an insight into the culture and ways of the traditional owners of Nitmiluk, the Jawoyn people, with an exclusive cultural experience. Spend the day with the Aboriginal people, sharing their culture, learning their ways and trying some of the skills developed over thousands of years. Activities include basket weaving; spear throwing, fire lighting, painting, and learning the Didgeridoo.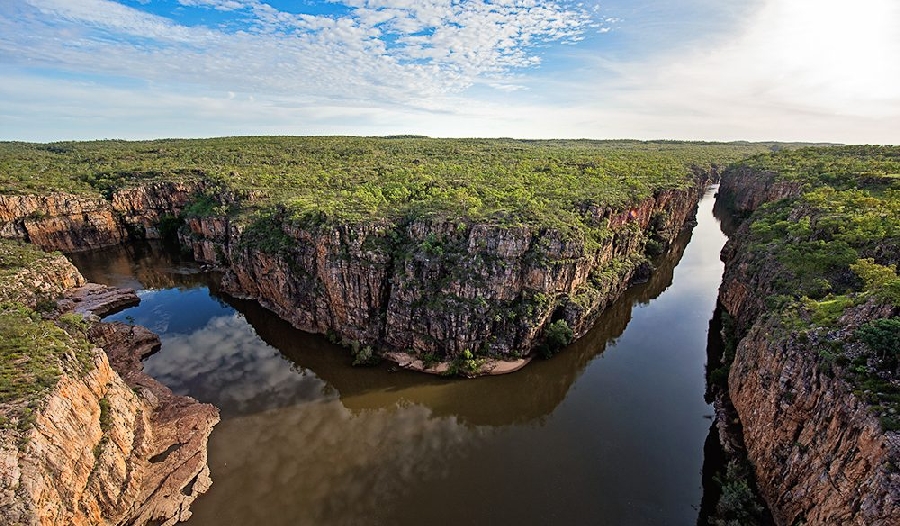 You can choose to upgrade your excursion with a helicopter or scenic flight over Kakadu and Nitmiluk National Parks where aside from magnificent views, you may witness 'Bolung', the rainbow serpent who is believed to inhabit the deep green pools found in the Second Gorge.
A late lunch awaits back on board – possibly the Grilled goldband snapper fillet, steamed asparagus spears, with orange, cranberry, parsley and papitas cous cous with a saffron aioli. Then kick backback, and savour the last few hours of this epic journey.
Roll into Darwin at 5.30pm then ease back into 'life on the land' exploring the harbour, the bars and restaurants of this laid back Top End city.
Once you arrive in Darwin you will be transferred or catch a taxi to your hotel for a good night sleep in a full-sized bed!
DAY 5: DARWIN (6 NIGHTS)
Today you will have a chance to rest and recuperate after your 3 day train journey before heading to the Harbour for a Luxury Sunset dinner cruise where you will sip champagne and enjoy a wonderful seafood dinner while watching the sun setting over the harbour, something we don't see often on the East Coast.
DAY 6: KAKADU NATIONAL PARK
You will be collected from your hotel and whisked off into Kakadu National Park for your explorer day tour ensuring you get to see all the highlights of the national park while learning about the history of the area from your knowledgeable tour guides without having a worry in the world.
Highlights
Day at Kakadu National Park—a timeless place
Panoramic views of beautiful & diverse nature
Ancient rock art more than 20,000 years old at Nourlangie
Calm water cruise & crocodile spotting
Overview of Aboriginal culture & traditions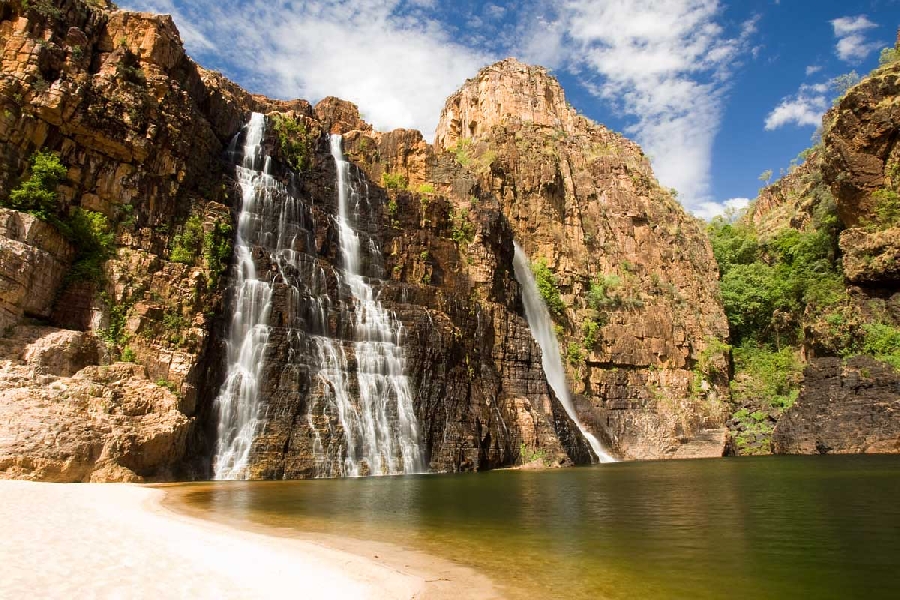 DAY 7: DARWIN
After a long day touring the previous day (and again tomorrow), we recommend that you take today at your own pace with a hop-on hop-off bus tour. This gives you the ability to get around Darwin and explore the city and attractions without having to stick to a schedule.
DAY 8: LITCHFIELD NATIONAL PARK
Today you will once again be picked up from your hotel and this time you will be headed for Litchfield National park with it's spectacular waterfalls and scenery this is an experience not to be missed!
Highlights
Exploration of the rugged beauty of Litchfield National Park
Sights including the stunning Wangi & Florence waterfalls
A dip in the refreshing water of Buley Rockhole
Bush-walking tracks & swimming holes for you to discover
Tasty barbecue lunch in magnificent surroundings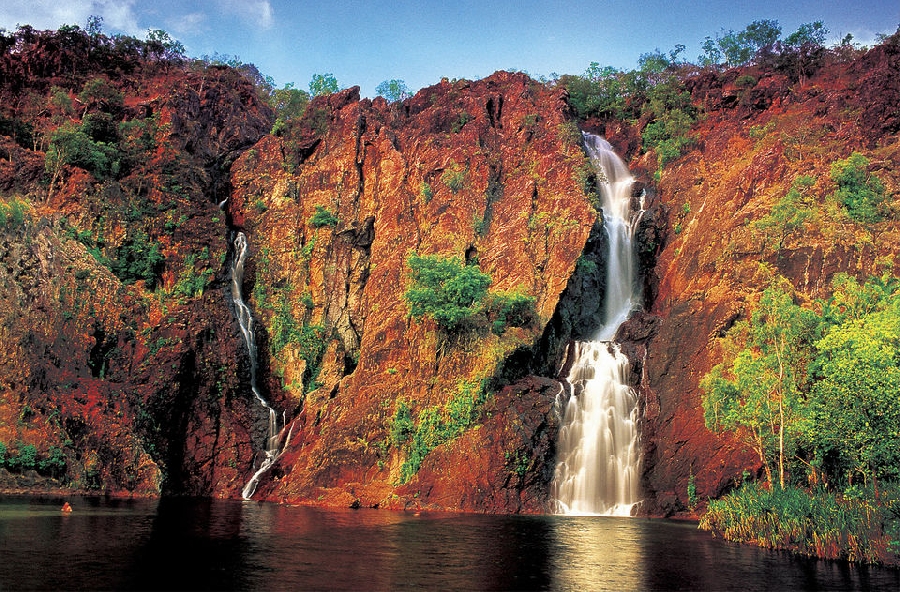 DAY 9: DARWIN
Your amazing outback experience is coming to an end. There is nothing like getting home from your holiday feeling like you need another holiday so we would like to leave a free day for you to explore anything you might have missed or to even relax around the pool before you fly home tomorrow.
DAY 10: RETURN HOME
Fly home and paln your next holiday with Australian Escapes.