Your Itinerary
This trip is perfect for your first trip to Vietnam and Cambodia with a fully-planned tour itinerary and knowledgeable tour guides. You can relax and know you are in good hands with of the country's best tour operators. See all the highlights of Vietnam and Cambodia including Halong Bay, Ho Chi Minh City, My Son, Phnom Penh and Angkor Wat.
"Travel far enough, you meet yourself" - David Mitchell
DAY 1: ARRIVE HANOI (1 NIGHT)
After flying into Hanoi take a private transfer to the hotel in Hanoi's Old Quarter, and after checking in you have free time to explore or relax before you tour starts in the morning.
DAY 2: HALONG BAY (1 NIGHT)
This morning enjoy a scenic journey to Halong Bay, and once you embark the cruise ship to enjoy lunch while admiring the beauty of the limestone islands. After lunch you can go kayaking through the Luon Cave area. Next, you'll cruise to Soi Sim and enjoy the beach or hike to the top of the island for an extraordinary view. After this the group heads back to the ship to enjoy the sunset and dinner. This is where you stay the night.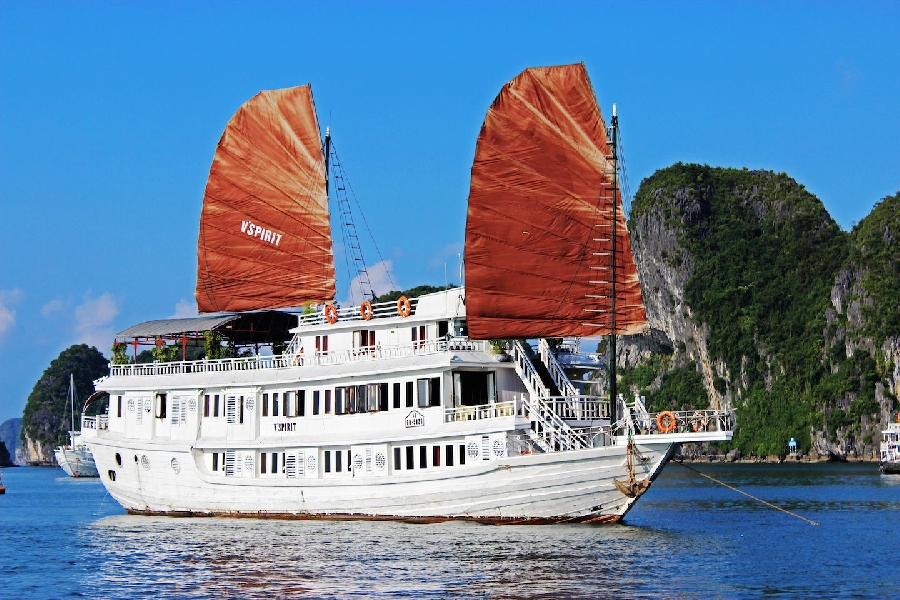 DAY 3: HANOI (1 NIGHT)
Start your day with some Tai Chi exercises or a photo hunt before breakfast, then later explore the Sung Sot Cave. Watch a traditional Vietnamese cooking demonstration and enjoy a delicious lunch. After lunch the cruise will be finished, so you'll back to Hanoi for the night.
DAY 4: HANOI FREE DAY, THEN OVERNIGHT TRAIN TO DA NANG
Today is a free day to explore the Hanoi Old Quarter before your train to Da Nang. The Old Quarter has over 1000 years of history with it's hustle and bustle, and shopping. This area showcases the history of the city with a mixture of French architecture and Catholic churches as well as newly-built modern restaurants and bars. (Option to take a flight to Da Nang and have an extra night in Hoi An.)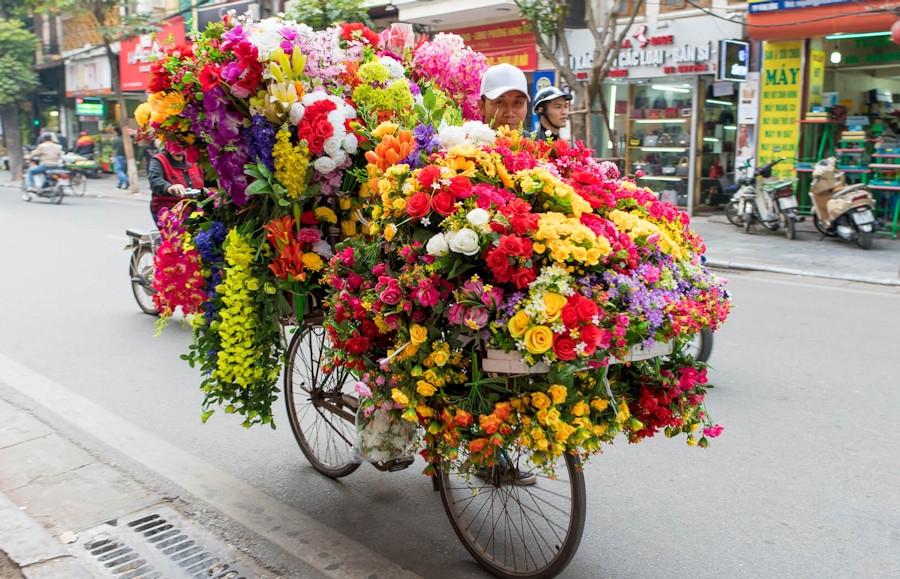 DAY 5: HOI AN (2 NIGHTS)
After arriving in Da Nang in the late morning, you will be transferred to Hoi An. This is a grand and elegant city with a diverse mix of historic buildings, from the Japanese Covered Bridge to the centuries old and unique, traditional homes of the area.
DAY 6: HOI AN AND MY SON
Today you will be travelling to the religious centre of My Son. This is a World Heritage Site built in the 4th century. You will be taken on a guided tour. After My Son you'll take a boat trip down the Thu Bon with lunch, and a visit to the traditional Kim Bong Carpentry Village before returning to Hoai An for the night.
DAY 7: FLIGHT TO HO CHI MINH CITY (3 NIGHTS)
Today you are free for most of the day to explore this beautiful, ancient city before your flight to Ho Chi Minh City. Once you have checked out of the hotel you can leave your bags there to explore the city and enjoy some free time.
DAY 8: MEKONG DELTA AND VINH LONG TOUR
Today you will be heading out of Ho Chi Minh City to see the bustling area of the Mekong Delta. You will get the chance to see the rice fields the area is famous for, before visiting a real floating market. Then continue to Vinh Long and experience the charm of the area. Enjoy a fresh local lunch and local music before relaxing in a bonsai garden. After this you will be heading back to Ho Chi Minh City.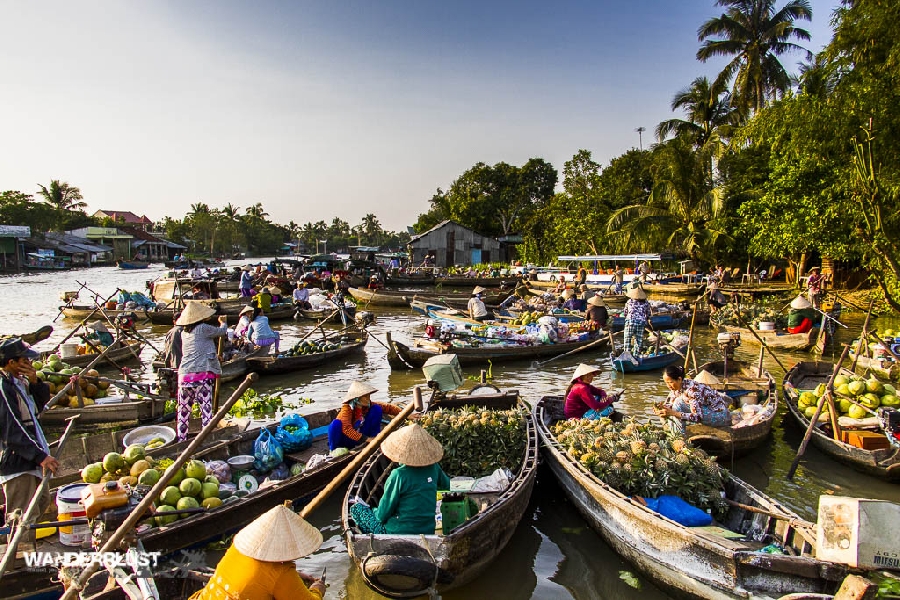 DAY 9: HO CHI MINH CITY FREE DAY
Free day to explore Ho Chi Minh City. We recommend exploring the city including the Dong Khoi area, Notre Dame Cathedral and the Opera House and Reunification Palace. You Lonely Planet guide will be an invaluable resource here.
DAY 10: BUS TO PHNOM PENH (2 NIGHTS)
Today you will be travelling into Cambodia and you will be staying in the stunning city of Phnom Penh. After checking into your hotel, you have the rest of the day to explore this wonderful city and see how it is reclaiming its title of the most beautiful city in Asia.
DAY 11: TUOL SLENG AND CHOEUNG EK
Today is an included but optional guided tour of the Tuol Sleng Prison Museum and the notorious Choeung Ek area for those who want to know the full history of the Khmer Rouge regime. This afternoon explore Psar Toul Tom Pong, also called the "Russian Market", where anything and everything is for sale. Later this afternoon, we take a one-hour boat cruise on the Mekong river.
DAY 12: BUS TO SIEM REAP (2 NIGHTS)
Today you will travel from Phnom Penh to Siem Reap.
DAY 13: SIEM REAP AND ANGKOR TEMPLES
After breakfast, a guided tour will take you to the Angkor Thom Area. Then you are free to visit the Ta-Prom Temple. Enjoy some lunch, then continue your journey to Angkor Wat Temple, one of the seven greatest architectural wonders of the world, built in between the 9th - 13th century.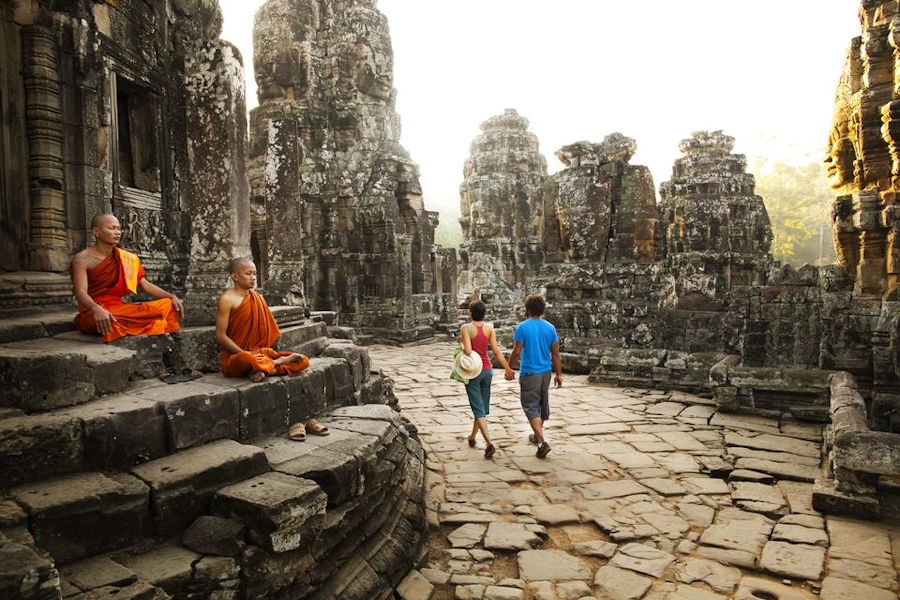 DAY 14: SIEM REAP AND FLIGHT HOME
Today is the final day of your wonderful Vietnam and Cambodia adventure. After breakfast you'll have time to check out and leave your bags at the hotel to explore chic and vibrant Siem Reap more before you return home.