Your Itinerary
Enjoy the best of Samoa with this fully-planned, yet fully-flexible itinerary. See the beauty of Samoa while staying in the best beach-side accommodation, so you can enjoy the most beautiful walks every morning and prettiest sunsets every evening. Explore coral lagoons, roaring waterfalls, black sand beaches, and vivid green rainforests as well as amazing local cuisine and the friendly Samoan culture.
"Oh the places you'll go." - Dr. Seuss
DEPART SYDNEY
You'll travel to Samoa on an overnight flight and the great thing is you don't miss out on any time in paradise.
DAY 1: ARRIVE IN SAMOA
You'll land on Upolu island at Apia and pick up your car. You'll be returning to Apia later in the trip so today you'll take the ferry across to Savai'i Island. We will pre-book the ferry for you because it can get busy. On the way there's some beautiful scenery and this is why you need a car in Samoa, so you can stop and check out all the beauty these islands have to offer.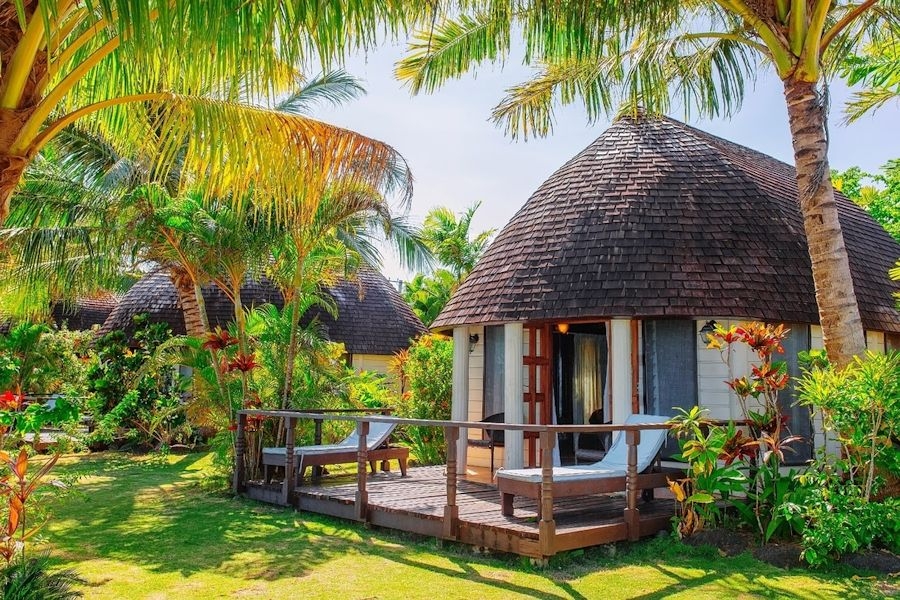 Once you get to the north of Savai'i you can check into your resort and revel in the luxury of this accommodation. Now you are free to relax at the resort or start exploring Samoa.
DAY 2: SAVAI'I
Today we recommend driving to the south coast of Savai'i to see the wonderous Afu Aau Waterfall, a spectacular sight that flows into a refreshing freshwater swimming pool. Also check out the Alofaaga Blowholes, a rare natural phenomenon that is exciting and fun to watch. Later, for some island hospitality, head to Salelologa and try the traditional dishes and super-fresh seafood at CC's Restaurant and Bar.
DAY 3: SAVAI'I
The northern coast beckons, and our highest recommendation is the "Savai'i Swimming with Turtles" experience, less than 5 minutes away from your resort. Then to see the true power of nature go see the awe-inspiring lava fields and caves of the Central North Coast, as well as the formidable Mt Matavanu, a truly captivating sight. For a foodie's dream try the choices on offer at scrumptious Amoa Restaurant and experience the best food on the island.
DAY 4: UPOLU - SA'ANAPU
This morning you'll say Tofa soifua (a sincere goodbye) to your resort hosts to take the ferry back to Upolu. From the ferry you will be heading south to your next accommodation.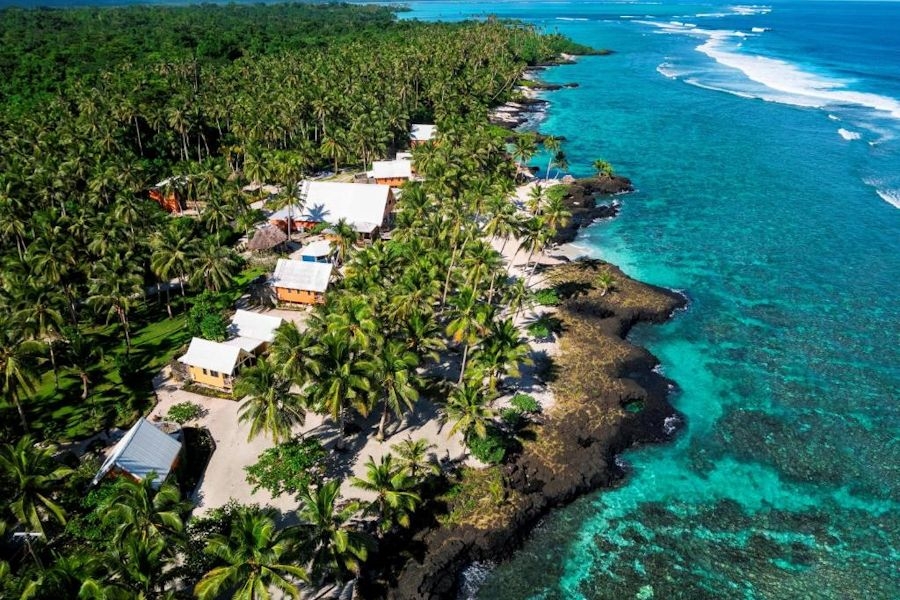 Here you can relax by the beach in your bungalow or explore the coves of Matareva nearby. These delightful shallow pools are great for snorkelling or just enjoy the calm, warm waters.
DAY 5: AUFAGA
This morning after breakfast and more charming hospitality we're heading west to our next destination, Aufaga. On the way, be sure to see the incredibly tall Papapapaitai Falls and the magnificent O Le Pupu-Pu'e National Park. Here you can hike through wonderous rainforest, see lava tubes, and a hugely impressive rainforest tree. Once you are exhausted from all the beauty, check-in to the award-winning resort you will be calling home for the next few nights.
DAY 6: FUIPISIA WATERFALL AND TO SUA TRENCH
The eastern side of Upolu is known for its beautiful beaches and excellent snorkelling reefs. If you can want to do something other than relaxing with a cool drink, we recommend you see To Sua Trench, a local icon and beautiful swimming hole, with green draped walls. You won't want to miss it.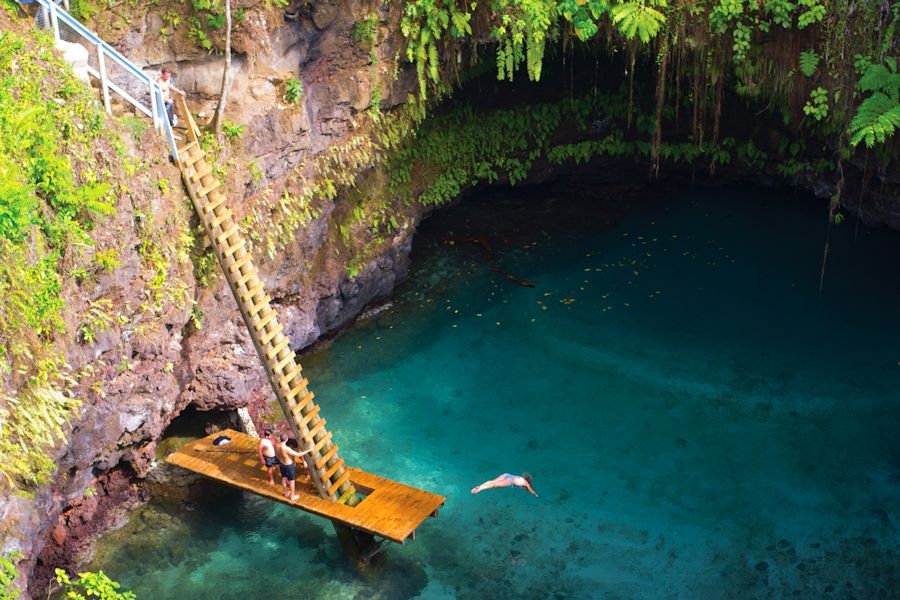 Everything is relaxed here so take your time to explore places like Aganoa beach.
DAY 7: LALOMANU BEACH
Today we highly recommend you check out the pristine beauty of Lalomanu Beach. There is plenty to do, relaxing in the crystal blue water, basking in the sun of the pure white sand, or seeing the beauty in the water by snorkelling and seeing the many varieties of tropical fish.
DAY 8: APIA
Today while travelling to Apia you will get the opportunity to see sights like the Piula Cave Pool, two freshwater grottoes underneath a college. Nearby is the Robert Louis Stevenson Museum, the homestead he and his family lived in is a lovingly kept museum to his life and works; and the magnificent Mt Vaea. Check into your hotel in Apia, and and explore some of the other local attractions, then for dinner try Palusami, a restaurant that uses local produce to create Samoan and international fusion dishes.
DAY 9: APIA
Today you have the opportunity to explore Apia the nation's capital in more depth. The Maketi Fou, the main market is a must-see. And for the freshest lunch in Samoa head to the Fish Market for fish and chips.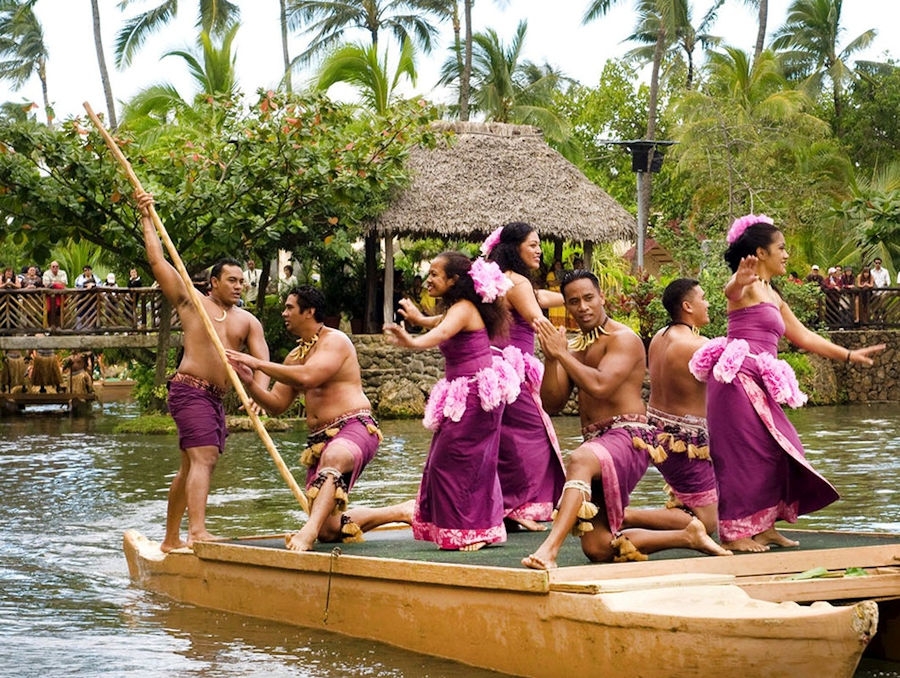 After lunch be sure to go see the incredible Samoan Cultural Village (entry is free) for an informative and fun exploration of Samoan culture.
DAYS 10 TO 12: BONUS FREE NIGHTS
JUST RELEASED: We have a special deal with three of the resorts in this package to offer you 2 FREE NIGHTS to extend your stay. Some exclusion dates apply.
DAY 12: FLY HOME
Before your flight back we recommend heading to Vaiala Beach for some more time in the sun, or for some pampering before you leave. Check out "A Touch of Samoa", the most popular spa in Apia.
MORE OPTIONS
If you wish to spend more time in Samoa, or would like to change this itinerary in any way feel free to let us know.