Your Itinerary
Discover some of the many highlights of Italy and the Greek Islands with this value-packed itinerary. We've slowed the pace in Rome and Venice so you can really get to know and experience these places in more depth. The tour and cruise inclusions mean that you can meet other travellers, one of the most enjoyable and memorable aspects of this type of travel. You also have the option of swapping the included cruise with our Athens and Greek Island Hopper package. If you're an independent traveller, that will give you time to enjoy Athens and up to four of the wonderful Greek islands at a leisurely pace. If you want to see more of Italy, our 5-day Italian Lakes package offers terrific value, as does our Tastes of Southern Italy package. See the options section below for details.
"Quit your job, buy a ticket, get a tan, fall in love, never return." - Anonymous
DAY 1: ARRIVE ROME (2 NIGHTS)
Welcome to Rome. After checking in, relax and unwind. From your central location you're within easy walking distance of many of Rome's famous attractions such as Trevi Fountain, Spanish Steps, Pantheon and Piazza Navona. This evening consider a stroll around this fascinating ancient city and mingle with the locals in beautiful squares with stunning architecture. Have dinner at a very Italian Trattoria and enjoy a pizza made in the traditional way while sketching out the rest of your first few days and evenings in this great city.
Special self-guided activity: Doing as the Romans do at sunset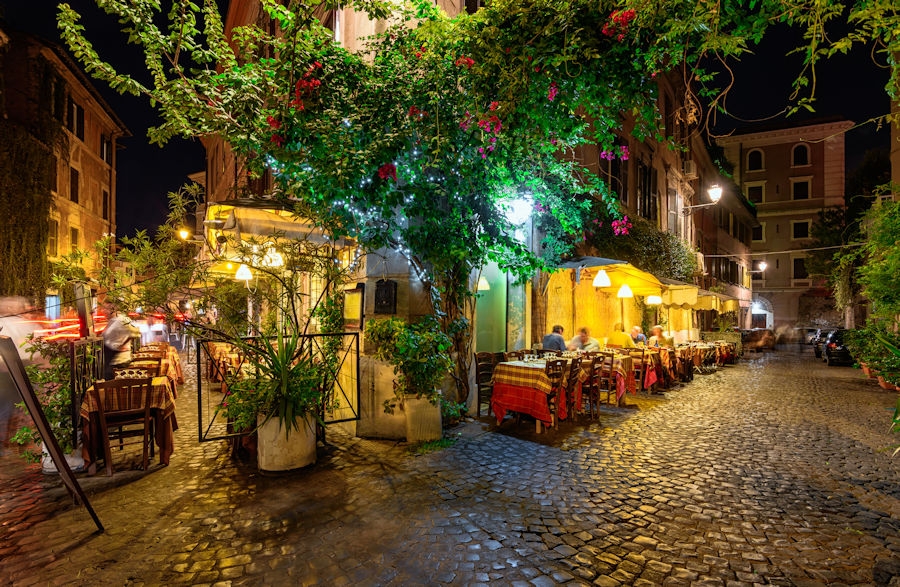 "In Rome, sunset brings unexpected magic. A stroll in the cool of the summer evening is made memorable by the romance of the Eternal City. The tourist who retreats at night to an air-conditioned hotel room is missing the best time to plunge into Rome. Once the museums close and the crowds thin, Rome relaxes. The city, so grand and monumental by day, becomes intimate and approachable." Rick Steves (Famous travel author)
DAY 2: ROME SIGHTSEEING
Your Lonely Planet Guide will provide you with plenty of options for places to visit and things to see and do before joining your tour group. Today will be a great opportunity to see things not included in the upcoming tour.
Special included activity: Trastevere Street Eats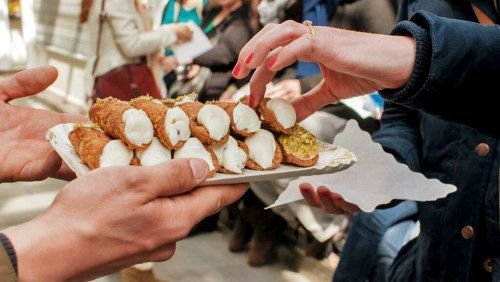 Rome is known for having some of the country's most loved street food. From ancient classics like suppli'- fried risotto balls oozing with fresh mozzarella cheese- to the the trendy Trappizino- a hybrid of pizza and a calzone filled with signature Roman dishes like braised oxtail, you will enjoy them all. This unforgettable food and cultural experience will give you a taste of daily life in one of Rome's most iconic neighbourhoods, Trastevere.
DAY 3: ROME SIGHTSEELING AND JOIN TOUR GROUP
The morning is free for you to enjoy a casual stroll through one of Rome's wonderful markets or take in some sights remaining on your list.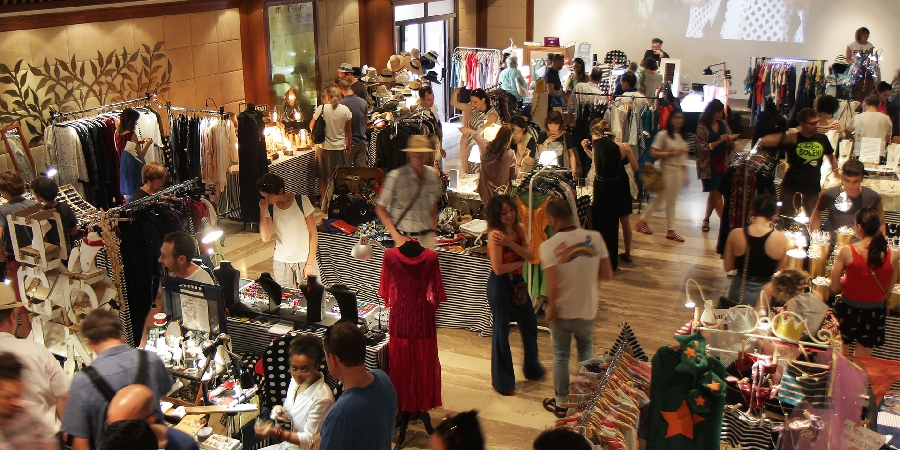 Later you'll head to the tour start hotel to meet with your Travel Director and fellow travellers. One of the great joys of travelling with a Trafalgar tour group is making new friends and experiencing many new places as a group. This certainly adds to the experience.
On this tour you'll explore Italy's sophisticated capitals of Venice, Florence and Rome. The beautiful cobblestone squares, centuries' old tradition and historic highlights like the mighty Colosseum, Leaning Tower of Pisa and the spectacular Duomo are included in your group tour of this fascinating destination.
DAY 4: ROME SIGHTSEEING AND FREE TIME
Your local specialist takes you on a sightseeing tour with a visit to the Vatican City. Enter the awe-inspiring St. Peter's Basilica and view Michelangelo's statue, the Pietà.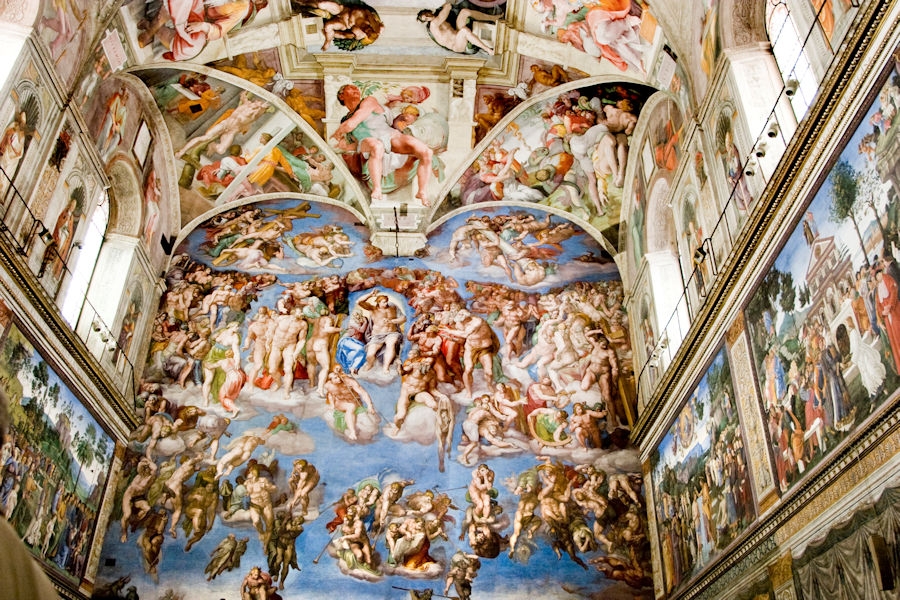 Don't miss the opportunity to join an Optional Experience to visit the famous Sistine Chapel and Vatican Museums. View the mighty Colosseum and see the ancient sites of Rome.
DAY 4: ROME – PISA – FLORENCE (2 NIGHTS)
This morning, leave Rome and head north towards Central Italy. Travel through picturesque scenery in Tuscany before arriving in the town of Pisa. Visit the Square of Miracles featuring the Leaning Tower, Cathedral and Baptistery. There is time to shop for souvenirs and take pictures. Later, arrive at your hotel near Florence, birthplace of the Renaissance.
DAY 5: FLORENCE SIGHTSEEING AND FREE TIME
There are few cities in the world with an artistic legacy to equal that of Florence. Your Local Specialist gives a superb commentary of the city's history during your walking tour, which includes views of the Baptistery, Cathedral of Santa Maria del Fiore, the impressive Giotto's Bell Tower, Ponte Vecchio and a visit to Piazza della Signoria.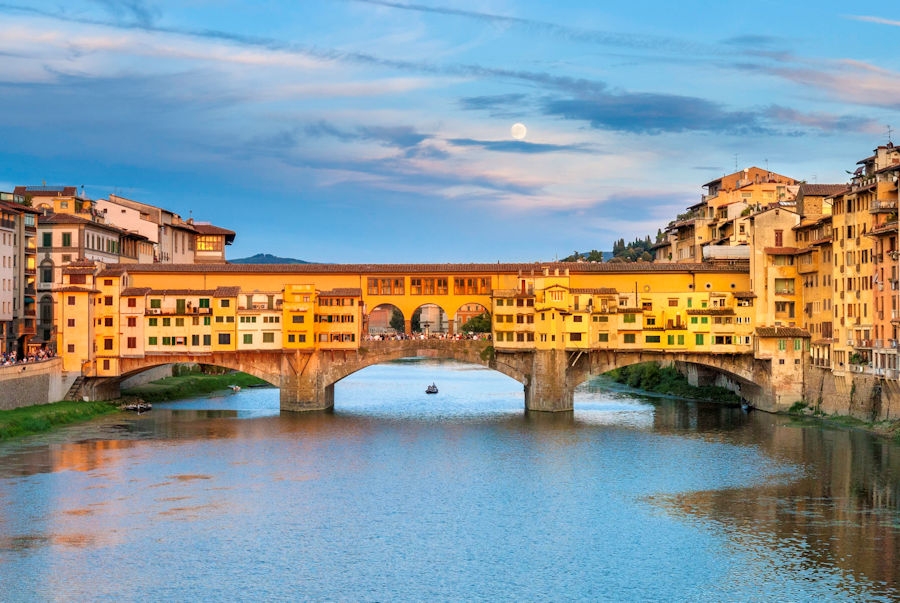 Learn about the quality and workmanship of two of this city's historic industries at demonstrations of Florentine leathercraft and 18-carat gold. Don't forget to try a gelato! Later enjoy dinner at the hotel.
DAY 6: FLORENCE – VERONA – VENICE (MESTRE) (2 NIGHTS)
Your journey continues north across the dramatic Apennine Mountains to Verona, the home of Shakespeare's star-crossed lovers. View the vast Roman Arena, where concerts are still held regularly each year. Stop and view Juliet's balcony in a courtyard which has become a popular tourist site for the tragic story of the Montague and Capulet family feud. Head east to the magical, romantic city of Venice.
DAY 7: VENICE ORIENTATION AND FREE TIME
Watch the Venetian craftsmen at work creating local specialities at a glassblowing workshop on Giudecca Island. Then cruise by private launch to St. Mark's Square in the heart of Venice.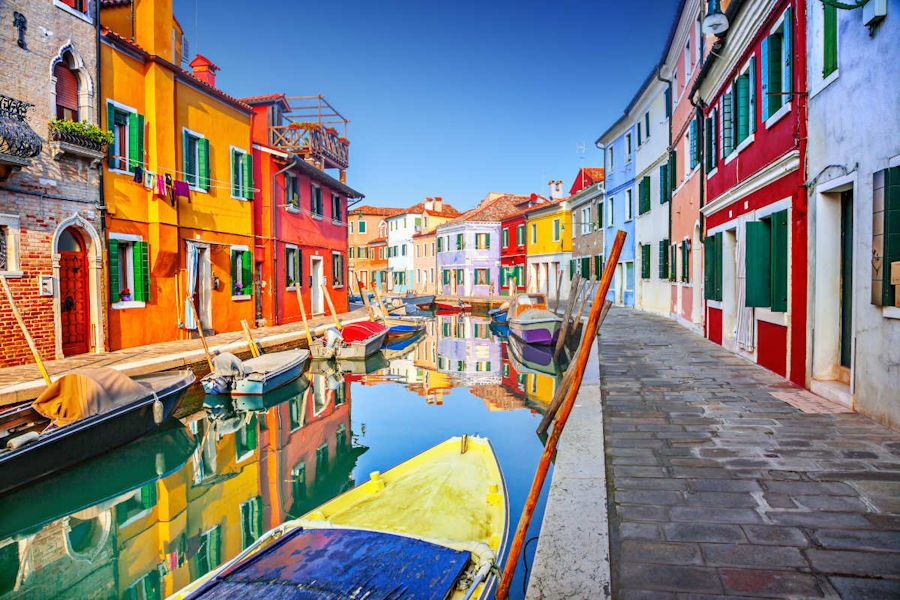 Admire the Bridge of Sighs, the ornate Doge's Palace and the Byzantine Basilica of St. Mark. Spend free time afterwards exploring this fascinating city or perhaps take a cruise across the lagoon to Burano for a relaxing farewell dinner. Burano is an island in the Venetian lagoon known for its brightly coloured houses.
DAYS 8 TO 10: VENICE SELF-GUIDED (3 NIGHTS)
This morning say 'arrivederci' to your Travel Director and newfound friends and return to Venice San Marco Square area where you'll be staying for three more nights. Now you can slow down and relax. According to Venice for Visitors website, the #1 Mistake travelers make is what they call "Hit and run" visits. You will avoid that mistake and really get to know this magical place. Maybe you'll end up joining the ranks of those travelers who can't get enough of Venice and discover new things about the city with every visit.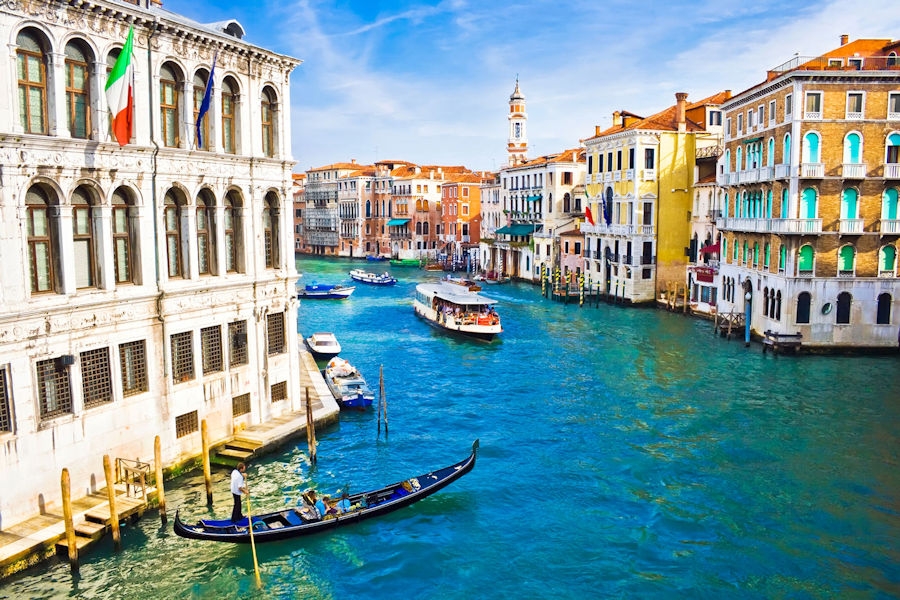 There's a lot to see beyond the usual tourist attractions: e.g., the islands of the lagoon, the ancient Jewish Ghetto, and the bridges, canals, back streets, and shops of neighborhoods that hurried and harried tourists never see. Many sights won't cost you a anything except perhaps a vaporetto (water bus) ride. For example – The Grand Canal. Take a vaporetto preferably in the evening, when the day-trippers have gone home and the palazzi along the canal are floodlit or illuminated from within. If you're on one of the older boats with an open bow, sit up front; otherwise, grab a seat in the covered open-air section at the boat's stern, beyond the doors at the rear of the vaporetto's enclosed passenger compartment. As the water bus zigzags between stops on both sides of the canal you'll pass under several bridges and see dozens of palaces that were built from the 12th to 18th centuries. Your Lonely Planet guide and a special traveler website will provide everything you need to plan your trip.
DAY 11: VENICE SIGHTSEEING AND JOIN CRUISE
Leave your bags at reception and spend the morning doing some more of the things on your to-see and do list. Later today you'll take a water bus to the cruise port to board your ship that will take you on a completely different adventure.
Note: This cruise is in high demand and bookings are subject to availability for your travel dates. If this cruise is not available for your preferred departure date, we will find an alternative to suit.
Optional: 8-night Athens & Greek Island Hopper package. See details in "Inclusions" above.
DAY 12: SPLIT, CROATIA
Croatia's second-largest city, Split (Spalato in Italian) is a great place to see Dalmatian life as it's really lived.
Always buzzing, this exuberant city has just the right balance between tradition and modernity. Step inside Diocletian's Palace (a Unesco World Heritage Site and one of the world's most impressive Roman monuments) and you'll see dozens of bars, restaurants and shops thriving amid the atmospheric old walls where Split has been humming along for thousands of years. (Arrive 7am, depart 5pm)
DAY 13: AT SEA
Today is just a day to relax and enjoy the facilities of your luxury cruise ships and share some time with any new friends you've made.
DAY 14: SANTORINI, GREECE
You'll either love or hate Santorini. Its magnet, the multicoloured cliffs that soar above the sea-drowned caldera, are amazing indeed.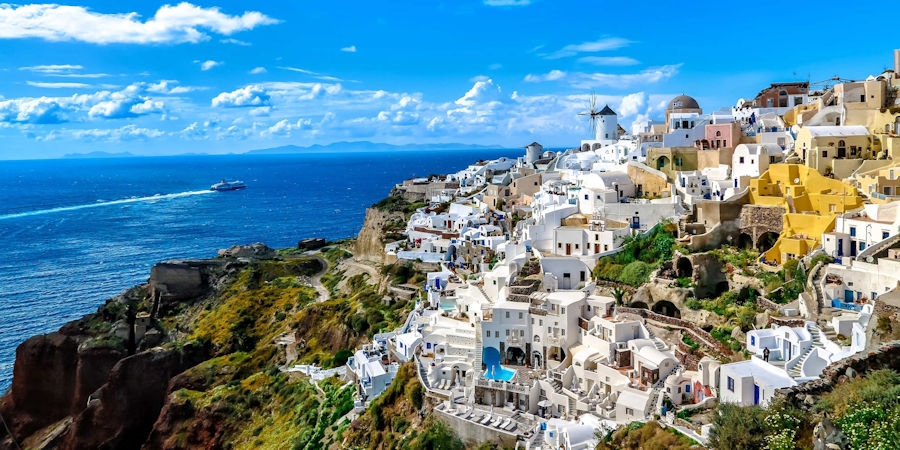 The main towns of Fira and Oia – a snow-drift of white Cycladic houses that line the cliff tops and spill like icy cornices down the terraced rock – will take your breath away. And then there's the sunsets, the glorious sunsets. And the island's fascinating history, best revealed at the Minoan site of Akrotiri. (Arrive 7am, depart 3pm)
DAY 15: MYKONOS, GREECE
Mykonos is the great glamour island of Greece and flaunts its sizzling St-Tropez-meets-Ibiza style and party-hard reputation, with bronzed bodies thronging its beaches by day and basslines pounding through its superclubs until dawn.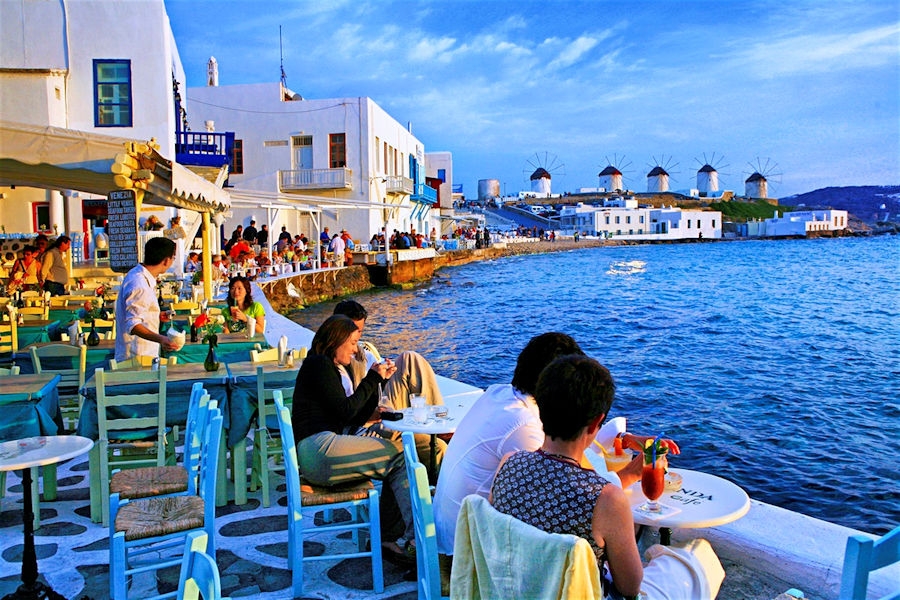 But there's more to it than the dazzling sand, preening celebrities and insatiable revellers. Those who spend a little time here will discover the quiet charm of the Cycladic maze of Hora, the pleasure of travelling the backcountry roads and a dining scene to rival any Greek island. (Arrive 8pm)
DAY 16: MYKONOS, GREECE
You can enjoy everything Mykonos has to offer through Day 14 and into the night if desired, then re-board the ship around midnight because we depart at 3am.
DAY 17: DUBROVNIK, CROATIA
Regardless of whether you are visiting Dubrovnik for the first time or the hundredth, the sense of awe never fails to descend when you set eyes on the beauty of the old town.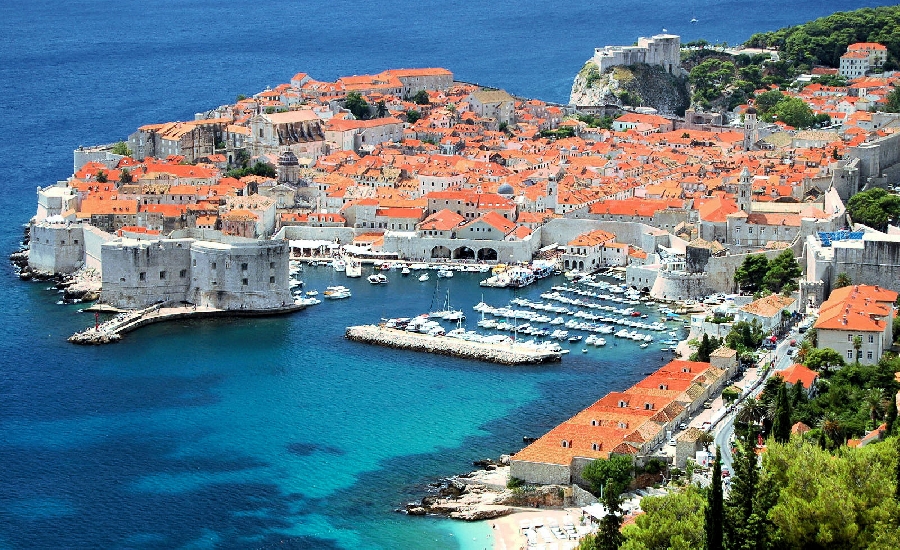 Indeed it's hard to imagine anyone becoming jaded by the city's limestone streets, baroque buildings and the endless shimmer of the Adriatic, or failing to be inspired by a walk along the ancient city walls that protected the capital of a sophisticated republic for centuries. (Arrive 1pm, depart 8pm)
DAY 18: ANCONA, ITALY
Often brushed aside as being just another of Italy's bolshie, gritty port towns, Ancona is no beauty at first glance from the ferry, it's true. But there's more to Ancona than meets the superficial eye, and to simply bypass it is to miss much. In the old town, crowned by the duomo, you can peel back layers of history of the city founded by Greek settlers from Syracuse around 387 BC, admiring Roman ruins, the rich stash of its archaeological museum and its Renaissance palazzi, which glow softly in the evening light. Linger long enough in its hilltop parks overlooking the Adriatic and lively boulevards and cafe-rimmed piazzas and you'll see a more likeable side to Le Marche's seafront capital, promise. (Arrive 10am, depart 6pm)
DAY 19: VENICE (CRUISE DEPARTURE, RETURN TO AUSTRALIA)
This morning after breakfast you'll leave your cruise ship behind and head to the airport for your trip back to Australia. If time permits, you can leave your bags at Piazzale Roma near to the cruise port and head back into Venice for the day. Of course you might like to extend your Italian holiday with a trip to Milan and famous Lake Como and Lake Maggiore.
Optionals:
Tastes of Southern Italy: $799 per person
Spend 3 days in some of the most charming cities of Southern Italy. Explore bustling Naples, marvel at the UNESCO-listed ruins of Pompeii and take a boat ride to Capri's magical Blue Grotto, before enjoying a stroll around beautiful, colourful Sorrento.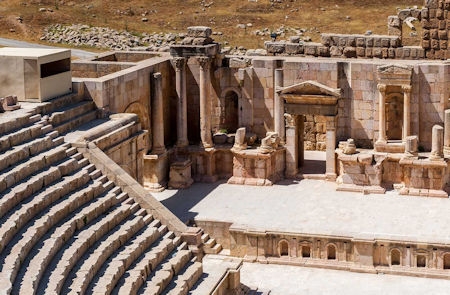 Day 1 – Naples & Pompeii
Leave Rome behind and take in stunning views of the Roman countryside as you head to Naples. Renowned as the birthplace of Italian pizza, Naples is also an important cultural and historical centre. Enjoy a panoramic tour of this lively city before making your way to the fascinating ancient ruins of Pompeii. Your tour ends with a delicious dinner and overnight stay in Sorrento.
Day 2 – Capri (from April to October)
After breakfast, reach the charming island of Capri and enjoy a boat ride to the Blue Grotto. Relax and take in the stunning scenery, the sunlight passing through the underwater cavity, creating a magical blue light that illuminates the grotto. Discover the elegant town of Anacapri and head back to Capri for a traditional lunch. Later, take some time to explore the area, and maybe do a little shopping before heading back to Sorrento.
Day 3 – Sorrento
Wander around Sorrento's pretty streets and take pictures of the stunning blue sea. Due to an abundance of lemons in the area, sunny Sorrento is renowned for its production of limoncello, a famous digestif made from lemon rind. Taste some limoncello, or perhaps buy a bottle to bring home with you, before returning to Rome in the afternoon.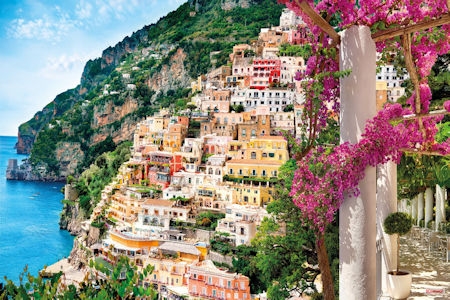 Extend your stay in Sorrento to visit the Amalfi coast including Positano, Ravello and Amalfi. Consider this tour package to follow some time in Rome before joining your main northern tour.
5-day Italian lakes extension: $899 per person.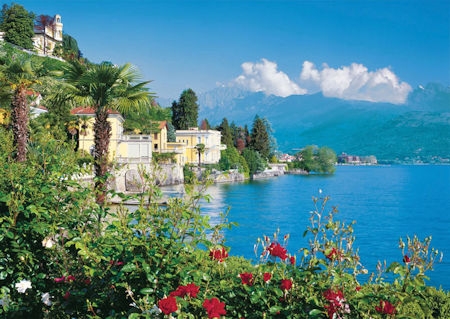 Includes:
High-speed train from Venice to Milan, business class seats
4 nights, top-class accommodation in central Milan, flexible time on arrival
Tours of Lake Como, Bellagio and Lake Maggiore over two full days
Flexible day to discover Milan or take the optional Bernina Express train tour across the Swiss Alps
After a day of relaxing and taking in the sights of Milan, you'll travel north to the breathtakingly beautiful Lake District region. Perhaps most well-known is Lake Como. Here you'll explore the enchanting village of Bellagio and enjoy a relaxing boat ride on the lake before returning to Milan. Next day, you'll visit the fashionable town of Stresa and the incredibly beautiful islands on Lake Maggiore and take a boat cruise around the Borromean Islands, stopping at Isola dei Pescatori for some shopping and sightseeing. Afterwards you'll head to Isola Bella to see the opulently decorated Borromean Palace. A wonderful addition to your European Delights package.
Optional Bernina Express Rail Tour to St. Moritz: $199 per person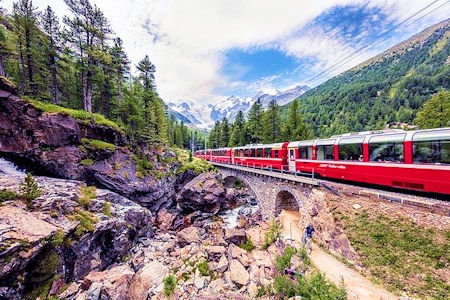 Gaze out the window at the shifting landscapes as you leave bustling Milan behind and head for the foothills of the Swiss Alps. Board the Bernina Express and journey through gorges and past glacier lakes, reaching heights of 7,400 feet (2,250 m) before alighting in the chic winter resort of St Moritz. Return to Milan via coach after speninf some time in St Moritz.
Singapore stop-over on return:
Consider stopping in Singapore for one ot two night on the way back to Australia to break the trip. Price is from $299 total for two people according to preferred hotel standard, including round-trip, private airport transfers.