Your Itinerary
Nature is well and truly part of Darwin's backyard: the famous national parks of Kakadu and Litchfield are only a few hours' drive away. You'll visit both to get a sense of the Northern Territory's past and present with spectacular natural attractions at its centre. Next, the Kimberleys contrasts of red earth, blue and olive water and green vegetation colours will be etched into your memory to remain for years to come. You'll have plenty of time to do what the locals do with tips and suggestions from an expert who've lived in these places.
"It's not what you look at that matters. It's what you see." - Henry David Thoreau
DAY 1: ARRIVE DARWIN (4 NIGHTS)
After checking into your centrally-located accommodation, the rest of the afternoon is free for you to look around the town.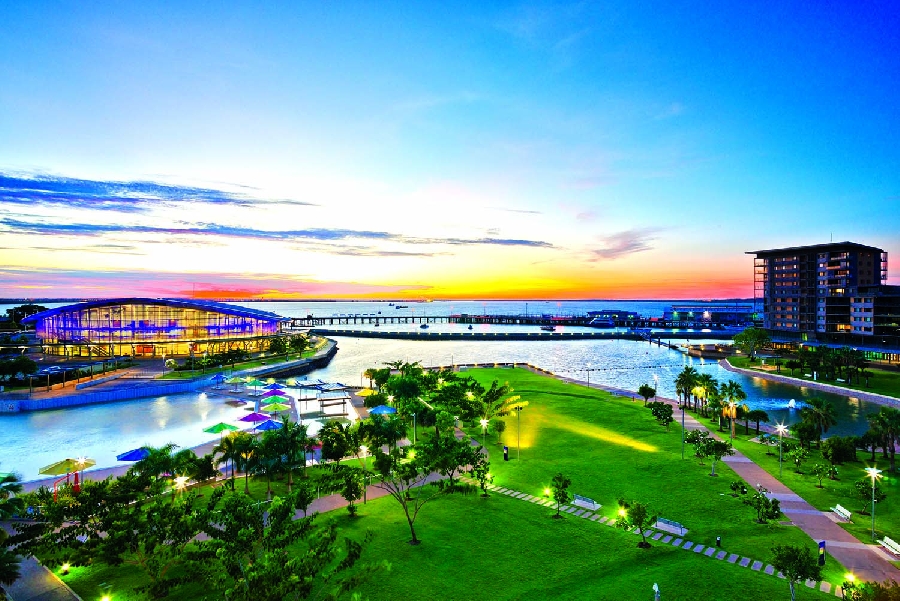 Your Lonely Planet guide will help you find a restaurant to return to for dinner. Try Il Piatto at the Casino for Italian dining overlooking the Arafura sea and a great sunset. Hanuman on Mitchell Street for 5-star Asian dining (Indian and Thai) or Wharf One at the waterfront for modern Australian with great views.
DAY 2: DARWIN - KAKADU NATIONAL PARK
You will be collected from your hotel to travel into Kakadu National Park for your explorer day tour ensuring you get to see all the highlights of the national park while learning about the history of the area from your knowledgeable tour guides.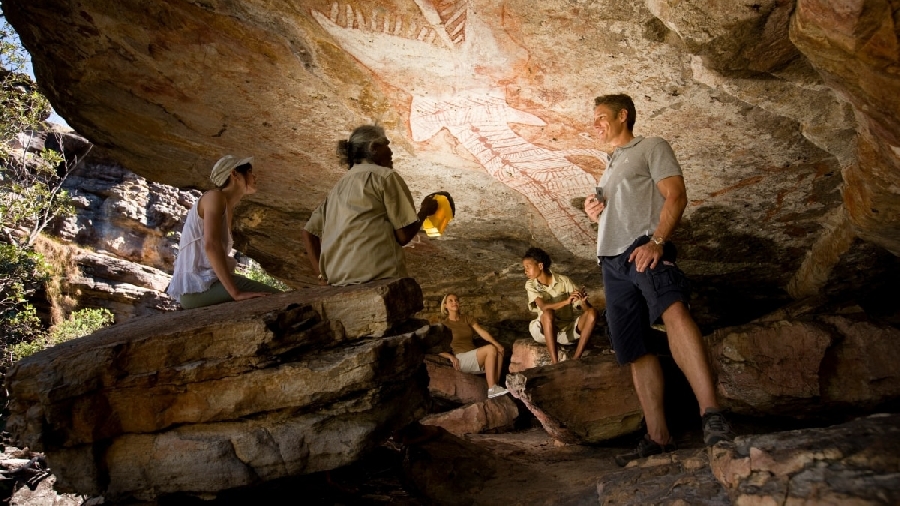 Tour highlights:
Day at Kakadu National Park—a timeless place
Panoramic views of beautiful & diverse nature
Ancient rock art more than 20,000 years old at Nourlangie
Calm water cruise & crocodile spotting
Overview of Aboriginal culture & traditions
Lose yourself in the beauty of Australia's Kakadu National Park. Marvel at Aboriginal rock art at Nourlangie, immerse yourself in Aboriginal culture and cruise the Yellow Water Billabong, home to myriads of plants and wildlife (including the world-infamous saltwater crocodile). Visit the Warradjan Cultural Centre and learn about the traditions of the Aboriginal people in Kakadu.
Next, cruise along the famous Yellow Water Billabong, where you can search for saltwater crocodiles and view the colourful range of bird life for which this region is renowned. After lunch, stop at the Nourlangie Rock for a guided walk and view the ancient Aboriginal rock art before returning to Darwin.
DAY 3: DARWIN FREE DAY
Today is a free day to rest after your brilliant Kakadu tour. You might even meet up with some of the people from the tour for a coffee or cold drink. There's plenty to do in Darwin if you're feeling active and your Lonely Planet guide will let you know where to start.
DAY 4: DARWIN - LITCHFIELD NATIONAL PARK
Today you will be picked up from your hotel and this time you will be headed for Litchfield National park with its spectacular waterfalls and scenery for which the Top End is famous. This is an experience not to be missed!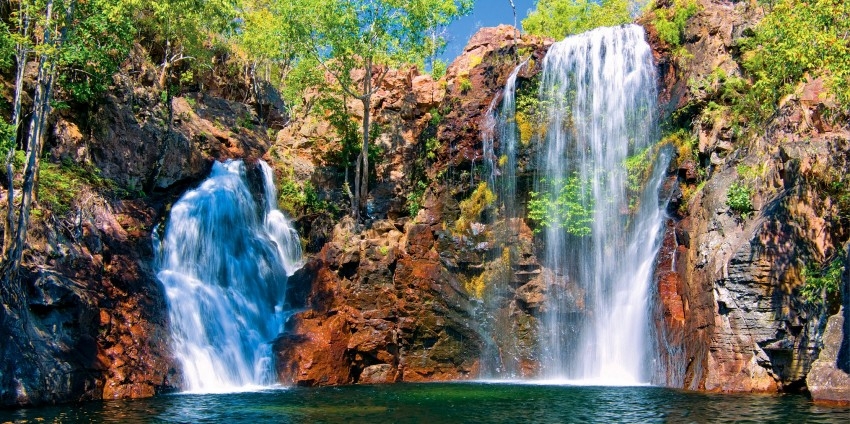 Tour highlights:
Exploration of the rugged beauty of Litchfield National Park
Sights including the stunning Wangi & Florence waterfalls
A dip in the refreshing water of Buley Rockhole
Bush-walking tracks & swimming holes for you to discover
Tasty barbecue lunch in magnificent surroundings
Enjoy a fun-filled day exploring the Northern Territory's Litchfield National Park. Discover this unique landscape with its abundant waterfalls, monsoon rainforest, bush-walking tracks and many swimming holes. Along the way to Litchfield we'll stop at the Magnetic and Cathedral termite mounds. These amazing architectural feats contain arches, tunnels and chimneys, and can stand as high as 20 feet (6 m).
Arrive at the park and follow your guide on a hike along bush-walking tracks. On the easy-grade Shady Creek Walk, a distance of 1.2 km, pay a visit to the stunning Florence Falls. While at the falls, you can take a refreshing dip or just soak in the beautiful nature surrounding you.
DAY 5: DARWIN – KUNUNURRA (4 NIGHTS)
Today you'll fly to Kununurra in Western Australia, near the Northern Territory border, arriving in the morning or early evening.
Kununurra is an Indigenous word meaning "big water", which suits the town perfectly as it's located on the banks of the Ord River with views to the scenic hills in the far eastern corner of the Kimberley region.
Not that long ago, the Kimberley was inaccessible to all but a few seasoned explorers and locals with knowledge of the area, particularly the waterways. The area's wilderness and wildlife has been preserved with spectacular results and eco-tourism is now one of the Kimberley's biggest attractions.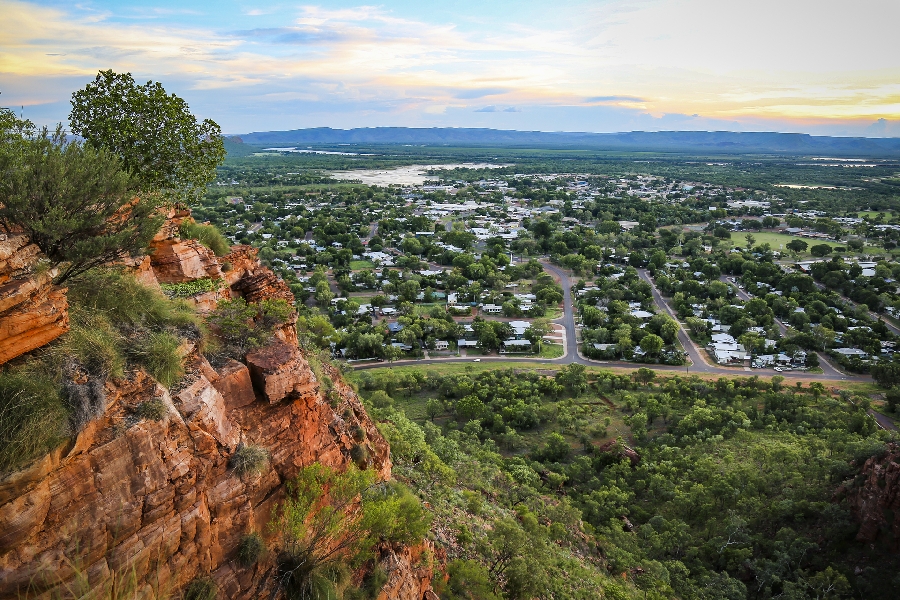 Kununurra is a picturesque place and great to explore, with galleries, cafes, pubs and even a local distillery giving you a taste of the region's produce, artistic creativity and crafts.
DAY 6: KUNUNURRA - EL QUESTRO
Pick up your 4WD rental car this morning and we'll drive just an hour to El Questro Wilderness Park along the famous Gibb River Road. You'll drive through a spectacular landscape of intensely coloured ranges, dramatic gorges, lush rock pools and waterfalls, everything for which the Kimberley is famous.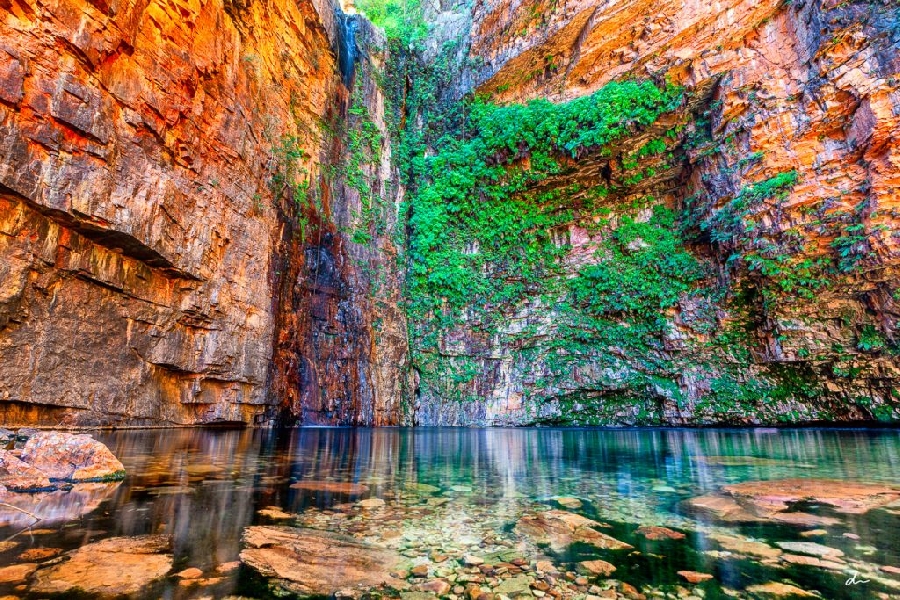 When you arrive at Zebedee Hot Springs in El Questro Wilderness Park, the ideal morning's activity is to go for a swim (before 12 pm) and have lunch at Emma Gorge Resort. You then have the option to do the two-hour return walk to Emma Gorge, returning to Kununurra in the afternoon.
DAY 7: KUNUNURRA
Today we recommend you leave early and drive just out of town to visit Warrangari Arts, the Sandalwood factory and Hoochery Distillery (for some famous Rum cake). Start at the Sandalwood factory, have breakfast at their café for breakfast, browse the sandalwood products and attend a demonstration.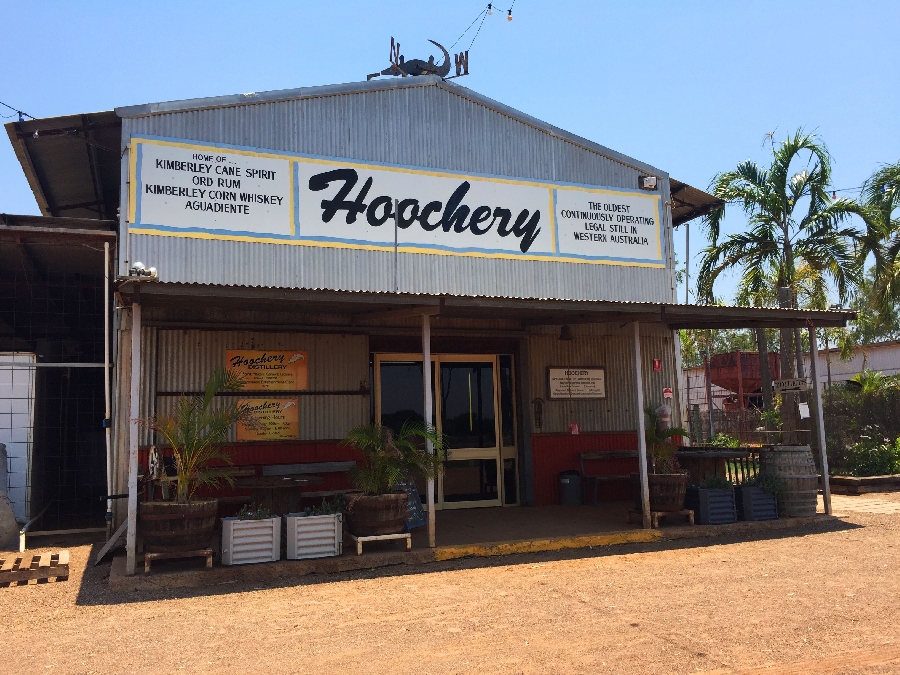 Later visit the distillery for a sample or two to take back home with you. Even you you don't drink rum you'll still enjoy the visit. You'll return your car at end of the day. Tonight, the Pump-house Restaurant will be ideal for dinner overlooking the Ord River.
DAY 8: KUNUNURRA - ORD RIVER CRUISE
Today you'll cruise the Kimberley's waterways to experience the grandeur of its gorges and waterfalls and have lunch on the banks of the Ord.
You will be collected from your accommodation late morning and taken by coach through Durack country to Lake Argyle. As we near the lake we'll take a short break at the historic Durack Homestead Museum.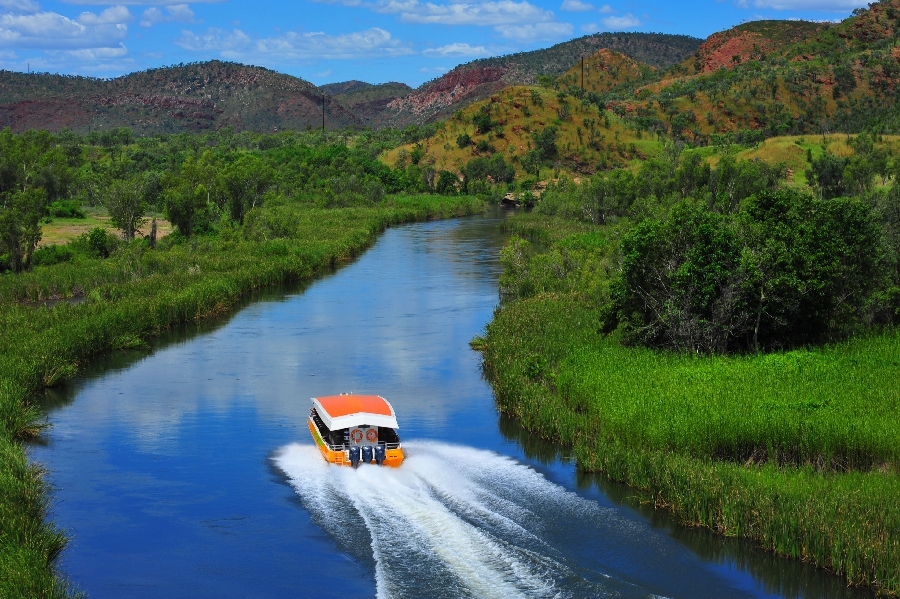 You'll then enjoy a scenic 55km cruise back to Kununurra. Marvel at the spectacular scenery, wildlife, flora and fauna found along the way, including the elusive freshwater crocodile!
Enjoy afternoon tea at our riverside camp before heading back to Kununurra. Take in a colourful East Kimberley sunset before docking back at the marina and re-boarding your coach for your accommodation drop-off at around 6.00pm.
DAY 9: SCENIC FLIGHT OR LAKE ARGYLE CRUISE
Gold star package: 2-hour scenic flight.
From an aircraft, Purnululu National Park is an imposing sight. This two-hour scenic flight takes you on an unforgettable adventure over the Bungle Bungle Range, Lake Argyle, the Argyle Diamond Mine and Ord River Irrigation Area. You will also fly over the stunning Carr Boyd Ranges, Osmand Ranges, the Ord River and the Bow River. This award-winning scenic flight is an exhilarating adventure taking in the Kimberley's best scenic views.
Silver star package: Morning cruise on Lake Argyle. (Sunset cruise optional.)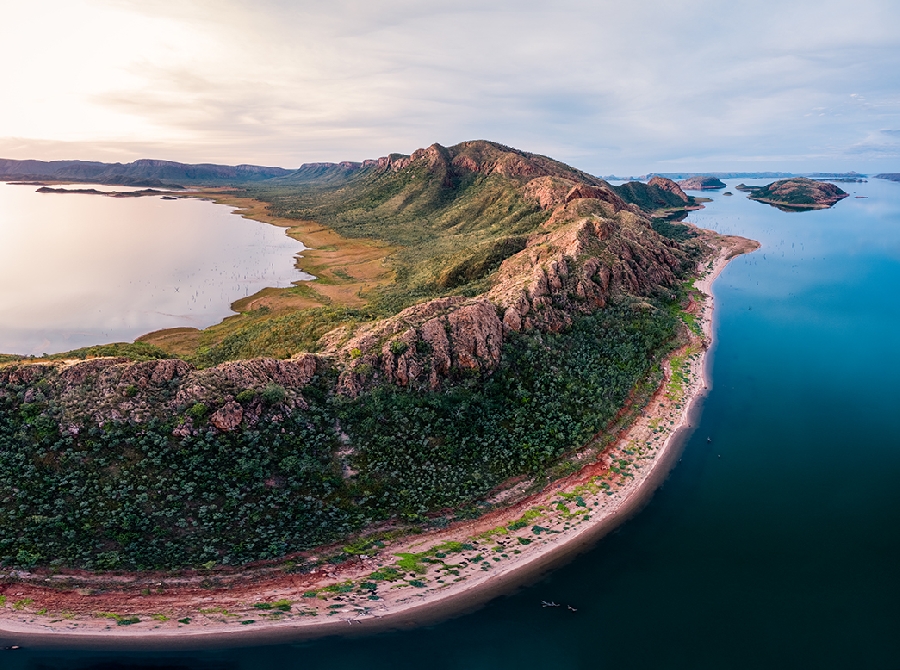 A morning cruise is a great way to begin your day at Lake Argyle. We explore the rugged northern end of Lake Argyle while navigating through some of the lake's 90 islands and inlets. During your cruise you'll enjoy informative commentary on the natural history and development of Lake Argyle, The Ord River Irrigation System and The Aquaculture Industry. You'll encounter Rock Wallabies, Crocodiles, Wallaroos (Euros) and the diverse array of birdlife that call Lake Argyle home.
You'll be delighted and awed by the Archer Fish that shoot water up at your hand with amazing precision and you'll watch a Catfish feeding frenzy (also known by the fancier term of 'Silver Cobbler') There's no better way to experience the breathtaking landscape of the Carr Boyd Ranges and the inaccessible North Western shoreline than on our morning cruise!
This afternoon we return to Darwin to check-in to our hotel and have one last wander down the street.
DAY 10: KUNUNURRA - DARWIN (1 NIGHT)
Even the best holidays must come to an end and so this morning we say goodbye to the incredible Top End of Australia with a flight back home with definite plans to return one day. They say you should "See Australia first". This trip is a good reason to do exactly that.