Your Itinerary
Paris is often referred to as the most romantic city in the world. You'll start with two nights in central Paris then two nights aboard your cruise ship to get aquainted with the Parisian lifestyle. There's a sense of romance that you cannot help but experience here. Next, you'll cruise the Seine River through the French country-side to the pretty coastal town of Honfleur, passing magnificent museums, charming towns, imposing chateaux and graceful cathedrals along the way.
This round trip stops in Vernon, Duclair, Honfleur, Rouen and Les Andelys, you will have the opportunity to immerse yourself in the rich culture of northern France and indulge in the captivating sights and culinary specialities.
"It's not what you look at that matters. It's what you see." - Henry David Thoreau
DAY 1: "BONJOUR PARIS"
After arriving into Paris and checking into your central accommodation you'll start your holiday in style. Depending on arrival time, you'll have free time to start enjoying Paris.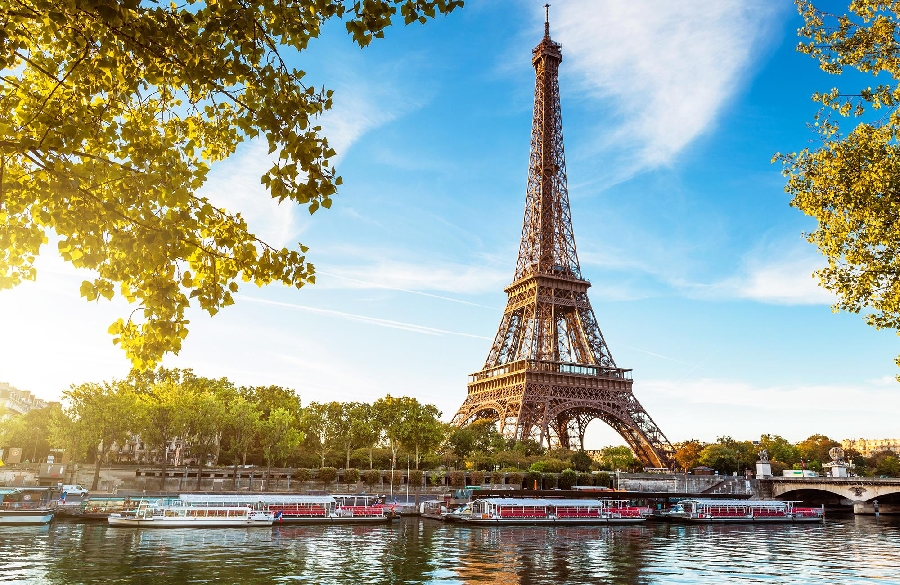 Your Lonely Planet guide will help you plan your free time and also to find a great restaurant nearby to return to for dinner.
DAY 2: PARIS
Today is your first full day in Paris. We'll give you plenty of guidance on the best things to see and do including how to take advantage of the Metro underground rail system. Watch the Eiffel Tower as it sparkles and lights up the night sky, stroll the glamorous Avenue des Champs-Elysees to view the Arc de Triomphe and walk across the lamplit bridges spanning the Seine. Enjoy art nouveau cafes and wicker-chair-lined terraces. These are just a few of the things you can experience at your own pace in this magnificent city of dreams.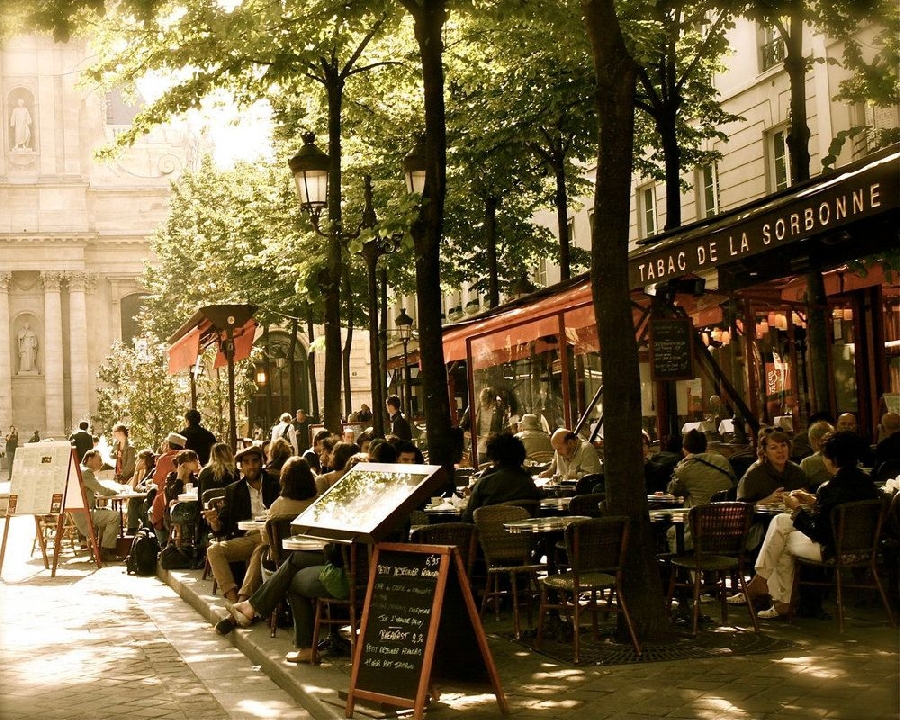 Don't forget France's reputation for its cuisine (the French word for 'kitchen') precedes it, and whether you seek a cosy neighbourhood bistro or a triple-Michelin-starred temple to gastronomy, you'll find that every establishment prides itself on exquisite preparation and presentation of quality produce, invariably served with wine. Enticing patisseries, boulangeries (bakeries), fromageries (cheese shops) and crowded, colourful street markets are perfect for putting together a picnic to take to the city's beautiful parks and gardens.
Optional: Consider adding an Eiffel Tower dinner and Moulin Rouge evening for an unforgettable taste of Paris at night.
DAY 3: PARIS - BOARD YOUR SEINE RIVER CRUISE (CRUISE DAY 1)
The day is yours to continue to discover the city of Paris. We give you our top recommendations for free and affordable things to do. This evening you'll board your cruise ship from 6pm.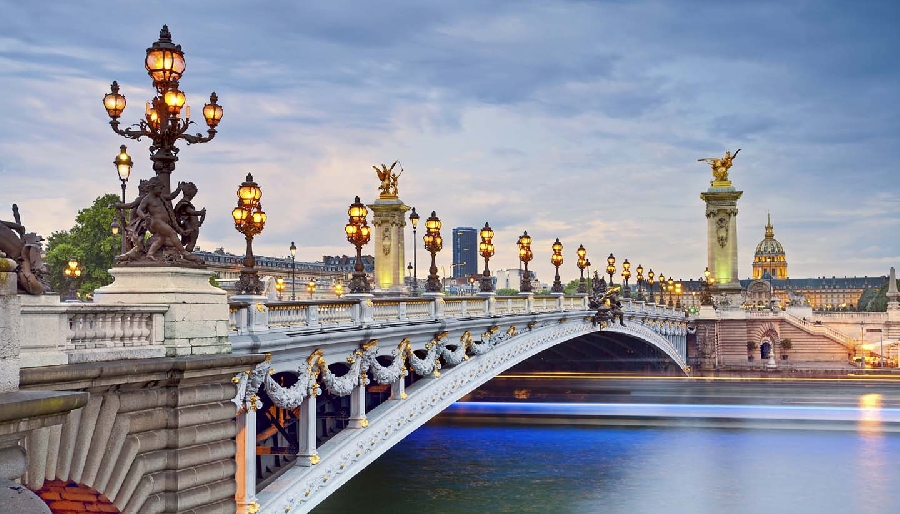 After comfortably settling into your cabin, the crew will introduce themselves at a welcome cocktail. That will be followed by your first included French dinner. Enjoy a cruise through Paris later tonight (depending on the water level) and see the buildings, bridges and Eiffel Tower lit up.
DAY 4: PARIS (CRUISE DAY 2)
Your cruise ship will remain docked for the day giving you an extra full day to see and do things in Paris. There are guided activities as well. All excursions are optional and extra charges apply. Details will be supplied on request.
Panoramic tour through Paris exploring its legendary places.
Stroll on the banks of the Seine and over the bridges of Paris. We'll set out from the Quai de Grenelle for a stroll along the banks of the Seine.
Tour Paris in a vintage 2CV. Experience true vintage style as you cruise in a comfortable and completely refurbished 2CV. It's fun, it's fabulous, and it's so French!
You'll be free to explore the city on your own this afternoon.
DAY 5: VERNON (CRUISE DAY 3)
This morning will be spent cruising. Join us on an optional excursion: We'll leave for a tour of the Claude Monet Foundation in Giverny - the second most visited spot in Normandy after Mont Saint-Michel.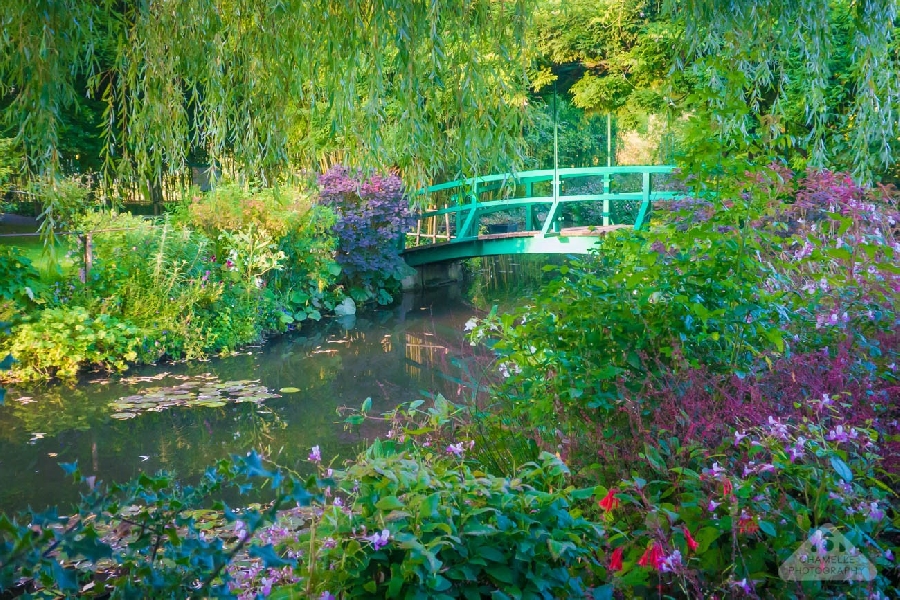 Enjoy an evening of entertainment on board. Later we start sailing towards Duclair.
DAY 6: DUCLAIR (CRUISE DAY 4)
This morning will be spent cruising with an optional excursion: the Norman Abbey Circuit before the ship sets sail towards Honfleur.
DAY 7: HONFLEUR (CRUISE DAY 5)
This morning, you have an optional excursion: Discover the Cote Fleurie from Deauville to the Chateau du Breuil, complete with a Calvados tasting. In the afternoon, join us on an optional excursion: Guided tour of Honfleur.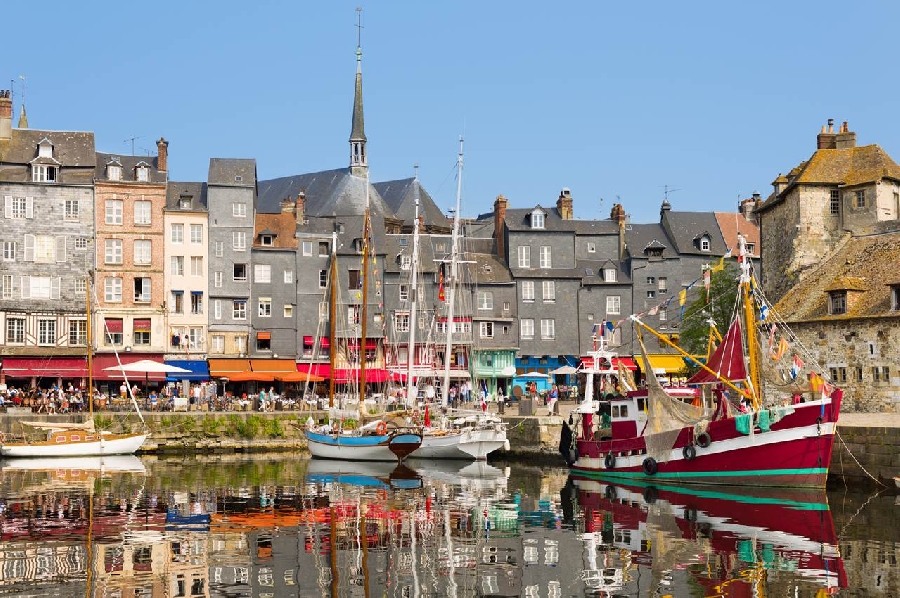 Alternatively there is a full-day optional guided tour (lunch included) to the landing beaches of Normandy (only as a pre-booked tour and valid for a minimum of 30 participants). Note: Your two-day tour of the Normandy region includes a visit to Omaha Beach.
DAY 8: ROUEN (CRUISE DAY 6)
You will spend this morning cruising followed by an optional excursion: Guided tour of Rouen. Enjoy an evening of entertainment.
DAY 9: ROUEN - LES ANDELYS (CRUISE DAY 7)
This morning will be spent cruising before your optional excursions: Visit of the Chateau de Martainville or walk to the Chateau Gaillard.
Tonight, is our famous gala dinner.
DAY 10: RETURN TO PARIS (CRUISE DAY 8)
Enjoy one last buffet breakfast on board before disembarking at 9:00 am for the end of your Seine River cruise.
Make your way to your centrally located Paris accommodation and spend the afternoon taking in more of Paris. There are many great restaurants to try, so head out for a lovely evening at a nearby restaurant for more French cuisine.
Optional: Take advantage of our early-check-in offer: Use GCash credits for a 50% room discount. Head to your hotel after departing the cruise ship and go straight to your room. This saves you having to store your luggage at reception to return later.
DAY 11: PARIS - LE LOUVRE TOUR
Visit the beautiful Le Louvre's must-see attractions. Discover numerous treasures on this comprehensive tour. Skip-the-line access means you more time to absorb all that this legendary museum has to offer. Your expert guide will share their passion for the collection, unveiling subtle details most visitors never learn about the works of art on show. The 'Mona Lisa'; the 'Venus de Milo'; the 'Winged Victory of Samothrace'. While they're familiar the world over, no one can truly know these works without spending time in their presence.
Highlights:
Skip-the-line: less waiting, more art, history and culture
Experience the legendary Mona Lisa for yourself
See famous highlights as well as overlooked treasures
Learn little-known facts about the artworks on display
Time to visit more of the available displays after the tour
Inclusions:
Guided tour of the Louvre
Skip-the-line admission
Headsets available so you don't miss a word
Live tour commentary provided in English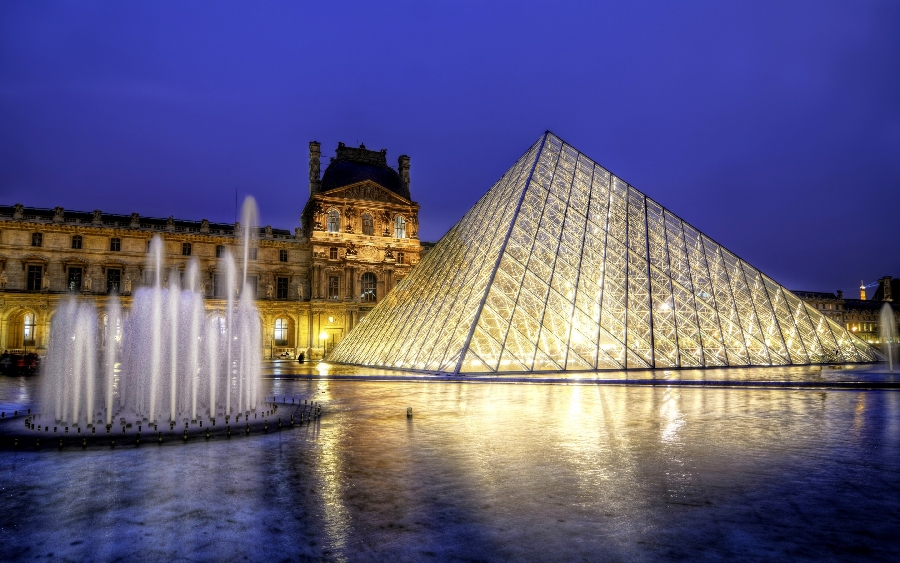 If you are feeling tuned-in to art history, cross the river to Musee D'Orsay, to surround yourself with the world's most impressive collection of impressionist artworks in a beautiful setting.
DAY 12: PARIS FREE DAY
There is never enough time to enjoy everything Paris has to offer, with so many attractions and experiences at your fingertips. Today is your last free day and we recommend you take the time to visit and experience any part of Paris that you might have missed using your Lonely Planet Guide to assist you.
DAYS 13 & 14: PARIS - NORMANDY, ST. MARLO & MONT ST. MICHEL
Discover the highlights of the French countryside and coast on this two-day tour. See the beautiful beaches of the Normandy region and the picturesque towns of Caen, St. Malo and Mont St. Michel.
~~image_284~~
Highlights:
Scenic tour of the beautiful French countryside
Historic sites, including the D-Day landing beach of Omaha
The Benedictine Abbey, an international pilgrimage site
Guided visits and free time to explore on your own
Expert guide sharing fascinating regional information
Inclusions:
Guided tour of Normandy, St. Malo and Mont St. Michel
Admission fees
One-night hotel accommodation in a 4-star hotel
Dinner on day one
Buffet breakfast on day two
Roundtrip transport via air-conditioned coach
Day 1: Enjoy a scenic drive through Normandy to Rouen. See the old square where Joan of Arc was burned alive for heresy and learn about the turbulent history of this ancient mediaeval town. After a lunch on your own in Honfleur, continue to the beaches of Normandy and visit the D-Day landing site of Omaha Beach. Visit the Normandy American Cemetery and then end your day with dinner and overnight accommodation in Caen.
Day 2: On your second day, leave Caen and head to St. Malo, a walled port city in Brittany. Follow your guide through bustling cobblestone streets. See the cathedral and walk along the ramparts for stunning views of the old town and the beautiful bay. After lunch on your own, depart for Mont St. Michel, a UNESCO World Heritage Site. Your guided tour takes you to the enchanting Benedictine Abbey, a grandiose ensemble of clerical buildings, including the cloister, the refectory and the church. Spend some free time here before making your way back to Paris and check-in to your Paris airport accommodation.
Optional: Add three days cruising the Rhone River from Lyon to Martigues in the south of France. Package includes train from Paris to Lyon and return from Martigues. Connects to train from Paris to London (Gold package.) This package can also be exchanged for the Normandy, St. Marlo & Mont St. Michel tour. Small extra charge applies.
DAY 15 (SILVER STAR PACKAGE): AU REVOIR
Au revoir (Oh reh-vwah) is the most commonly heard term for "goodbye" in French which actually means "until we meet again". It is time to say Au revoir to France and return home with an easy departure from your Paris airport accommodation using a prearranged airport transfer.
GOLD STAR PACKAGE
Your holiday continues with a trip to London.
DAY 15: PARIS - LONDON
Make your way to the train station because today we're off to London. Once you arrive you will check-in to your centrally-located London accommodation.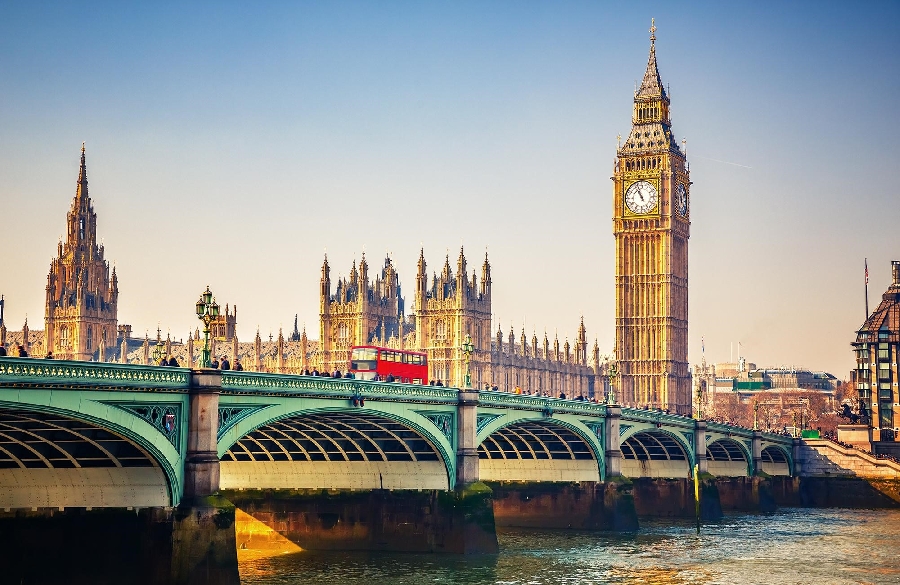 We recommend that you take the time to use your Lonely Planet guide to help plan your stay.
DAY 16 & 17: LONDON
You have two full days to visit the highlights of London at your own pace. To start you in the right direction you have a 48-hour ticket for the iconic hop-on hop-off bus. Visit the best of London's attractions and charm-filled districts from the open-air top of a comfortable, double-decker bus.
Take advantage of unlimited rides along five routes. You can choose to stay on the bus and take in the scenery for the entire loop, or stop at world-renowned landmarks along the way including the Tower of London, Big Ben, Westminster Abbey, and Buckingham Palace. Engaging pre-recorded commentary highlights the main monuments and provides insights into the city's history and heritage.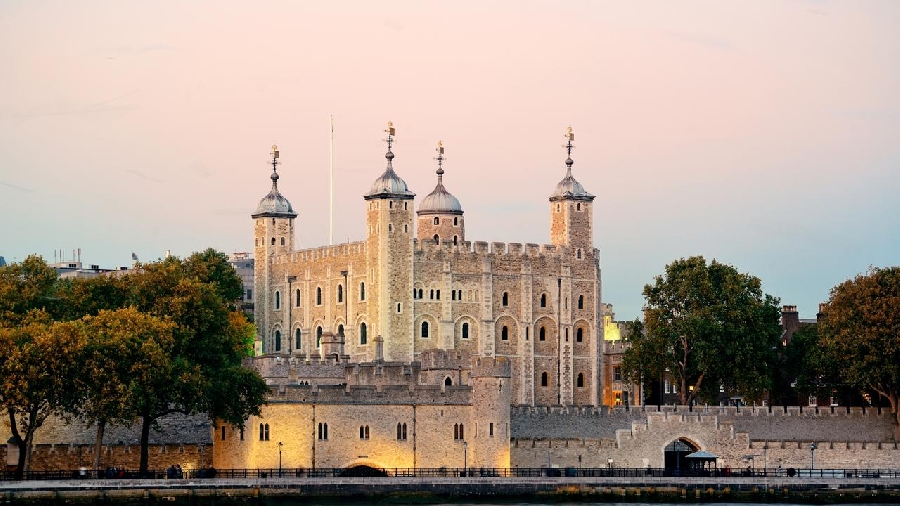 Your ticket also includes a River Thames cruise letting you see landmarks between Tower Hill and the London Eye from the water. Admire the view from the boat before completing your adventure with a choice of 2 guided walking tours—the Royal Walking Tour or the Beatles London Walking Tour.
Highlights:
70+ stops on five routes, including Big Ben & Tower of London
Frequent service with buses leaving every 15 to 20 minutes
No limit to the number of times you can hop on and off
Informative audio commentary
Freedom to explore the British capital at your own leisure
Inclusions:
Hop-on Hop-off bus pass for London
Free WiFi on board the bus
Live tour commentary provided in English on the Blue Route
Headset for tour commentary
Multilingual audio guide
River Thames sightseeing cruise with commentary
Walking tour
Interactive treasure hunt mobile app. Earn points and claim your prize at the end!
DAY 18 & 19: LONDON - TOUR OF THE COTSWOLDS, BATH & OXFORD
Today you will be whisked off to roam the picturesque Cotswolds on this tour of beautiful villages, ancient stone circles, and stunning cathedrals where you will experience the standing stones of Avebury, where you unearth the mysteries of Neolithic civilisation. Explore the rural villages of the Cotswolds, where you discover a more relaxing pace of life. And you learn about Bath and Oxford, two places that boast England's rich and extravagant heritage.
Your tour heads west to the village of Avebury. Here you have the chance to wander amongst the majesty of the largest stone circle in the world. A short journey from here is a hillside where you find the Cherhill White Horse, a huge white horse cut into the chalk by the 'Mad Doctor' in the 18th century. Further along the road lies Lacock, a preserved medieval village famous for its picturesque streets, historic buildings, and role as a period film and television location.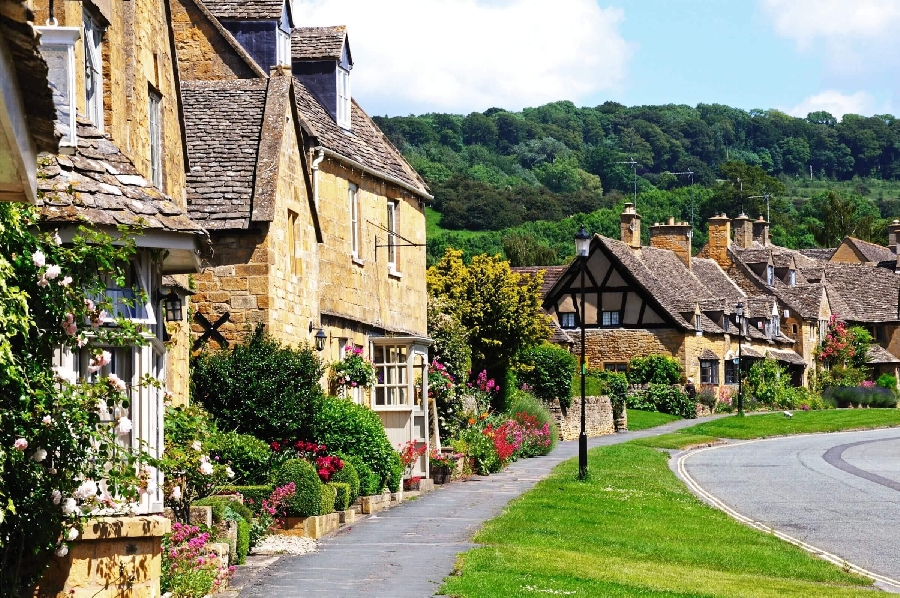 You will then visit Bath to enjoy its rich cultural history and magnificent architecture. You can also take the opportunity to visit the Roman Baths complex and Abbey cathedral. Heading into the Cotswolds, you travel to the Cirencester, a market town whose wealth was founded in the medieval wool trade. It was the second largest town in Roman Britain.
Highlights:
Marvel at Avebury, the largest standing stone circles in the world
Gaze at Cherhill White Horse, 18th-century hillside art
Wander the streets of Lacock, the village maintained and owned by the National Trust
Explore Bath, luxuriate in the warm tones of the local honey-coloured stone, used in much of the architecture here, such as the famed bath houses
Get to the heart of the Cotswolds in the ancient Roman market town of Cirencester
Visit the delightful village of Bibury with the renowned 16th century cottages of Arlington Row
Stow-on-the-Wold - Site of one of the last battles of the English Civil War, the highest market town in the Cotswolds boasts a colourful history
Bampton Village, this pleasantly striking village provides an excellent range of photo opportunities
Oxford is an internationally regarded university and a prominent shooting location for the Harry Potter film franchise
Inclusions:
Transport in a 16-seat Mercedes mini-coach
Air conditioning as standard
The stories and services of an English-speaking driver-guide
DAY 20: RETURN HOME
After spending the might at your London airport accommodation, with your prearranged airport transfer, you will have an easy departure after an unforgettable holiday!