Your Itinerary
Spend 14 days exploring three of Thailand's most iconic and breathtaking cities! Experience the bustle of Bangkok, visit Chiang Mai's famous temples and monasteries, and enjoy the splendours of Phuket, Thailand's biggest island. Immerse yourself in the wonderful culture of Southeast Asia.
This holiday has been meticulously prepared from first-hand experience to make sure you take in all of the highlights. It's a part self-guided, part tour-guided travel itinerary that's fully flexible. Want more or fewer days or you want to include a special activity? No problem, we'll customise a travel plan for you.
"A good traveler has no fixed plans, and is not intent on arriving." - Lao Tzu
DAY 1: AUSTRALIA - BANGKOK
Arrive in Bangkok today and be picked up by your private car driver who will be waiting for you.
Check in to your luxury diamond standard hotel (Gold-star package), one of the world's great hotels. The silver-star package includes a hand-picked, gold or silver standard, central hotel. Depending on your arrival time you could have breakfast, lunch or dinner at the hotel. Refer to your Lonely Planet guide for things to do after arrival, time permitting. Consider visiting Chatuchak Market, one of the world's largest markets open Wednesday to Sunday 8am to 10pm.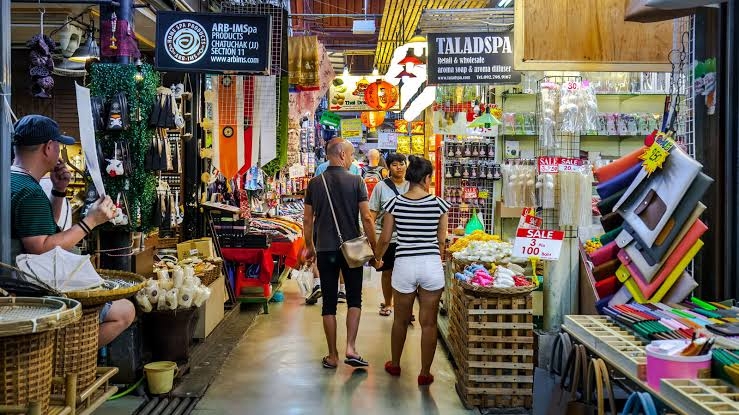 DAY 2: BANGKOK – DAMNOEN SADUAK FLOATING MARKET
Meet your English-speaking guide in the hotel's lobby early today. Depart for Damnoen Saduak Floating Market, situated 110km west of Bangkok. Your journey commences with a leisurely drive through rice paddies and salt fields. En route you will visit a farmhouse along the way and watch locals produce sugar from coconut.
The tour continues with a 30 minutes speedboat trip along fruit plantation to see Thai houses and the traditional way of life.
Arrive at Damnoen Saduak Floating Market. Here you will be fascinated by boats of various shapes and sizes used by local merchants to ferry their goods. You are able to hire small boat board along the market for shopping local products.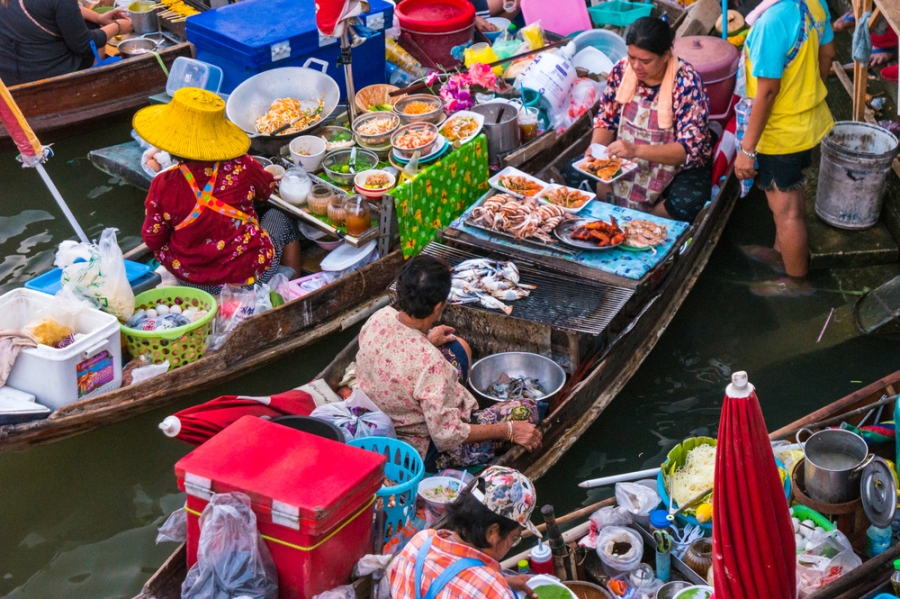 Depart the floating market to visit the wood carving factory. Then head to Rose Garden Country Resort for buffet lunch. For nature lovers, you are free at leisure to enjoy a leisurely stroll through the Botanical Gardens admiring the impressive diversity of native tropical flora and fauna.
Enjoy the unique and unforgettable experience of the world-renowned Thai Village Cultural Show, featuring an impressive cast of 150 performers, portrays captivating scenes of everyday life in rural Thailand and "Thai ways" and offers a vivid introduction to: Thai living, the "cycle of life", time-honoured customs and traditions in an agricultural community in Thailand; the Thai passion for festive fun or "sanuk" and Thai "joie de vivre" – the celebration of a good life and good times, as expressed in the folk songs and dance of the four regions of Thailand.

Depart from Rose Garden to Bangkok. At the end of tour will visit the local product store. Then you'll be transferred to your hotel.
DAY 3: BANGKOK CITY & TEMPLE TOUR (HALF DAY)
Meet your private English-speaking guide in the hotel lobby. Depart from your hotel to Rattanakosin Island, the original area of Bangkok when it was first established as the capital over 200 years ago. Visit Wat Trimit, known for its famous Golden Buddha. The beautiful image of solid gold is three metres high and weighs five and a half tons.
Continue the tour by passing through beautiful city scenery of the colourful flower market and Chinatown. The bustling business area of Chinatown is especially known for its gold jewellery shops. The atmosphere is totally changed at night - hordes of food stalls line the streets.
Visit Wat Pho or Temple of the Reclining Buddha, founded in the 16th century, the oldest and biggest temple with the largest number of pagodas (95 in all) in the city. Wat Pho was the first open university of Thailand which offered courses in several branches of knowledge like literature, astrology, medicine and massage. It's well known for its huge Reclining Buddha, 46 m. long and 15 m. high.
Visit Wat Benchamabopit or Marble Temple, one of the most modern works of Thai religious architecture. Graceful and tranquil, it is famous for its main chapel built in white Carara Italian marble to house a replica of Thailand's most beautiful Buddha image, Phra Phutthachinarat.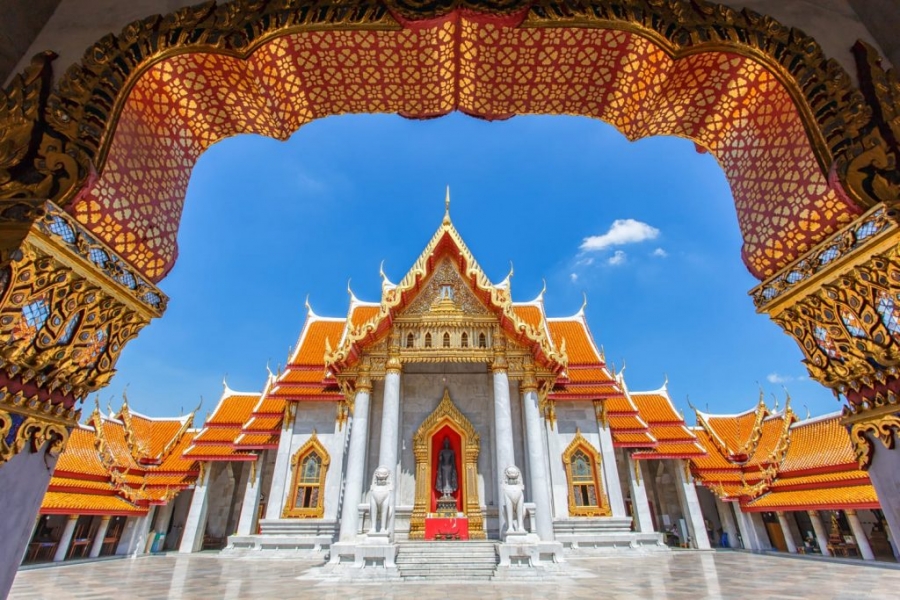 At the end of tour will be visit the local product store. Then transfer to your hotel.
The rest of the day is at leisure. Tonight, consider visiting Chinatown for dinner. It's a real street-food experience. Arrive early and take your time choosing from the many available options. If the amazing array of traditional Thai street food doesn't appeal, there are several more traditional restaurants there as well.
DAY 4: BANGKOK – CHIANG MAI
This morning, after breakfast, a private car transfer service will take you to the airport for your flight to Chiang Mai.
Upon arrival in Chiang Mai you'll receive a private car transfer to your hotel. The rest of this day will be at leisure. Refer to your Lonely Planet guide for things to do.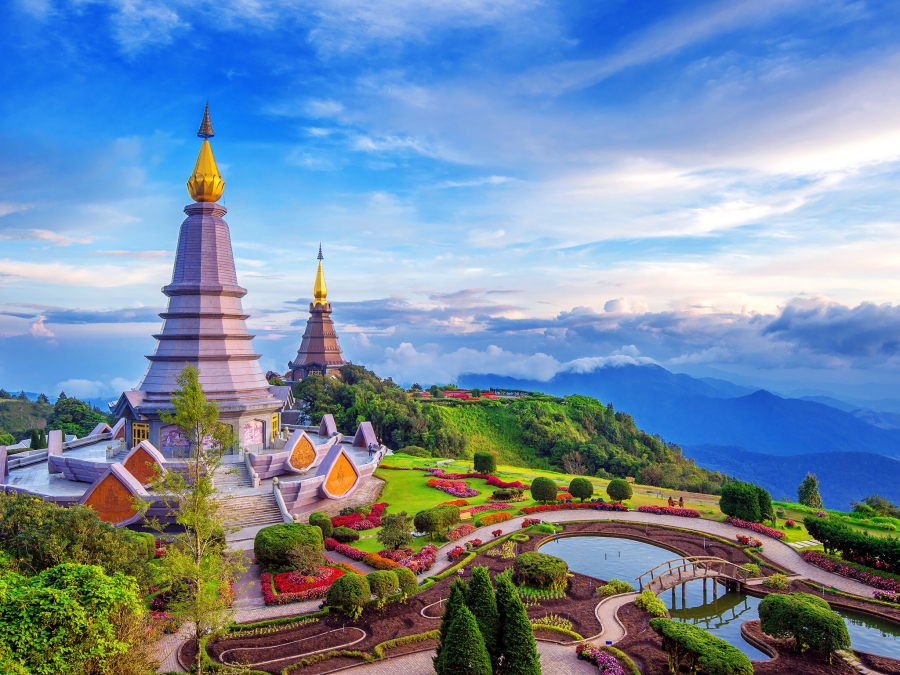 DAY 5: START CHIANG MAI TOUR
Ideal for your first day in Chiang Mai to sample some of the delights and attractions Chiang Mai has to offer. The day will start with a visit to the impressive Doi Suthep temple which sits on the mountain overlooking Chiang Mai.
Following the temple visit, we will continue further up the mountain to visit a Hmong Village.
Experience an evening of traditional Northern Thai food and traditional Thai dance at Chiang Mai's premiere Kantoke venue (Khum Kantoke). Sample such northern delights as Northern Thai pork curry, Thai fried chicken, fried cabbage, Thai sticky rice and fried bananas to name but a few.
DAY 6: CHIANG MAI TOUR – MAE SAI
Today you will visit the Chiang Rai Province and The Golden Triangle, meeting point of Thailand, Laos and Myanmar. After being picked up from your Chiang Mai hotel, your first stop will be the Maekhajan hot springs where you can relax and enjoy a coffee before heading up towards the stunning Wat Rong Khun.
After Wat Rong Khunext, you will journey to Chiang Saen which is situated on the banks of the mighty Maekong River. A short drive from Chiang Saen will bring us to the Golden Triangle where you will have the option of a boat trip across the Mekong River to the Laos island of Don Sao.
The tour will proceed to Mae Sai, the Thai border town with Myanmar, where you can spend some time at the bustling border market. You will also get a glimpse of Myanmar itself with it only being situated a mere ten meters away across the river. On the return leg to Chiang Mai we will stop to see The Karen Long Neck hill tribe as well as Akha and Yao tribal groups.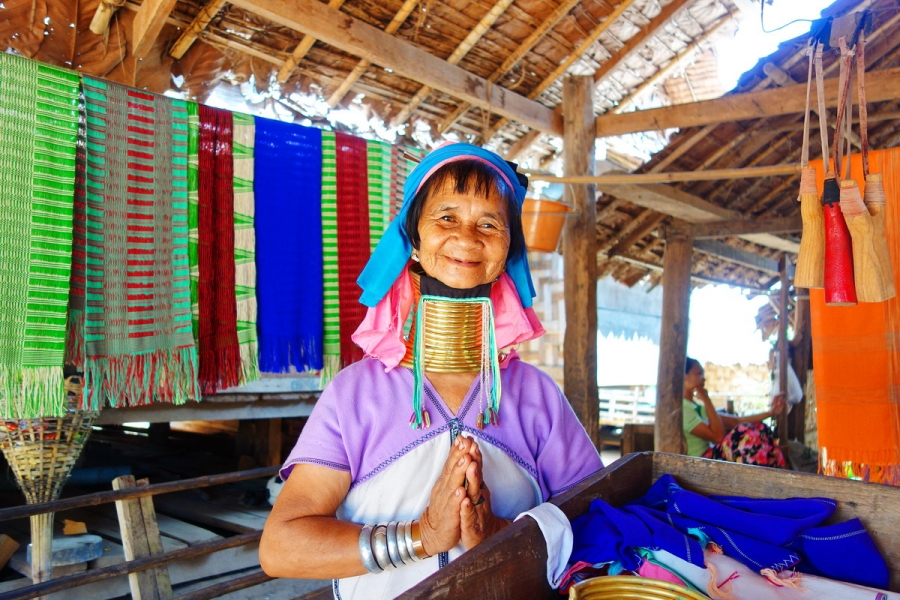 DAY 7: CHIANG MAI TOUR – DOI INTHANON NATIONAL PARK
Today you will head towards Doi Inthanon National Park and experience Thailand's highest peak. On the way up, visit the Wachiritharn and Siritharn waterfalls and the take in the magnificent agricultural work of the Royal Project Research Station.
Head on up to the peak of Doi Inthanon, the highest mountain in Thailand. Near the top, participate in the Angkha nature walk where you can walk amongst the unique flora and forest at this altitude. There are both Karen and Hmong villages in the bounds of Doi Inthanon which you will visit on the way down the mountain before making our way back to Chiang Mai.
DAY 8: MARGARET RIVER & BUSSELTON FULL DAY TOUR
On your final day you will drive out to the Mae Tang area north of Chiang Mai to visit the Asian elephants. Watch the elephants demonstrate their skills at the elephant show before embarking on an elephant ride.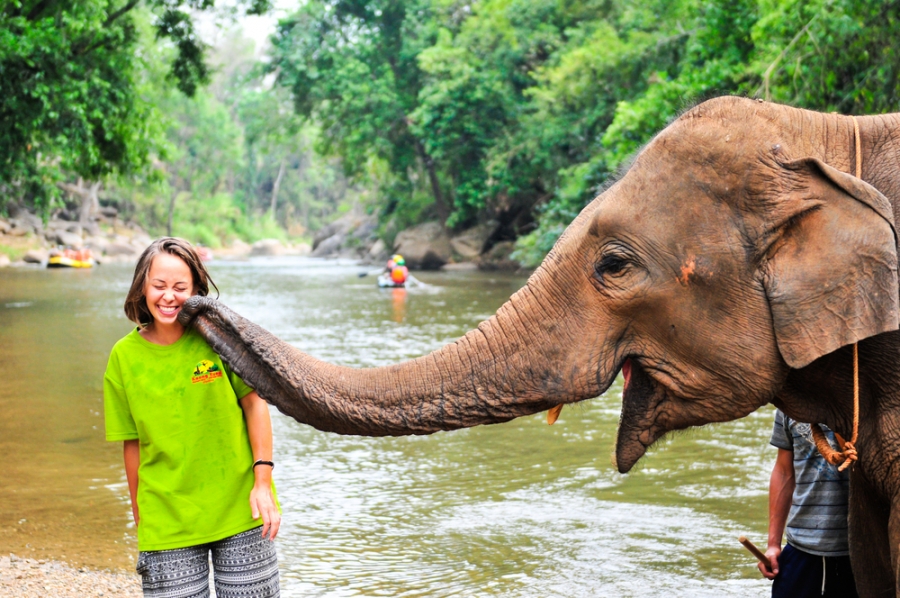 After lunch you will try your hand at ox carting before boarding the bamboo rafts for a leisurely trip down the Mae Tang River. On the return back to Chiang Mai, you will visit a Thai Orchid and butterfly farm.
DAY 9: CHIANG MAI – PHUKET
This morning you will fly to Phuket via Bangkok. On arrival, your private car transfer will take you to your resort at Kata Beach where you will have a very relaxing stay near one of the most beautiful beaches on Phuket Island.
The rest of this day will be at leisure. Refer to your Lonely Planet guide for things to do.
Reminder: Book dinner at Baan Rim Pa, Patong for at least one evening.
"Probably the best restaurant we have ever visited. Beautifully designed and styled, wonderful staff and gorgeous views over the ocean. And of course, first class Thai food."
DAY 10: RAYA YAI AND CORAL ISLANDS
This morning you will be picked up from your hotel and taken to Chalong Pier to travel to Coral Island by speedboat. At Coral Island you'll be able to relax on the white sandy beach. Later in the morning you'll depart from Coral Island to Kon Kae Bay and/or Siam Bay where you can go snorkeling with plentiful coral reefs and colorful fishes.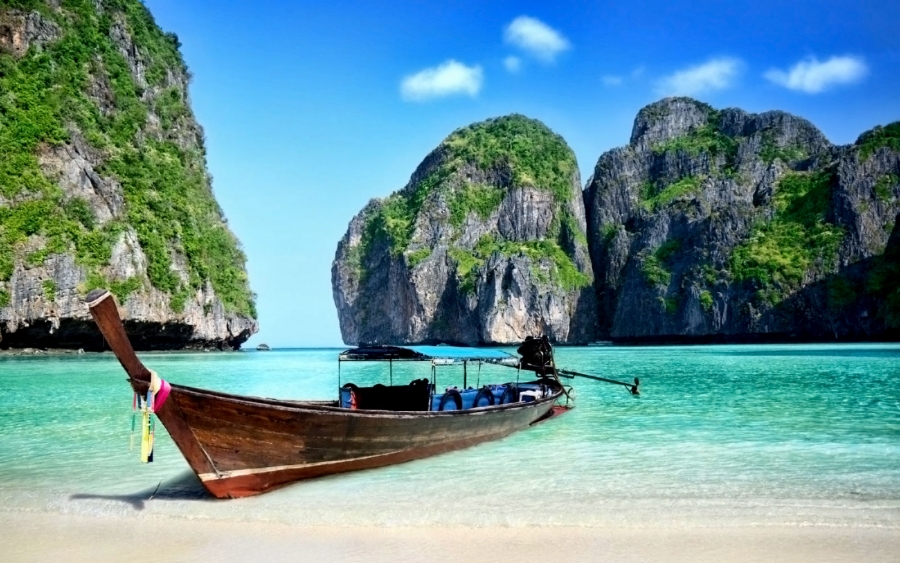 Enjoy a great lunch buffet with a stunning view from Princess Restaurant located in Buang Hai Bay (a private bay). Later you'll depart from Buang Hai Bay to Patok Bay for more relaxing. Then in the afternoon you'll return to Chalong Pier and be transferred back to your hotel.
DAY 11: DAY AT LEISURE – SIAM NIRAMIT SHOW
This day will be at leisure. Refer to your Lonely Planet guide for things to do or just relax at Kata Beach.
This evening you'll be picked up for your Siam Niramit show with Gold seating (close to the stage). This spectacular show introduces audiences to the rich and ancient culture of Thailand. The show takes you on a tour to every corner of Thailand through its many customs, festivals, rituals, folk songs and historical events. It's a mesmerizing experience as you watch the artists, with about 500 different elaborate and glamorous costumes, demonstrate pivotal moments in Thailand's history.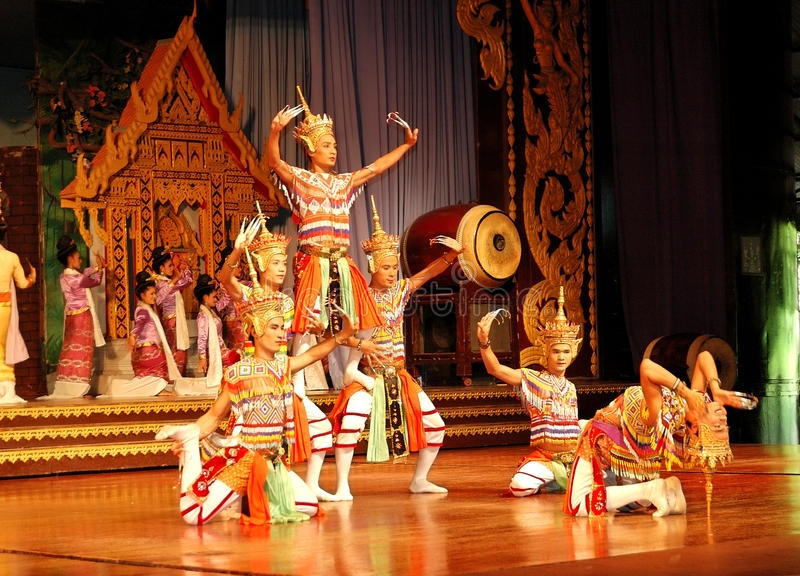 Note: Dinner is not included with this show so we recommend that you dine first at a Kata Beach restaurant.
DAY 12 & 13: AT LEISURE
Refer to your Lonely Planet guide for things to do. There are so many things to see and do in Phuket, you can fill your days and of course there's the option of just relaxing and doing nothing much at all. But take the opportunity to indulge in a genuine Thai massage if time permits.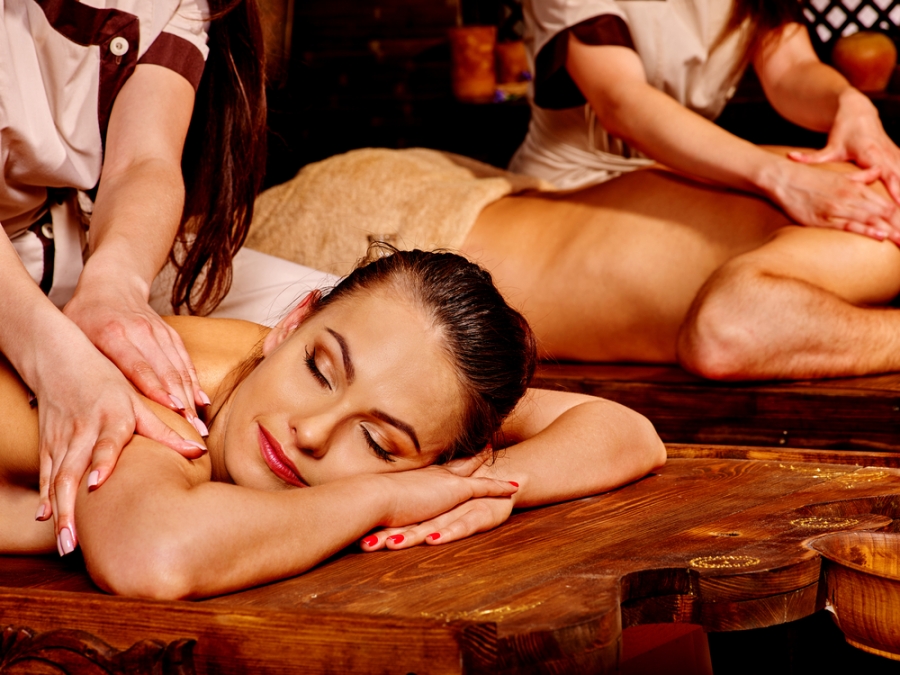 DAY 14: RETURN TO AUSTRALIA
Today you'll receive a private car transfer to the airport where you'll return to Australia after your unforgettable Thailand holiday.