Your Itinerary
Experience vibrant cities, serene beaches, geothermal hotspots and awe-inspiring Maori culture in New Zealand's North Island. Start in the bustling Auckland before heading south along the coast, with its perfect blend of lush farmland and pristine shorelines. Journey inland and visit Tongariro National Park, one of New Zealand's three world heritage sites, then spend a couple of days in Rotorua exploring its abundance of geological wonders.
(This itinerary is based on the full Silver star package.)
"Because in the end, you won't remember the time you spent working in the office or mowing your lawn. Climb that goddamn mountain." - Jack Kerouac
DAY 1: AUCKLAND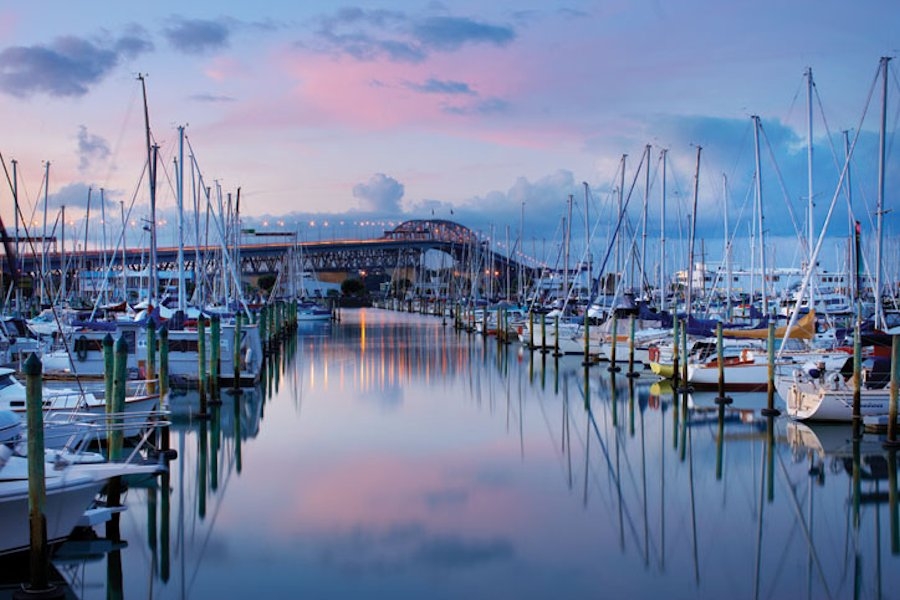 Start your holiday with a morning flight into Auckland, New Zealand's self-proclaimed 'City of Sails' and the country's largest metro area. Surrounded by native bush, rainforests and an abundance of beaches, Auckland is a playground for both the city savvy and those with an eye for adventure. After picking up your hire car and checking into your accommodation, explore the central museums and galleries on foot, or take a drive through one of over 800 regional National Parks to see deserted beaches, waterfalls and native forest.
DAY 2: WAITOMO
Leaving Auckland, you'll journey through the Bombay Hills and into the rich dairy pastures of the Waikato. Marvel at the limestone hills of the Waitomo countryside before arriving in Waitomo itself, home to a huge underground network of caves. The drive from Auckland to Waitomo is approximately 3 hours, so you have time to explore Waitomo and its surrounds at your own leisure.
*SILVER-STAR PACKAGE*: WAITOMO GLOW WORM CAVES
Embark on a guided tour where you'll travel deep underground through the limestone caves viewing stalactites and stalagmites before hopping into a boat on which you will glide silently through the glow worm grotto - a galaxy of tiny living lights. The experience is unforgettable.
DAY 3: WHANGANUI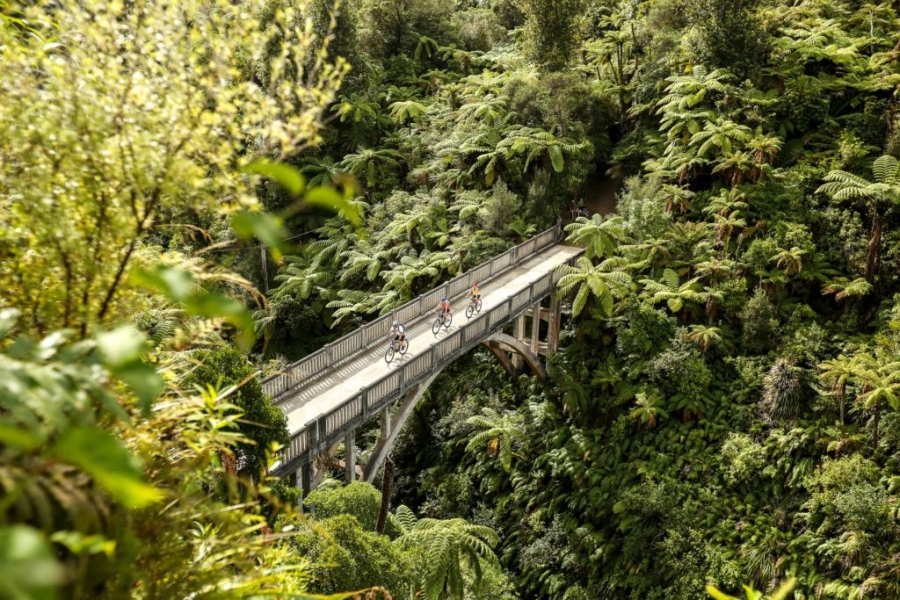 Continue your journey to the town of Whanganui, home to New Zealand's longest navigable waterway, The Whanganui River. As the road heads North-West, lots of interesting townships pop up regularly. We recommend that you take your time and keep an eye out for small museums and quirky art shops.
Once in Whanganui, there are lots enjoyable ways to spend your time. A perfect place to relax is Kowhai Park, with its lush green surroundings. The Bridge to Nowhere is another lovely local attraction and can be reached by a number of different ways including cycling and jet boating.
While there are several landmarks and important architectural buildings to visit, most of the local fun can be found in nature. The sheer peacefulness of this area is what keeps visitors coming back for more.
DAY 4: TONGARIRO & ROTORUA
Today you will set out on the scenic drive up to Rotorua. Enjoy your morning exploring Whanganui more before returning to the road. Follow alongside the Mangawhero River, enjoying the scenic journey to Tongariro National Park where you will embark on a guided sunset tour. Tongariro National Park is one of New Zealand's three world heritage sites, and clouds permitting you can see the 2,500 meter peak of the still volcanically active Mt. Ruapehu. You might recognise the symmetrical shape of Mt. Ngauruhoe as this was used as the scenery of Mt. Doom in the Lord of the Rings Trilogy.
After your tour, continue up to Rotorua where you will check-in to your accommodation and finish your day.
DAY 5: ROTORUA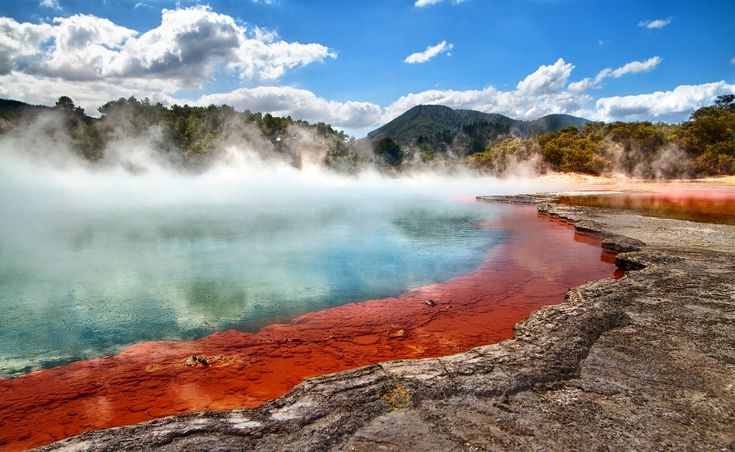 Kia ora Rotorua! You will spend today exploring New Zealand's most dynamic geothermal area and learning about its rich Maori culture and history.
Start your day with a guided tour of Wai-O-Tapu's geothermal geysers. Considered to be New Zealand's most colourful and diverse geothermal sightseeing attraction, you will be introduced to a uniquely different natural landscape – the key to what you see lies below the surface. The nature of the reserve being an active volcanic area with undulating terrain.
Once you have returned from your tour, the rest of the day is yours to explore at leisure. Rotorua itself is dotted with gorgeous lakes, mountains and other attractions. Relax in a thermal hot pool, take a picnic and enjoy popular lakeside reserves, or bike through Whakarewarewa Forest.
Fans of Lord of the Rings and The Hobbit have the opportunity to drive to nearby Matamata and experience the actual movie set 'Hobbiton'.
*SILVER-STAR PACKAGE*: SKYLINE ROTORUA GONDOLA & DINNER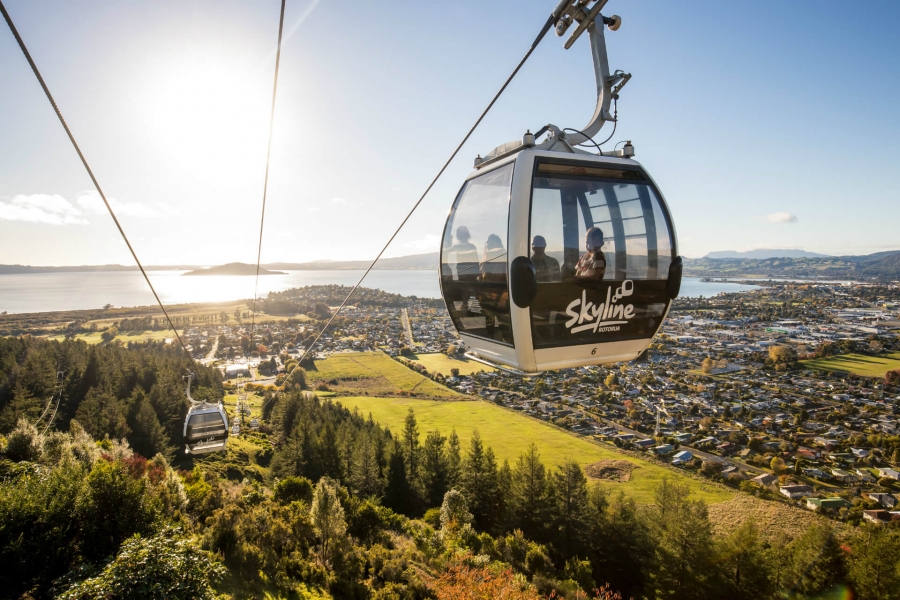 This evening, experience Rotorua from above with Skyline Rotorua's gondola and dinner
package. Jump on board one of their Gondola cabins and experience spectacular views of Lake Rotorua, the city and steaming geothermal vistas. The 900-metre long Doppelmayr cableway system will transport you on a gentle, scenic ride up to the Skyline Rotorua complex. Once up top, enjoy an all-inclusive dinner at award-winning Stratosfare Restaurant and Bar.
DAY 6: COROMANDEL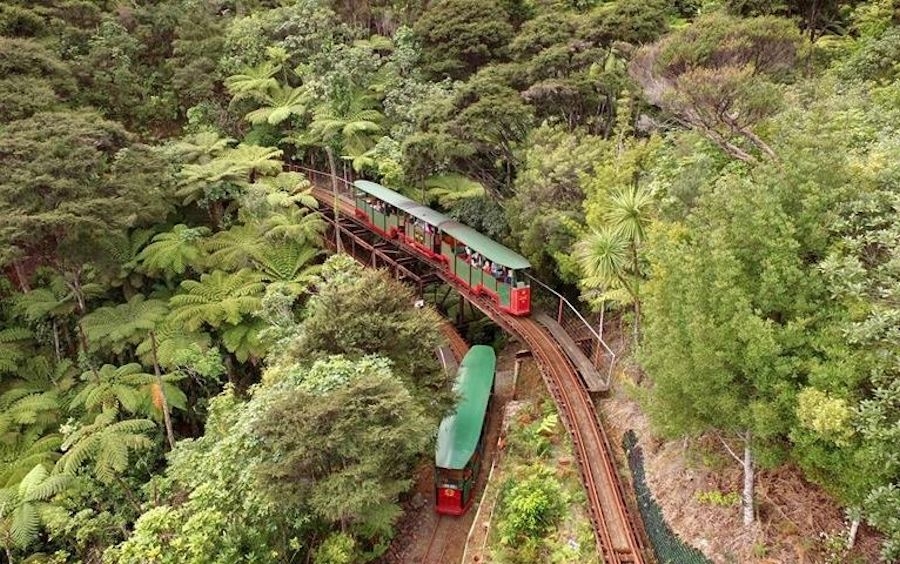 Today you'll say goodbye to Rotorua before winding your way around the peninsula's bays to Coromandel, a charming coastal gold rush-era town. As well as arty shops and several good eateries, there are enjoyable walks such as the Tucks Bay/Kauri loop. The town's most famous attraction, however, is Driving Creek Railway where cute carriages clatter through native forest up to a spectacular lookout, while the departure depot doubles as a pottery workshop and gallery.
DAY 7: RETURN TO SYDNEY
Spend your morning soaking up last-minute experiences before returning to Auckland for your return flight home.
*OPTIONAL EXTENTION* DAY 7: WAIPU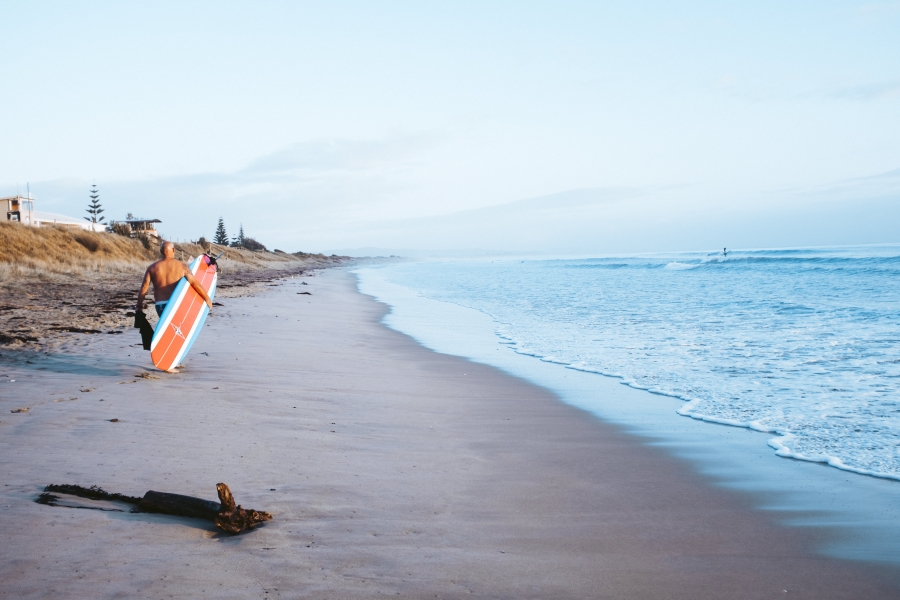 Today you'll continue around the western bays of Coromandel's peninsula to reach Waipu, a friendly town with an intriguing history, strong Scottish heritage and spectacular natural surroundings. Waipu is a fantastic place to sit back and relax, with its main attraction being Waipu Cove, a long, sandy beach with safe swimming, surfing and fishing opportunities.
DAY 8: PAIHIA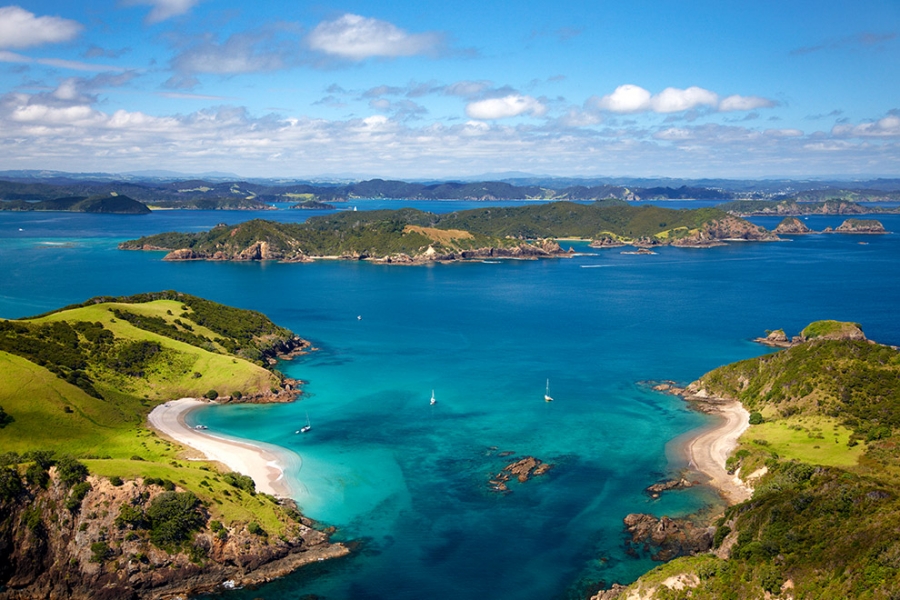 Your next destination is gorgeous Paihia. Nicknamed "the jewel of the Bay of Islands", not only does Paihia offer an easy access to almost 144 islands forming the Bay of Islands, but also provides an excellent glimpse of New Zealand's Maori culture. It is a perfect example of a place where rich heritage blends well with modernity.
DAY 9: PAIHIA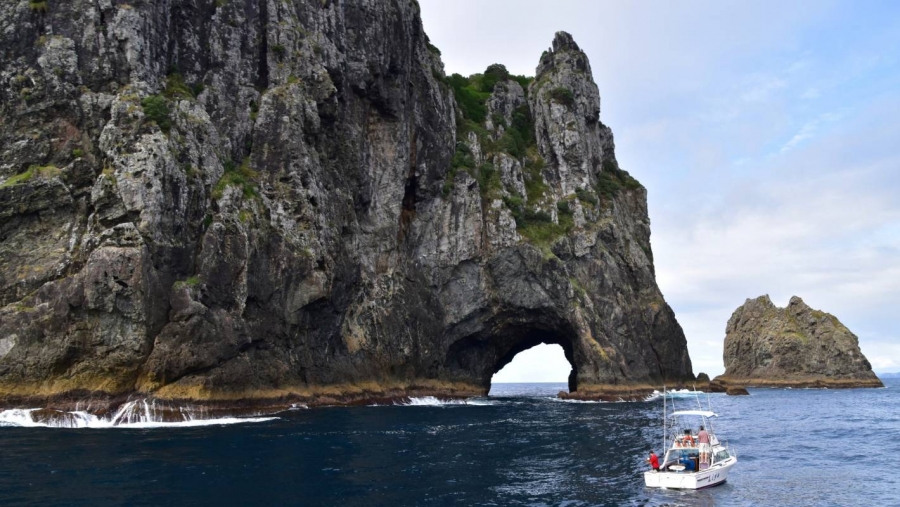 Paihia is the setting off point to get to the Hole in the Rock - the famous maritime attraction of the Bay of Islands. Today, embark on a scenic cruise tour to see this and the other points of beauty on the coast appreciable only by sea.
When you return, you have the rest of the day to enjoy at leisure. Swim with the dolphins. Go kayaking, swimming, fishing, or picnic along secluded beaches. Walk or drive to the spectacular Haruru Falls. Learn about early New Zealand history where the Treaty of Waitangi was first signed. Blessed with endless natural attractions and fantastic activities, Paihia has something for everyone.
DAY 10: HOKIANGA HARBOUR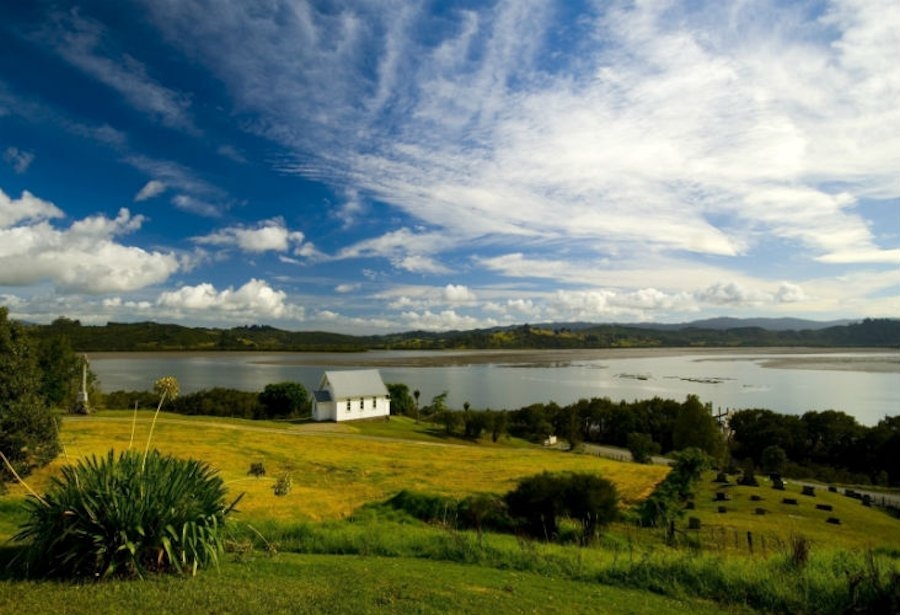 Continue your journey West to the heavenly Hokianga Harbour. Check-in to your accommodation in Omapere and enjoy a slice of beachside living. Most notably, a white sand beach stretches all the way to Opononi Wharf, where you can catch a water taxi to the giant sand dunes on the other side of the harbour. Dune surfing on boogie boards is a thrill that leaves you sandy but extremely satisfied. Fishing trips can also be arranged at the wharf.
A short drive out to the lookout point on the harbour's South Head is rewarded with spectacular views of the turbulent sandbar at the entrance to the harbour and the opposite headland's dunes.
DAY 11: WAIPOUA NATIONAL PARK & AUCKLAND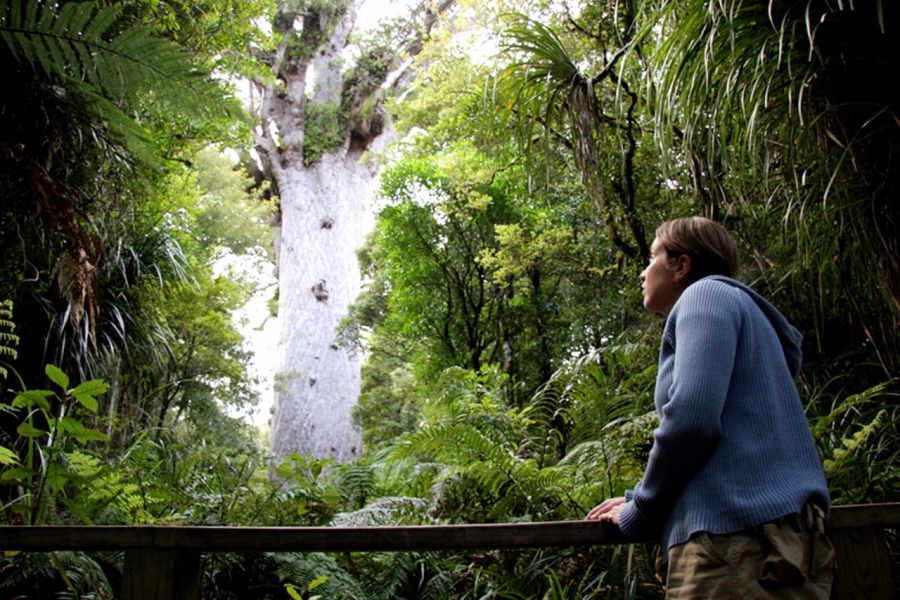 Today you will commence the journey back to Auckland. There's no rush, so take you time and enjoy the gorgeous scenery!
As you head inland, make a stop at New Zealand's ancient Waipoua Forest, home to huge native trees and rare birds. Waipoua is the largest remaining area of native forest in Northland. Visit Tane Mahuta, the largest living kauri in New Zealand and the second largest tree in the world. At over 2000 years old he is revered by the Maori and truly is the 'Lord of the Forest'.
When you arrive into Auckland, check-in to your accommodation and enjoy the rest of your day at leisure.
DAY 12: RETURN HOME
Spend your morning soaking up last-minute experiences before heading to the airport for your return flight home.