Your Itinerary
Nature is well and truly part of Darwin's backyard: the famous national parks of Kakadu and Litchfield are only a few hours' drive away. You'll visit both to get a sense of the Northern Territory's past and present with spectacular natural attractions at its centre. Next, the Kimberleys contrasts of red earth, blue and olive water and green vegetation colours will be etched into your memory to remain for years to come.
You'll have plenty of time to do what the locals do with tips and suggestions from an expert who've lived in these places before departing on the legendary Ghan andexperiencing the magnificence of Central Australia. Along the way stop into Katherine, Alice Springs and Manguri, giving you the opportunity to see natural wonders and local marvels. After the train journey you'll have three days to explore Adelaide.
"Man cannot discover new oceans unless he has the courage to lose sight of the shore." - Andre Gide
DAY 1: DARWIN
Today you will be starting a remarkable journey that will astound you with its natural beauty and fantastic elegance. After flying into Darwin you have the day to enjoy the beauty of this unique city. We recommend a stroll along the Esplanade at Bicentennial Park and then dinner overlooking the harbour, so you can watch the sunset.
DAY 2: DARWIN - KAKADU
Rise early and depart Darwin along the Stuart and Arnhem highways for your 2 hour drive to the northern entry of Kakadu National Park. A 4WD vehicle is highly recommended for this trip as some locations are only accessible via an unsealed track. As you'll be visiting Aboriginal owned land, a park pass is required. Your pass includes entry to the park, ranger guided walks and talks, and interpretive materials.
Your first stop will be the Australian Bark Hut, an iconic rest stop with good food and native animals. Further down the road, you will arrive at Bowali Visitor Centre. Stop for refreshments at the cafe before you wander through interpretive displays and gallery.
Upon arrival to Kakadu National Park, stop in and visit Ubirr, host to some of the world's most outstanding rock art and one of the reasons for Kakadu's dual World Heritage status. The paintings document ancient human interaction with the environment. A few galleries have an extra element of intrigue with some of the first interactions with non-Aboriginal people recorded.
Now it's time to see some of the park's sights. See Kakadu from the water and join an optional cultural cruise on the East Alligator River. Keep an eye out for crocodiles while your local guide talks about culture, shares stories about creation time, bush foods and survival skills.
In the evening, check-in to your accommodation and enjoy dinner at your own leisure.
DAY 3: KAKADU
Today, see the varied landscapes and impressive landforms of Kakadu National Park from the air. Optional scenic flights depart regularly from Jabiru airport, and if you visit between December and May you can circle the Jim Jim and Twin falls when they're at their best.
During the dry season, pack your car and head south from Jabiru to visit the Nourlangie rock art site, which was used by local Aboriginal people as a shelter from storms for thousands of years. The art on the walls serves as an insight into their rich spiritual tradition. Free activities are also conducted daily at the site.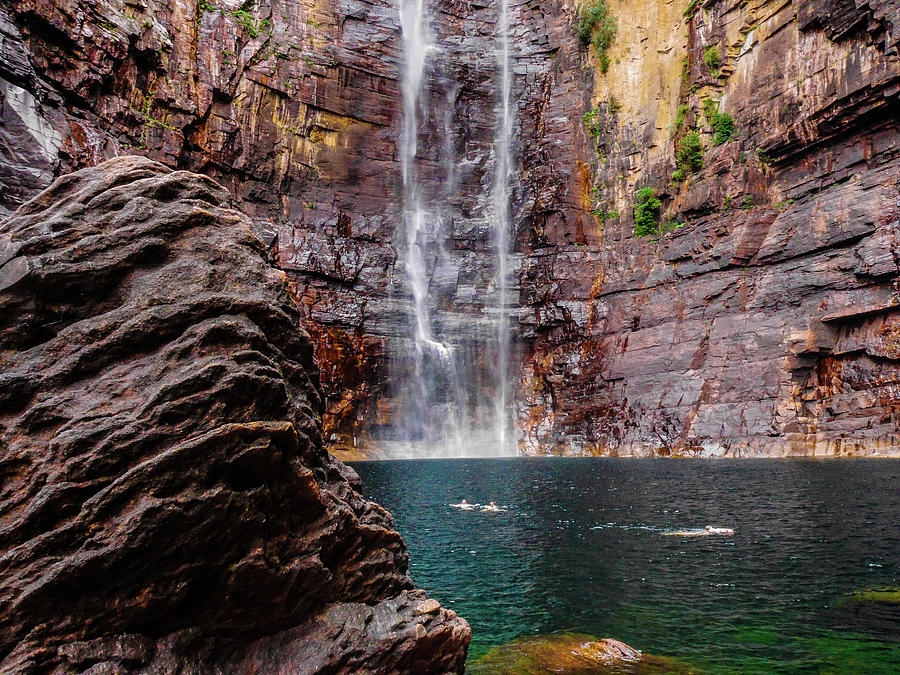 You have some optional hiking tracks to take. Mirray Lookout is a 3.6km return trail to the top of Mount Cahill which offers stunning panoramic views of the escarpment and floodplains of central Kakadu. Or, you can take the Jim Jim Falls track, a 2 km return walk through monsoon forest and over boulders to a deep pool and waterfall.
In the afternoon, make a visit to the Warradjan Cultural Centre and learn about the culture and beliefs of the local Aboriginal people before becoming acquainted with Kakadu's most famous wetland on a Yellow Water Billabong cruise.
DAY 4: KAKADU - DARWIN
Today is your last day in Kakadu National Park, so rise early, pack your car and refresh your cooler box with enough food and water to last the rest of the trip and get on the road again – this time further along Kakadu Highway to Gunlom Plunge Pool. Approximately two hours from Cooinda, the drive itself is beautiful.
Break up the trip with a stopover at Maguk. There's a short walk to the base of the Maguk waterfall that is well worth your effort where you'll be greeted with a crystal clear pool and tranquil waterfall, a perfect place to relax in the mid-morning sun.
Make your way back to Darwin via the Kakadu Highway. Have a stopover at Pine Creek, a town you'll find near the intersection of the Kakadu and Stuart Highways. There are several places to relax with a cool drink and a chat with the locals. Continue on your way back to Darwin, reliving memories of your Kakadu adventure.
DAY 5: DARWIN
Today is yours to explore the city. Rich in cultural heritage, known for its balmy weather, and boasting an eclectic dining scene, the laid-back Darwin is a visitor's delight. Explore the sights from atop a double-decker bus and set your own pace around the Northern Territory's biggest town.
This hop-on hop-off adventure hits all the top attractions, giving you plenty of time to explore sites like the Darwin Military Museum or get up close and personal with crocodiles in the Cage of Death at Crocosaurus Cove. Zip around the city, hopping on and off at your leisure to immerse yourself in Darwin's mix of frontier heritage and modern bustle.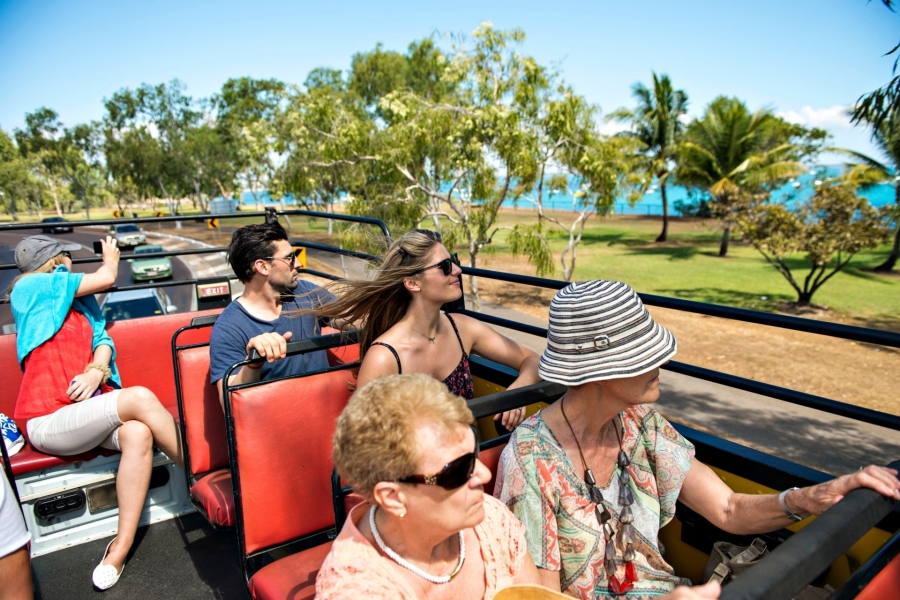 At the Aquascene Fish Feeding at Doctors Gully, watch the tide bring in an array of gentle fish species and wade into the water to feed them bread. Wander around the SKYCITY Casino, shop for arts and crafts at the Mindil Beach Sunset Markets, and check out the pools, waterfalls, and tropical scenery of the Botanic Gardens.
Visit The Defence of Darwin Experience to discover Darwin's role during World War II, and check out the city's shopping, dining, and entertainment scene at the Parap Markets, Waterfront Precinct, and Fort Hill Wharf. Your pass lets you hop back on the bus as many times as you'd like, so be sure to keep it handy as you tour.
DAY 6: TIWI ISLANDS
This morning you will depart Darwin for a relaxed 2.5 hour cruise onboard a SeaLink ferry to the Tiwi Islands to explore the culturally rich community of Wurrumiyanga on Bathurst Island. Famous for Aboriginal art and culture, as well as genuine hospitality, you'll have the pleasure of experiencing a traditional Welcome to Country totem dance and smoking ceremony.
After your official welcome, it's over to you to explore the community. Take time to meet the Tiwi artists in residence, peruse the art centres and buy a souvenir or two at Tiwi Design. Pop in to visit the ladies at Bima Wear for original Tiwi textile arts and clothing before finding a shady spot to enjoy your lunch.
Once rested, use your ticket for the Patakijiyali museum to learn about Tiwi Dreamtime, Australian Tiwi Islander World War II participation and the Tiwi obsession with AFL. Stop by the historic mission precinct to appreciate the breathtaking old wooden church before heading back to the SeaLink ferry for your return journey to Darwin.
DAY 7: LITCHFIELD NATIONAL PARK
Enjoy a fun-filled day exploring the Northern Territory's Litchfield National Park. Discover this unique landscape with its abundant waterfalls, monsoon rainforest, bush-walking tracks and many swimming holes. Along the way to Litchfield we'll stop at the Magnetic and Cathedral termite mounds. These amazing architectural feats contain arches, tunnels and chimneys, and can stand as high as 20 feet (6 m).
Arrive at the park and follow your guide on a hike along bush-walking tracks. On the easy-grade Shady Creek Walk, a distance of 1.2 km, pay a visit to the stunning Florence Falls. While at the falls, you can take a refreshing dip or just soak in the beautiful nature surrounding you.
DAY 8: CRAB CLAW ISLAND
After breakfast, embark on a relaxing cruise from Darwin to Crab Claw Island Resort for a delicious seafood buffet. Cruise around the Cox Peninsula and into Bynoe Harbour, before spending the afternoon relaxing in the bar, floating in the resort pools or explore further afield through the wildlife sanctuary before cruising back to Cullen Bay.
DAY 9: DARWIN
Today is yours to get out and explore the area. Famous for its multicultural food, outdoor markets, waterside attractions and a warm holiday vibe year-round, there's something for everyone.
You don't need to go far to experience Darwin's must-dos. In the city itself, wander through Darwin's Smith Street Mall (free wi-fi), stopping at luxury boutiques that sell fine crocodile and pearl products. At Crocosaurus Cove, cuddle a baby crocodile and wander around enclosures with some of Australia's biggest saltwater crocodiles. Life-size holograms and virtual reality technology let you feel what it was like when Darwin Harbour was bombed at the Royal Flying Doctor Service/Bombing of Darwin Harbour experience on Stokes Hill Wharf. Finish off with a movie under the stars at the waterfront Deckchair Cinema.
In the evening, catch a famous Darwin sunset aboard a luxury yacht paired with a delicious seafood dinner. With the warm breeze in your hair and an exquisite tropical sunset on the horizon, this is a must-do Darwin experience.
DAY 10: DARWIN - KUNUNURRA
Today you'll fly to Kununurra in Western Australia, near the Northern Territory border, arriving in the morning or early evening. Kununurra is an Indigenous word meaning "big water", which suits the town perfectly as it's located on the banks of the Ord River with views to the scenic hills in the far eastern corner of the Kimberley region.
Kununurra is a picturesque place and great to explore, with galleries, cafes, pubs and even a local distillery giving you a taste of the region's produce, artistic creativity and crafts.
DAY 11: KUNUNURRA - EL QUESTRO
Pick up your 4WD rental car this morning and we'll drive just an hour to El Questro Wilderness Park along the famous Gibb River Road. You'll drive through a spectacular landscape of intensely coloured ranges, dramatic gorges, lush rock pools and waterfalls, everything for which the Kimberley is famous.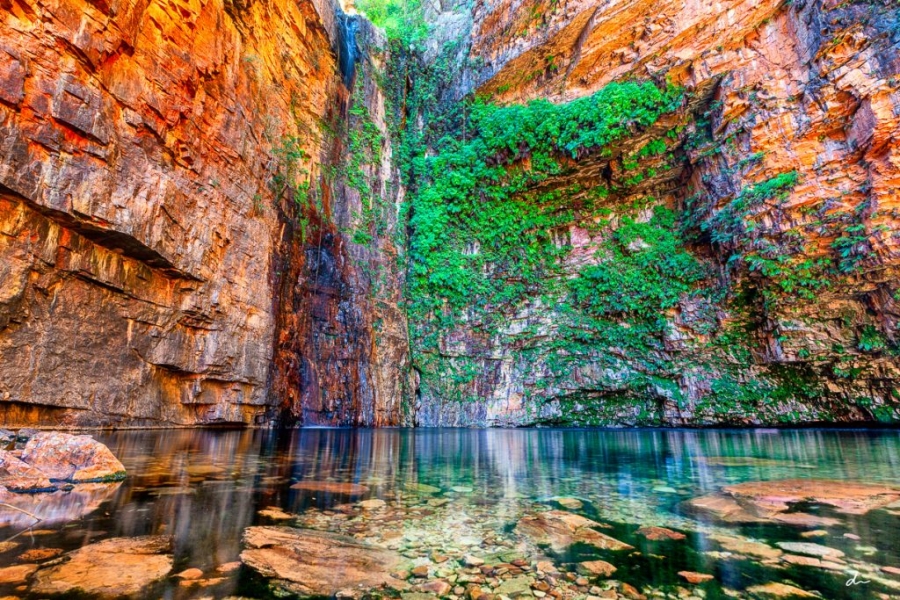 When you arrive at Zebedee Hot Springs in El Questro Wilderness Park, the ideal morning's activity is to go for a swim (before 12 pm) and have lunch at Emma Gorge Resort. You then have the option to do the two-hour return walk to Emma Gorge, returning to Kununurra in the afternoon.
DAY 12: KUNUNURRA
Today we recommend you leave early and drive just out of town to visit Warrangari Arts, the Sandalwood factory and Hoochery Distillery (for some famous Rum cake). Start at the Sandalwood factory, have breakfast at their café for breakfast, browse the sandalwood products and attend a demonstration.
Later visit the distillery for a sample or two to take back home with you. Even if you don't drink rum you'll still enjoy the visit. You'll return your car at the end of the day. Tonight, the Pump-house Restaurant will be ideal for dinner overlooking the Ord River.
DAY 13: KUNUNURRA
A morning cruise at Lake Argyle is a great way to begin your day. Explore the rugged northern end of Lake Argyle while navigating through some of the lake's 90 islands and inlets. During your cruise you'll enjoy informative commentary on the natural history and development of Lake Argyle, The Ord River Irrigation System and The Aquaculture Industry. You'll encounter Rock Wallabies, Crocodiles, Archer Fish, Wallaroos (Euros) and the diverse array of birdlife that call Lake Argyle home.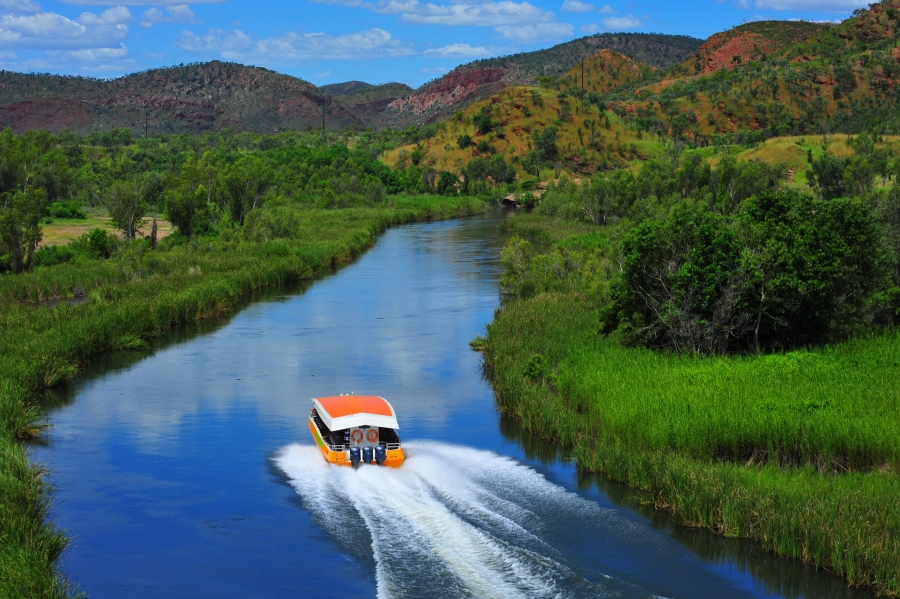 After your cruise, refuel with some food before heading out through Durack country to the Ord River. Along the way, visit the historic Durack Homestead Museum and Ord Hydro-Power Station. You'll then enjoy a scenic 55km cruise back to Kununurra. Marvel at the spectacular scenery, wildlife, flora and fauna found along the way, including the elusive freshwater crocodile!
Enjoy afternoon tea at a riverside camp before heading back to Kununurra. Take in a colourful East Kimberley sunset before docking back at the marina and re-boarding your coach for your accommodation drop-off at around 6.00pm.
DAY 14: KUNUNURRA - DARWIN
From an aircraft, Purnululu National Park is an imposing sight. This two-hour scenic flight takes you on an unforgettable adventure over the Bungle Bungle Range, Lake Argyle, the Argyle Diamond Mine and Ord River Irrigation Area. You will also fly over the stunning Carr Boyd Ranges, Osmand Ranges, the Ord River and the Bow River. This award-winning scenic flight is an exhilarating adventure taking in the Kimberley's best scenic views.
After your activity, pack-up and head to the airport for a flight back to Darwin, where you will start your exciting Ghan journey.
DAY 15: THE GHAN TO ADELAIDE
Settle in to the comforts of The Ghan today. Relax in your cabin or mingle with fellow travellers at the Outback Explorer Lounge.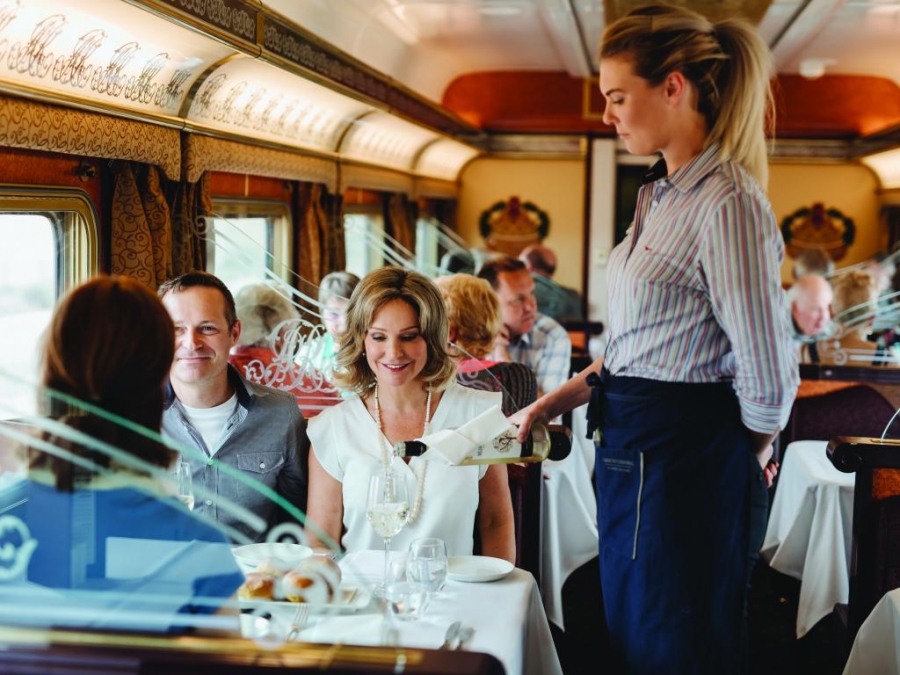 Enjoy lunch ahead of your off-train excursion in Katherine. In a region renowned for jaw-dropping natural assets, Katherine boasts one of the Top End's best – the incredible Nitmiluk Gorge.
DAY 16: THE GHAN TO ADELAIDE
Your arrival into Alice Springs after breakfast provides you with time to explore the iconic town in the red heart of Australia. Prepare for a day of fascinating excursions and, in the evening, dine under a million stars.
DAY 17: THE GHAN TO ADELAIDE
When you next disembark in remote Manguri, you'll enjoy a full day exploring the amazing opal mining township of Coober Pedy.
DAY 18: THE GHAN TO ADELAIDE
From your cabin window this morning you'll see a dramatic change in landscape, as the rich ochre tones of the outback make way for the green fields of South Australia. Enjoy a leisurely brunch as you pass through the majestic Flinders Ranges and prepare for your mid-morning arrival into Adelaide, completing one of the world's great travel experiences. Once you disembark the train you can drop your bags at the hotel. Then, you can set out to start quietly exploring this wonderful city. Pick up your hire car and check out the surroundings.
DAY 19: ADELAIDE
There is a massive range of things to do and see in Adelaide, from the beautiful beaches to the traditional architecture of the church filled streets, and even the hip bar scene of the ever-evolving Port Adelaide. To see Adelaide's city we recommend the free city loop bus services, but if you want a more immersive experience then try the walking tours, with topics to explore ranging from controversial outdoor art pieces to following in the footsteps of famous locals.
DAY 20: ADELAIDE & HAHNDORF
Tour the Adelaide Hills as you make your way to the historic German settlement of Hahndorf. The Adelaide Hills is home to the Mt Lofty Ranges, rolling vineyards, unspoiled bush land and rich farmland.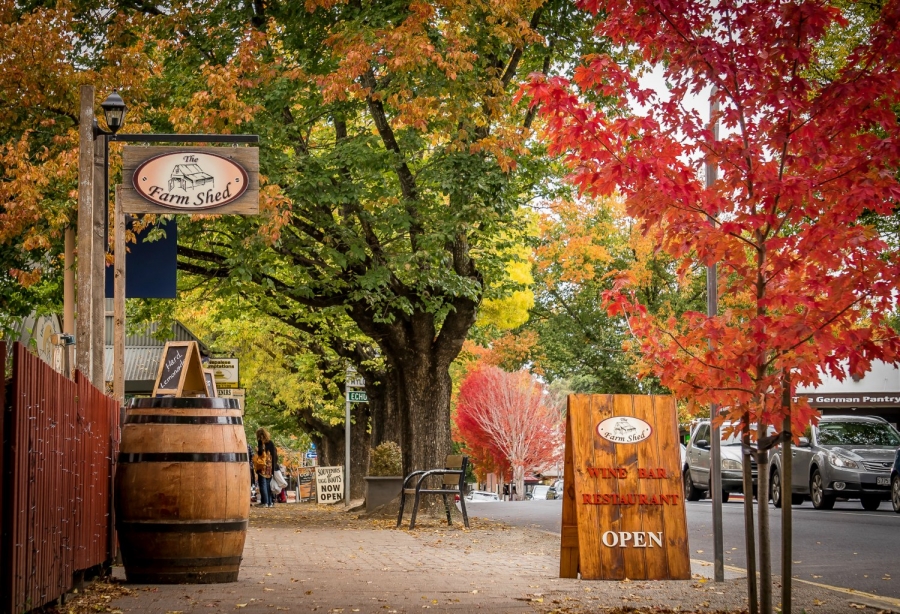 On this half day tour of Hahndorf and the Adelaide Hills you will explore the delights of Hahndorf and experience the charm of quaint, historic hills villages. Sample the local handmade produce as well as the arts and crafts of this fascinating region.
DAY 21: RETURN HOME
Even the best holidays must come to an end and so this morning we say goodbye to the incredible South Australia with a flight back home with definite plans to return one day. They say you should "See Australia first". This trip is a good reason to do exactly that.