Your Itinerary
Travel across magical central Europe and Romania to experience the best of this historic area. Experience Austria's rich musical tradition firsthand before embarking on our opulent Vienna to Bucharest cruise along the Danube River.
Your cruise itinerary highlights seven nations (Austria, Hungary, Slovakia, Croatia, Bulgaria, and Romania). The sail through the famous "Iron Gates" is just one of the scenic highlights. Spend some time in romantic Bucharest to round off your journey.
"We wander for distraction but we travel for fulfillment" - Hilaire Belloc
Package 1 Itinerary (See Inclusions)
The following 15-day itinerary features both included and optional excursions. A full list of optional activities is available on request. All dining, meals and standard drinks aboard your cruise ship are included.
DAY 1: ARRIVE VIENNA, AUSTRIA (4 NIGHTS PRE-CRUISE)
Welcome to Europe! Upon arriving at the airport, head to your top-class accommodation in Vienna's city centre. Early check-in can be arranged (surcharge applies) if your flight arrives early in the day.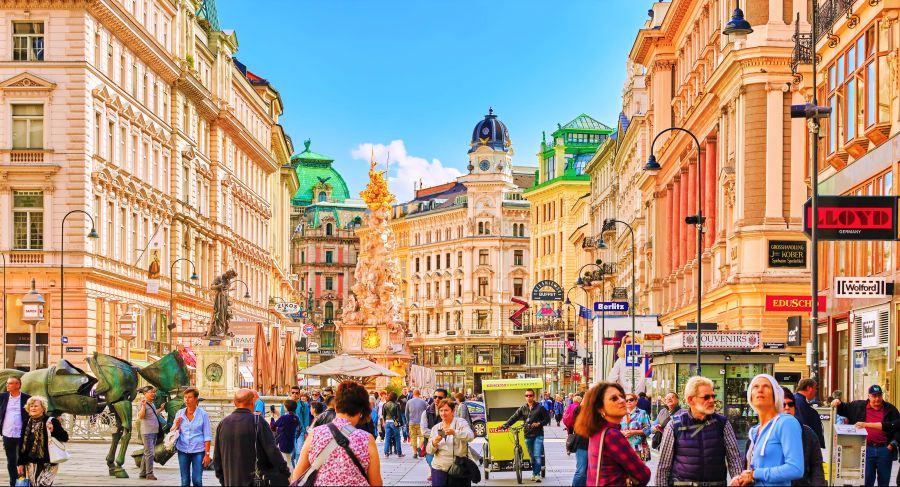 Depending on arrival time, you can enjoy some time in this exciting city. Your included Lonely Planet guide will give you some tips and ideas. Take this opportunity to plan the days ahead.
DAY 2: VIENNA FREE DAY - VIENNA CONCERT (KURSALON VIENNA)
You can enjoy free time until your concert this evening. The Austrian capital is one of the great cities of Europe, a marvelous place with incredible history a terrific cafe scene to boot. You will find excellent museums and galleries, fantastic restaurants and a sense of grandeur that cannot be denied.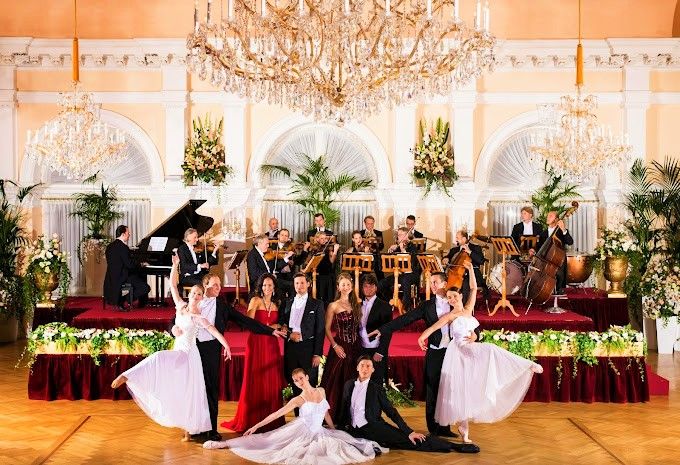 This evening make to Kursalon Vienna concert hall for an evening of Viennese classical music. Listen to renowned works from Mozart and Strauss in a show complete with opera singers, ballet dancers, piano concertos and more. Settle into your selected seat at the very place where the waltz was made famous in the 19th century.
After the performance, make your own way back to your hotel or linger in the area to continue your evening out in Vienna.
DAY 3: VIENNA - SCHONBRUNN PALACE TOUR
Schönbrunn Palace is one of Vienna's top attractions, but its long lines and vast size can be overwhelming. Zip past the crowds with skip-the-line tickets. Take in the best of the palace and gardens on this professionally guided tour.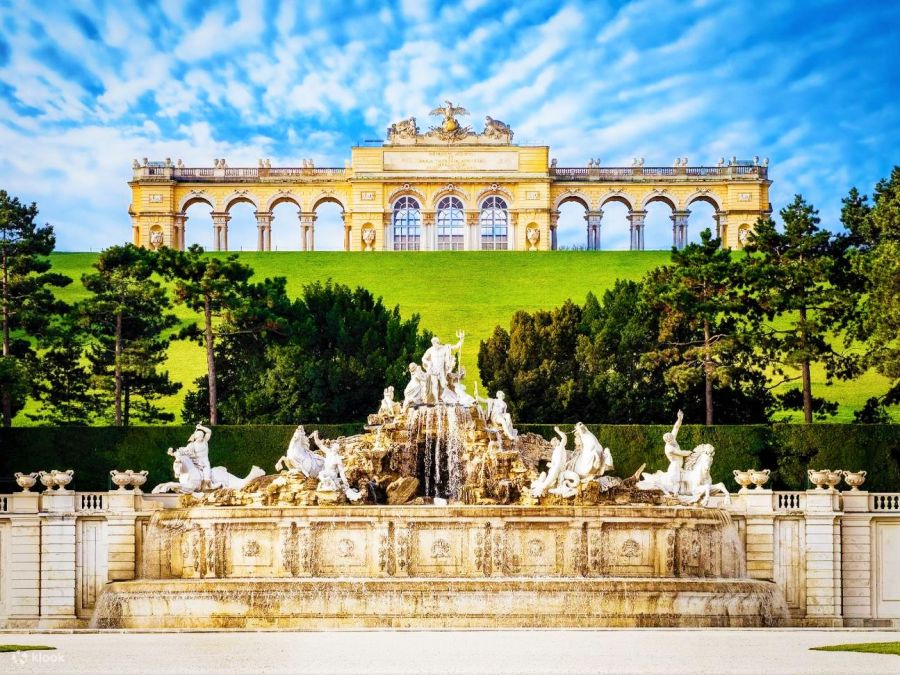 Explore Schonbrunn Gardens, Palace and Imperial Rooms and see amazing nature and architecture in Schlosspark, step inside magnificent interiors, meet fascinating history and find out about the huge Austrian heritage!
Explore Gardens from east to west while listening to the story of the Habsburg family and how this Park developed through the years. Along the way, admire fabulous combinations of architecture like Angel Fountain and nature.
DAY 4: VIENNA - HALLSTATT DAY TOUR
Discover Hallstatt and its surrounding attractions on a full-day small-group tour from Vienna. Travel by private transportation and discover more points of interest in less time. Listen as your guide narrates the sights and make stops at filming locations for 'The Sound of Music' and more.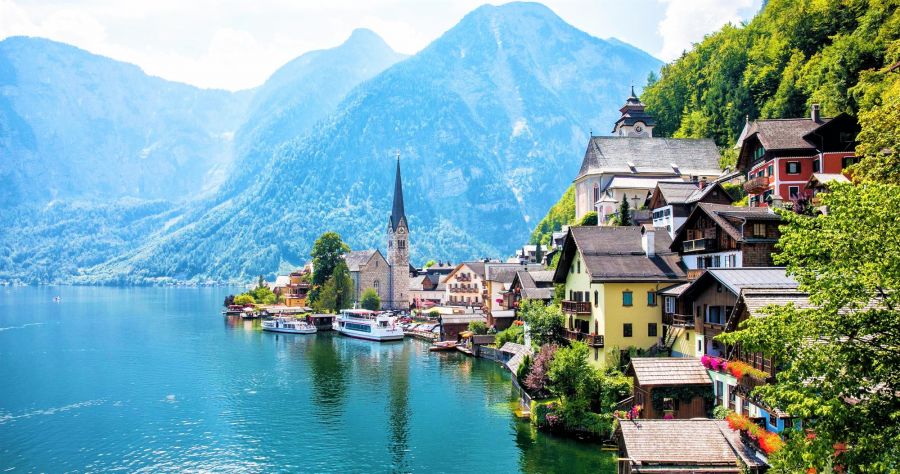 Enjoy a sightseeing tour of Hallstatt followed by free time to explore independently before your comfortable return journey.
DAY 5: VIENNA - RIVER CRUISE START
Your exciting and informative journey along the Danube begins in Vienna. Embarkation starts in the afternoon.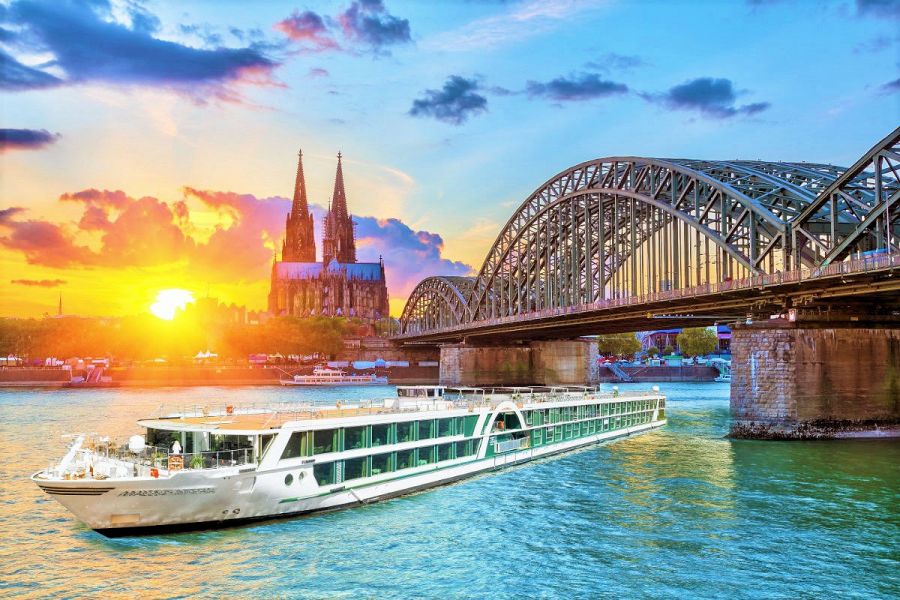 After exploring your luxury floating hotel, you have the opportunity of meeting the cruise director at a welcome cocktail evening. The top-class chef will spoil you with a lovingly prepared welcome dinner, after which your ship will weigh anchor and head towards Bratislava.
DAY 6: VIENNA - BRATISLAVA
You arrive in the Slovakian capital of Bratislava before breakfast. This romantic city with its impressive Gothic and Baroque buildings is best explored in the morning, during the course of a city sightseeing tour, which takes you to all the most beautiful sights. You return to your ship for lunch on board, and thereafter you have the opportunity of visiting the imperial Festchloss Hof, once a residence of the Austrian Empress Maria Theresia, during the afternoon. The sumptuous gardens of this palace are highly recommended. Your ship weighs anchor before midnight and arrives in Esztergom in the morning.
DAY 7: ESZTERGOM - BUDAPEST
After breakfast, you can join a guided tour to Esztergom and Szentendre, two towns which, though vastly different, are equally fascinating. In the former Hungarian capital of Esztergom you follow the footsteps of Hungarian kings and clerics, while the artists' town of Szentendre is unique due to the many museums and contemporary galleries housed there. Passengers who choose to remain on board will, in the meantime, continue to Budapest, where those passengers who opted for the tour will rejoin the ship for lunch.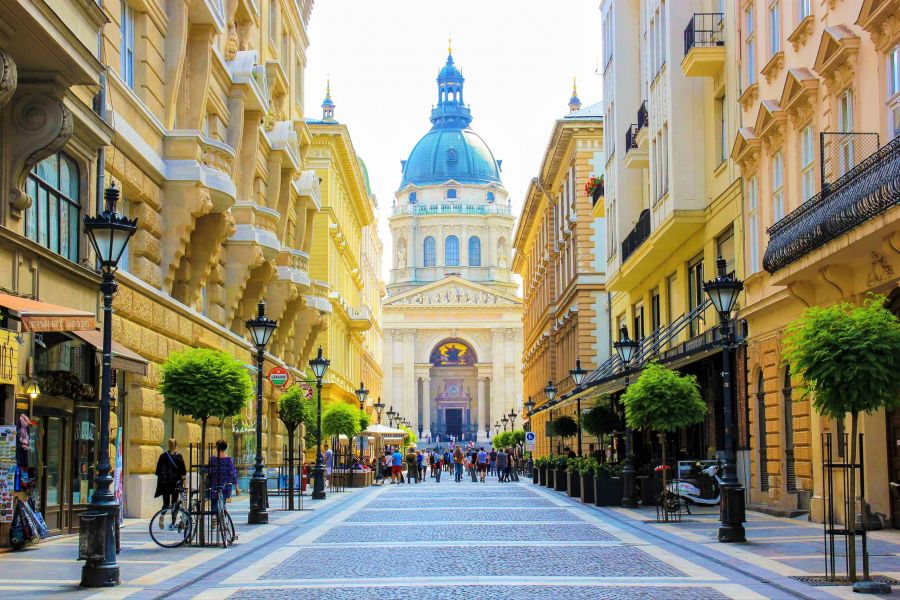 In order to enjoy the magnificence of the Hungarian capital, you can go on a city sightseeing tour during the afternoon. In the evening, you will enjoy an atmospheric cruise through Budapest, also known as the "Paris of the East", which is festively lit up at night, revealing Budapest's most beautiful side. A folklore show on board will complete the experience.
DAY 8: VUKOVAR
You arrive in Mohacs early in the morning, and depart again directly after breakfast, heading towards Croatia. Your cruise ship reaches the eastern Croatian town of Vukovar after lunch, and you can take a city sightseeing tour, followed by a breathtaking excursion to the Kopacki Rit nature park. This 18-hectare nature reserve, situated at the confluence of the Drava and Danube Rivers, is home to a diverse bird population and provides a protected environment for many species of plants and animals. Explore this wetland by boat and enjoy the unspoilt beauty of nature before returning to your ship for dinner. Your ship departs for Belgrade during the night.
DAY 9: BELGRADE
Enjoy a new day in a new country! You reach Belgrade, the vibrant and distinctly western-influenced capital of Serbia at breakfast time. This metropolis is home to many attractions from various eras and cultures, and you can view these during the course of a morning sightseeing tour. After lunch, you can join an excursion to Topola and Oplenac, where you can see the famous St. George's Church, which is the final resting place of most of the Serbian royal family.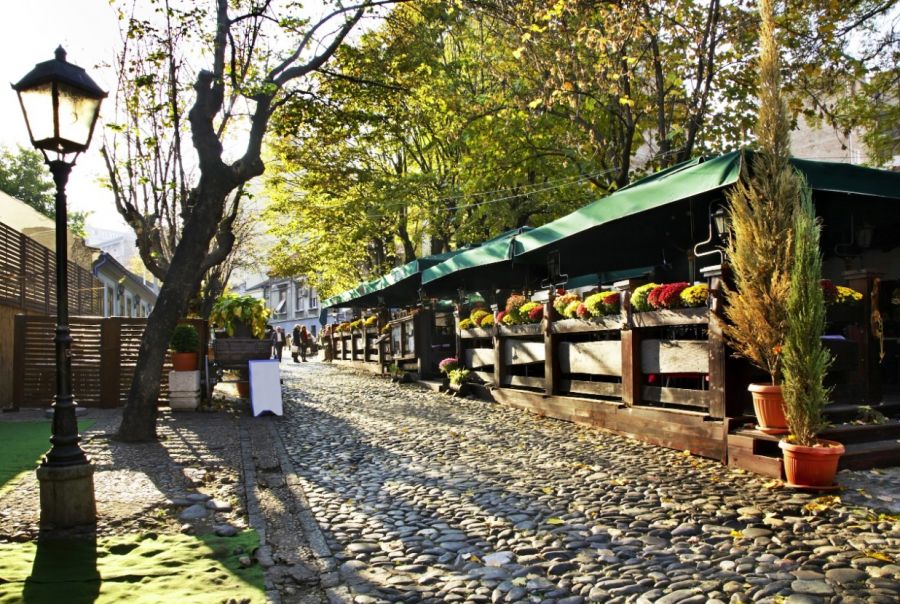 After dinner, night owls get to enjoy an evening excursion to the lively artists' quarter Skardaljia. The ship will leave the harbor before midnight.
DAY 10: IRON GATES
Spend the day on board and enjoy a truly impressive natural spectacle. Your journey takes you through the "Iron Gates", one of the most imposing gorges in Europe, which also forms the natural border between Serbia and Romania.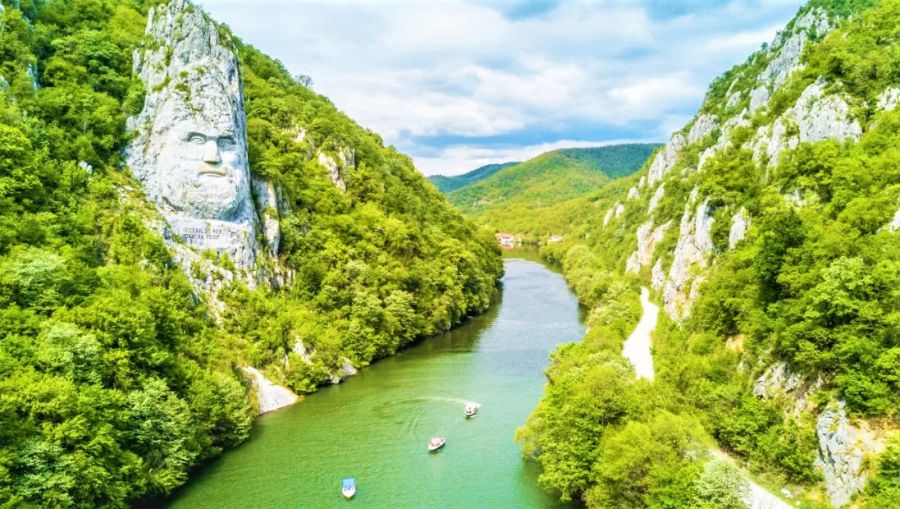 One of the most beautiful stretches along the route includes the "Cazan" near the town of OrÅŸova, where the riverbed recedes to 200 meters width and 80 meters depth and passengers will be rewarded with a fascinating view of the surrounding Carpathian Mountains and the Balkan Mountain range. The small abbey church Mraconia, which is situated on the Romanian side of the Danube at the water's edge, is equally worth seeing. The monumental rock sculpture of King Decebalus of Dacia reaches skywards at Dubova, and at 40 meters high is the largest in Europe.
DAY 11: SVISHTOV-ROUSSE
Early in the morning you reach the Bulgarian town of Svishtov. Those who wish can take part in an on-land excursion to Veliko Tarnovo and Arbanassi, which will include an exciting morning filled with culture and history, as well as lunch in a local Bulgarian restaurant, before returning to the ship, which will in the meantime have travelled to Giurgiu. After lunch, the journey continues downriver and in the evening, you can enjoy a festive Gala Dinner with your captain and an evening program which will be an atmospheric close to the day.
DAY 12: DANUBE DELTA - SAINT GEORGE
Your journey continues through the breathtakingly beautiful Danube Delta, one of the largest wetlands in the world, with a large variety of plant and animal species, which has been declared a UNESCO World Natural Heritage Site. You travel along St George's Canal, also known figuratively as the "end of the Danube", the so-called "kilometre zero", where the mighty river flows into the Black Sea. Your destination is the nearby fishing village of St. George, which is the starting point for an exciting Danube Delta boat safari – a great way to discover and get close to the impressive natural landscape and its fascinating flora and fauna. In the afternoon, your ship leaves St. George.
DAY 13: FETESTI - BUCHAREST
During breakfast you reach the Romanian town of Fetesti, where you leave your vessel – but your trip is not over yet! You will be transferred to Bucharest and check in at a centrally located gold standard hotel.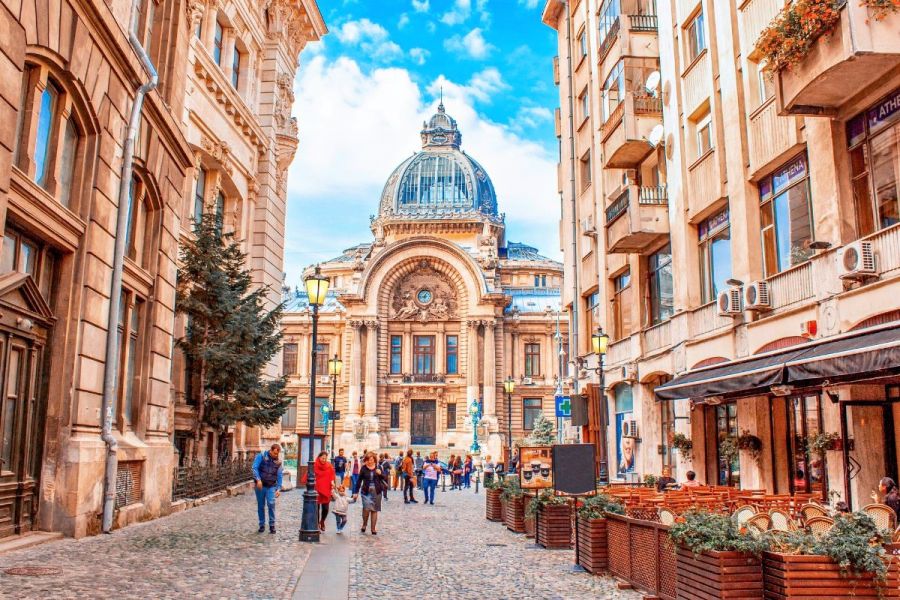 Thereafter, you can take part in a city sightseeing tour through this vibrant metropolis, which has 2 million inhabitants and a unique charm thanks to its colorful mix of buildings from different eras. At lunch time, you will dine in Bucharest, while in the evening you can enjoy a stylish farewell dinner in your hotel, while reflecting on your exciting Danube journey.
DAY 14: BUCHAREST (2 EXTRA NIGHTS) – FREE TIME
Your enjoyment of Bucharest continues with two extra nights at the cruise/tour end hotel, so you can enjoy more of this wonderful city and visit Transylvania tomorrow. Your Lonely Planet guide is your best resource to enable you to plan today's activities.
DAY 15: BUCHAREST - TRANSYLVANIA
Escape the urban bustle of Bucharest for the day to discover the legends and treasures of Transylvania.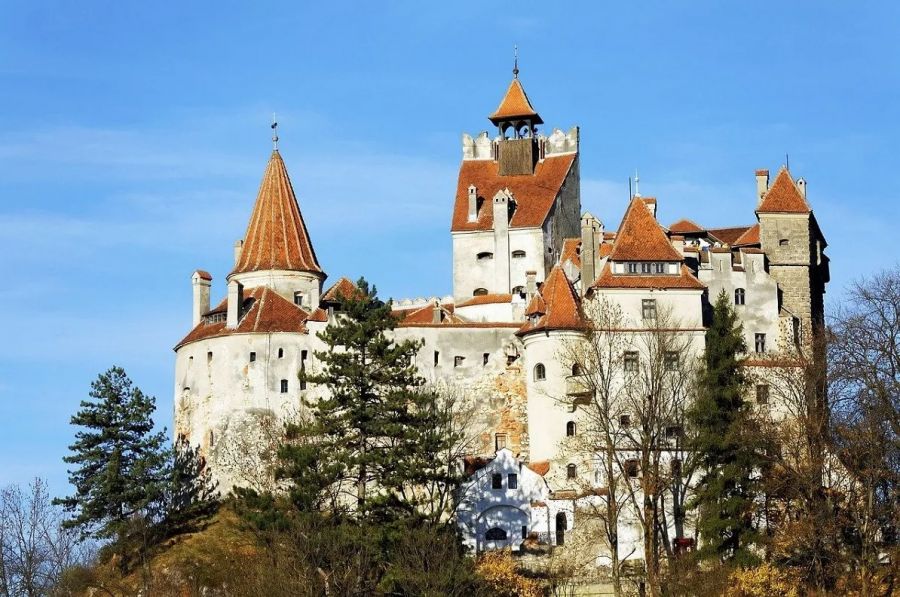 Wander through the Gothic chambers and turrets of Bran Castle nicknamed 'Dracula's Castle' thanks to its spooky atmosphere and ties to Vlad the Impaler, and then feel like you've stepped into a fairy tale on a tour of splendid Peles Castle, the former royal residence of Romanian kings. Finally, explore one of Transylvania's most well-preserved medieval villages on a walking tour of Brasov.
DAY 16: RETURN HOME
Our journey from Vienna to Bucharest sadly must come to an end today. After breakfast you'll check out and make your way to airport for your flight home.
After such an unforgettable getaway, we're sure you'll be back. Until then you have the memories and photos you took along the way.