Your Itinerary
Say "Bula" to Fiji! You arrive in Nadi (pronounced "Nandi"), gateway to the Fiji islands. You'll then immerse yourself daily in everything from total relaxation to island day tours including Nadi and Suva, snorkelling, glass bottom boat rides and traditional cultural experiences. In the process you'll not only learn to relax on island-time, you'll also learn about the rich culture and history that has made this vibrant country what it is today.
Unlike the majority of travellers, you will have a car to get you to the many places that are not as touristy. This is a real advantage, giving you complete freedom to get out and about as much as you please. You can even include "resort-hopping" into your itinerary. This is where you simply drive around and check-out the various resorts, have lunch or enjoy a cool drink.
"Work, Travel, Save, Repeat" - Anonymous
DAY 1: NADI - CORAL COAST
After arriving into Nadi you will collect your hire car and start your island adventure with a scenic drive to your resort. Once you have checked in, the rest of the afternoon is free for you to enjoy the resort facilities. Try out the restaurant tonight for a delicious meal of local produce. If you haven't already done so, now's the time to study your Lonely Planet guide and review your plan for each day of your stay in Fiji.
DAY 2: FIJIAN CULTURAL EXPERIENCE
Today you will sample the lifestyle, hospitality and customs of Fiji in a beautiful and unique setting. Visitors get to interact with villagers in a natural, friendly environment and learn about their crafts and arts.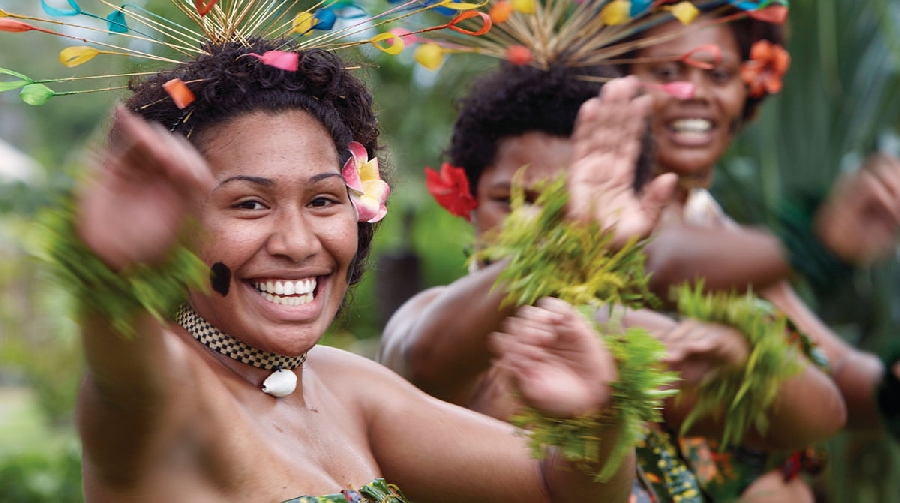 Visit "Bure" huts where demonstrations of Fiji's diverse culture take place - from carving, fishing, canoe making, pottery making and tapa making to coconut processing. See ancient Fiji come to life with a traditional kava ceremony and spectacular meke dance performance. This is an extravaganza of singing, dancing, costumes and legend.
Tour itinerary:
9.30am: Welcome by a warrior and your village tour guide.
Your village tour starts with the village "bure" huts. Your traditional village guide will provide commentary. You will visit the "bure kalou" chief's home, and a special village "bure". Visit the gallery that tells you more of Fiji's history. Join the ladies and the men in the "bure" to understand better the culture and diversity of Fiji.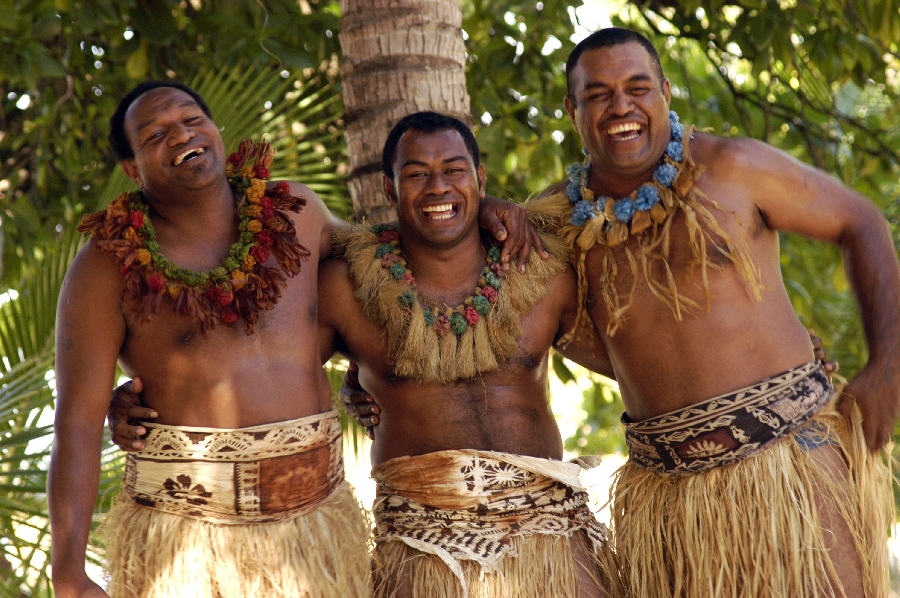 10:45: See how "lovo" food is buried in an earth oven.
11:00: Watch the traditional dance and singing show that fills the whole village with sound. Feel free to join in for lots of fun.
12:15: Time to unearth the "lovo". Get ready for an unforgettable dining experience as they unearth the lunch and prepare it to be served.
12:30: Enjoy your delicious "lovo" lunch with "kokoda", "fish lolo", salad and seasonal fruits (from the organic garden) at the riverside restaurant.
The afternoon is free to check out other places in the area.
DAY 3: SAVALA ISLAND
Today will be your chance to see one of the most beautiful little islands in the Fiji Islands group, just perfect for snorkelling. Savala Island, just off the coast of Fiji, feels like a holiday within in holiday. Relax on the beach, kayak, stand-up paddleboard, and enjoy unlimited rides on a glass-bottom boat whilst absorbing the local flavour.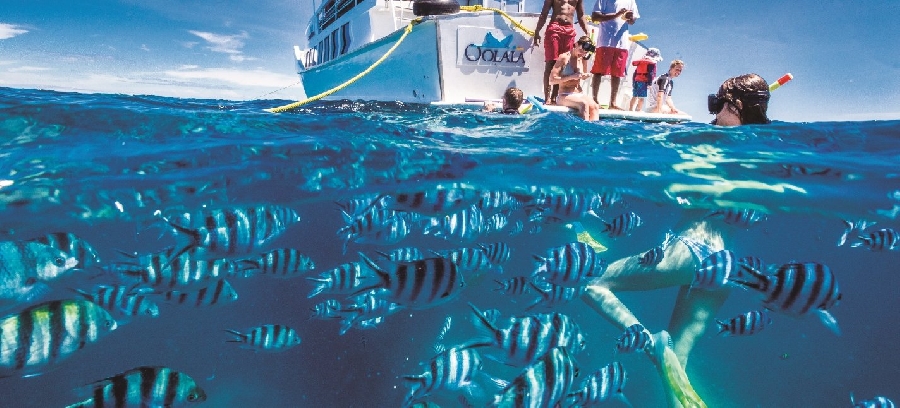 As you sail towards Savala Island, indulge in home-made banana cake and a tea or coffee while learning about the local scenery. After mooring along the sandy cay's vibrant shores the world of Savala Island is your oyster: Relax on the beach or go snorkelling. During your visit you can feed the fish and immerse yourself in the "Tale of the Coconut," which explains the coconut's many practical applications.
You will be picked up from your hotel to travel to Savala Island for your island day cruise. Includes morning and afternoon tea and lunch and refreshments.
Cruise and tour highlights:
Stunning reefs teeming with vivid sea life & colourful coral
Engaging activities for individuals, children & families
Chance to learn about island life, feed fish and go snorkeling
Glass-bottom boat peacefully glides across the water
Educational songs, culture & food of the Fijian people
DAY 4: RELAX OR MORE ADVENTURE
Today is a free day to rest or continue adventuring. You might want to spend the day relaxing at the resort or soaking up the sun on the beach.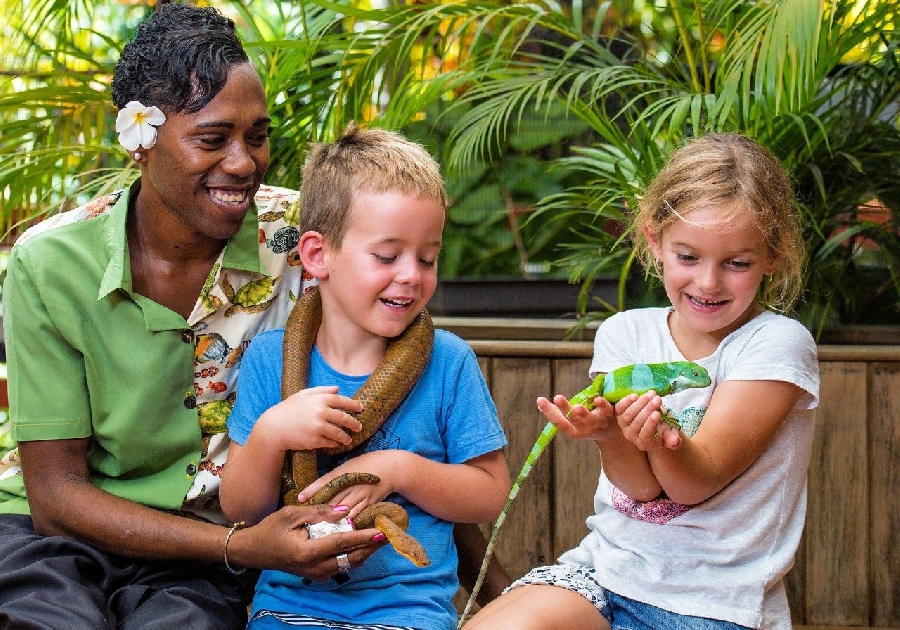 If you're traveling with children, take a drive to Kula Eco Park, Fiji's biggest Family Fun Park at Sigatoka on the Coral Coast. It is a 28-acre property set in 3 valleys. Huge walk-through enclosures put you inside the habitats of its resident parrots, doves, water birds and reptiles. Marine displays of ocean turtles, soft and hard coral and tropical fish provide a glimpse of the spectacular marine world that surrounds the 300+ Islands of Fiji. With almost a kilometer of wooden walkways, bridges and rest areas, the park provides visitors with the opportunity to experience the 'wild side' of Fiji in comfortable and safe surroundings.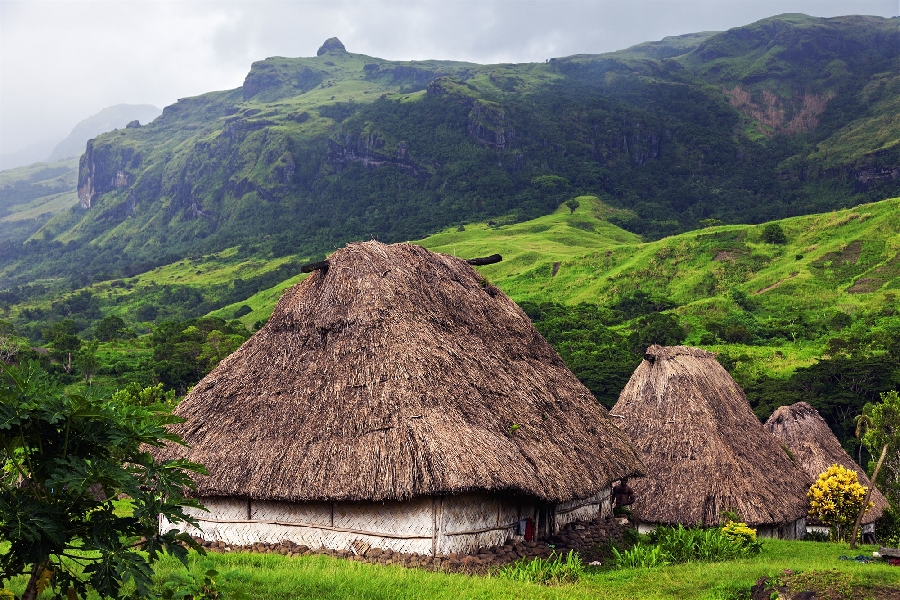 Visit Navala Village, about two scenic hours' drive from Nadi. Nestled in rugged, grassy mountains, Navala is by far Fiji's most picturesque village. Navala's chief enforces strict town-planning rules: the dozens of traditional thatched bure are laid out neatly in avenues, with a central promenade sloping down the banks of the Ba River. All the houses here are built with local materials; the only concrete block and corrugated iron in sight is for the school, Catholic church and radio shed (which houses the village's emergency radio telephone).
DAY 5: SUVA
Suva (soo-va) is the heart of Fiji, home to half of the country's urban population and the largest city in the South Pacific. It's a lush green city on a hilly peninsula, that gets more than its fair share of rain, and has a vibrant cultural scene.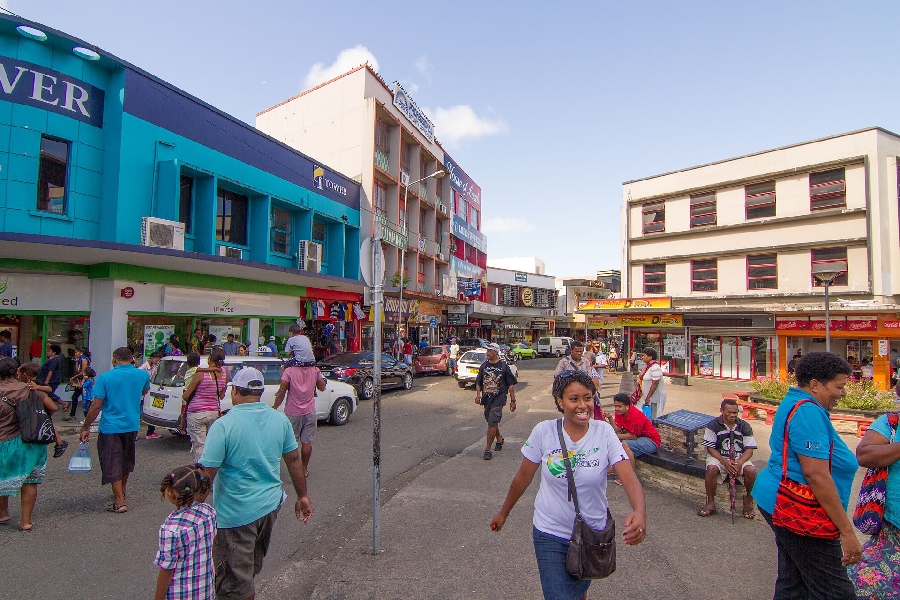 Downtown is as diverse architecturally as the populace is culturally. A jigsaw of colonial buildings, modern shopping plazas, abundant eateries and a breezy esplanade all form the compact central business district. Small passages are lined with curry houses, sari shops and bric-a-brac traders.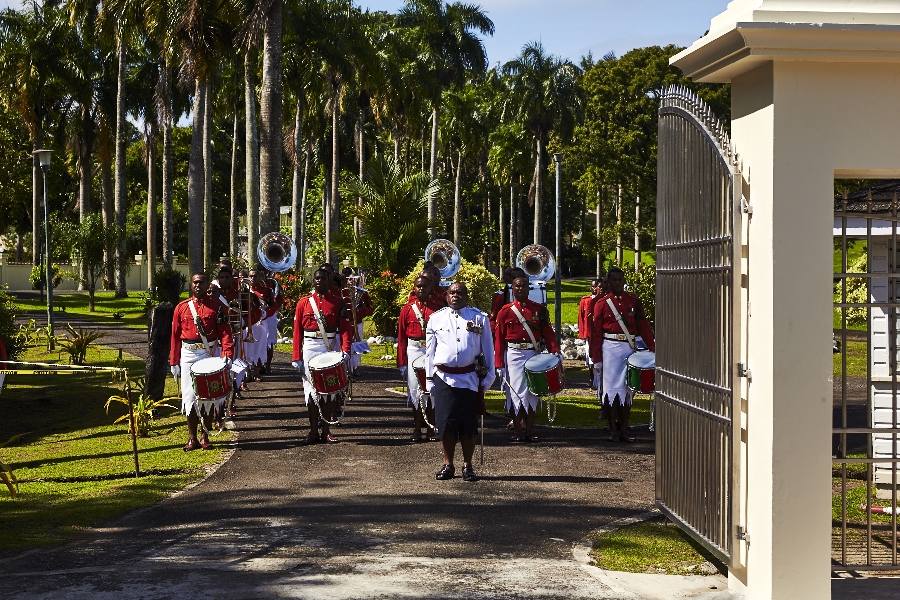 On the last Saturday of each month there is a changing of the guards at the presidential residence. If your timing is right this event is well worth seeing.
Include Thurston Gardens as part of your visit. The park is located at the heart of Suva City and displays horticultural species, several greenhouses, and walking tracks. It is open for sightseeing every day of the year and admission is free. You can walk along the park's trails, picnic on manicured lawns and see the natural beauty of the island's native flora, including tropical trees, palms, ferns, colourful gingers and water lilies.
DAY 6: ANOTHER DAY IN PARADISE!
If you pictured yourself spending your days by the pool or the beach, then this is a perfect day to do just that. Alternatively, you can explore more of the endless natural wonders of Fiji. Check out Natadola Beach, considered one of Fiji's best beaches. Natadola features pure white sand, many shade trees and crystal clear waters.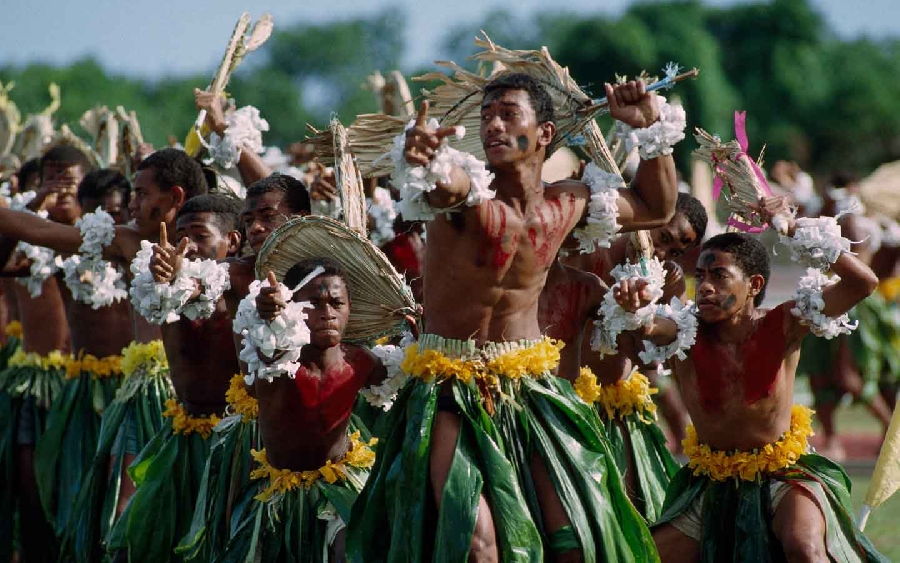 If you enjoyed the cultural experience in Nadi, then take a drive to Kalevu Cultural Centre, hidden away within the four and a half acre grounds of Gecko's Resort. The centre provides a glimpse into the local way of life in a traditional Fijian village which has been created to be as authentic as possible. It is open for visitors from 9am to 3pm daily.
Afterwards you might like to have lunch at the resort and spend the rest of the day at the beach. Or you can take advantage of some of the activities on offer at the host resort and return to your own resort in the afternoon.
Silver star package: Buffet dinner and Polynesian fire dance show.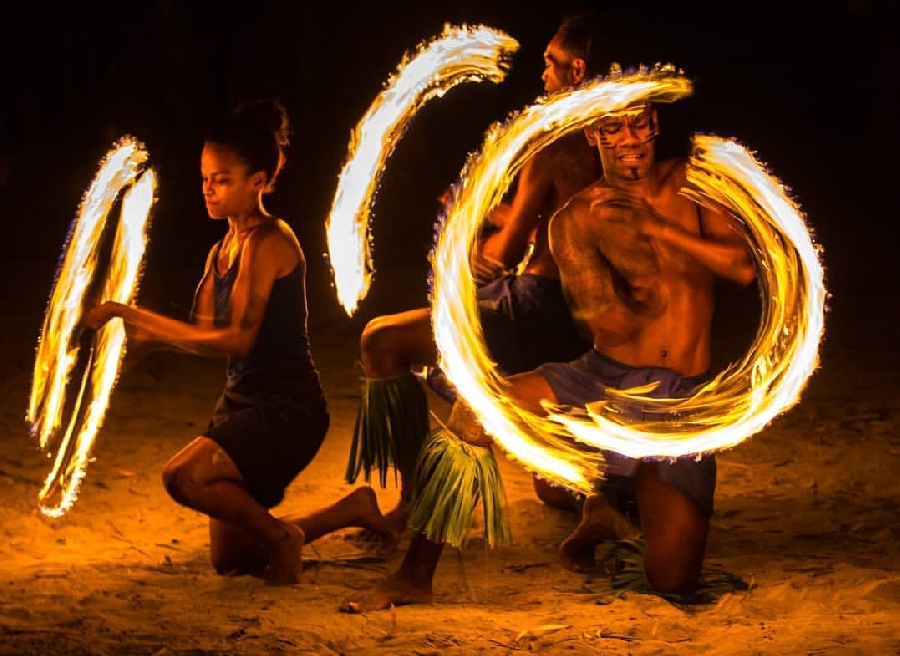 Once evening sets in we have you booked in for a sumptuous 3-course dinner followed by a traditional Polynesian fire dance show (Sunday nights only) at another resort a short drive away.
DAY 7: NADI & SUNSET CRUISE
If you haven't already looked around Nadi, this would be a good day to do it. There's the Garden of the Sleeping Giant, craft markets, and the towering and colourful Sri Siva Subramaniya Temple to visit. You'll find all the information you need about Nadi in your Lonely Planet Guide.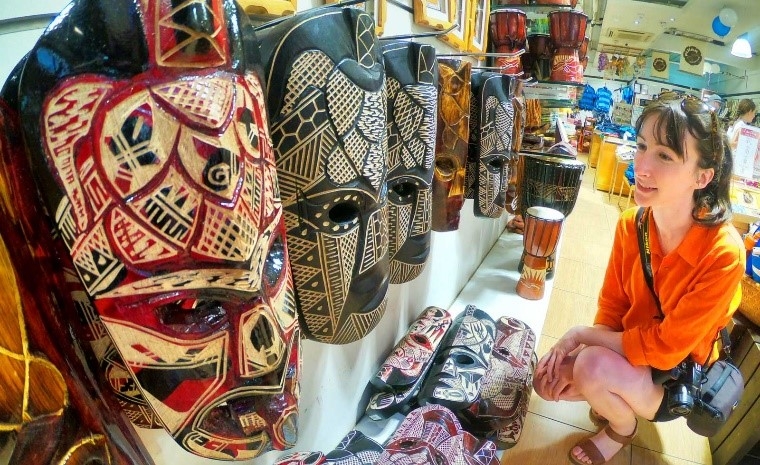 Highly recommended is taking a traditional mud bath at Sabeto or Tifajek, only 30 minutes from Nadi, on the same road as the Garden of the Sleeping Giant. Both are right next door to each other and owned by a brother and sister. Both have changing rooms with showers. To take full advantage of the therapeutic value of the mud pools you first coat yourself in mud then bake in the sun until it drys. Wash off in the first hot spring pool then walk over to the next clear water pool for another cleansing. Wonderful and fun experience.
Silver star package: Sunset dinner cruise.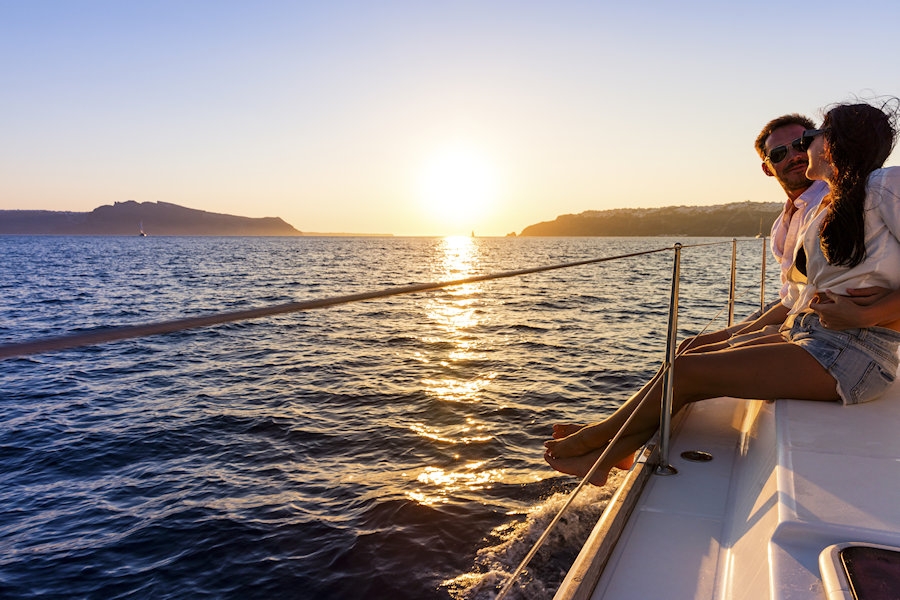 As the sky streaks yellows, oranges and pinks, head for the open seas on an enchanting and romantic dinner cruise along Fiji's peaceful waters. Dine on a succulent barbecued meal, take in a live Fijian cultural performance and soak up the spectacular sight of the sun setting over the Pacific.
Board your vessel at Denarau Marina (a short drive from Nadi), sip on a refreshing welcome drink and ponder the marvellous views from the open deck. Long, white beaches meet easy ocean waves, crafting the perfect island scene. Find a seat while you pull away from shore and prepare for dinner to begin. (Optional lobster meal upgrade available for $25 per person, normally $50.)
DAY 8: MAKING THE MOST OF IT
We're sure by this stage you'll have settled into island life and never want to leave. Now is the time to see and do anything you've not yet done.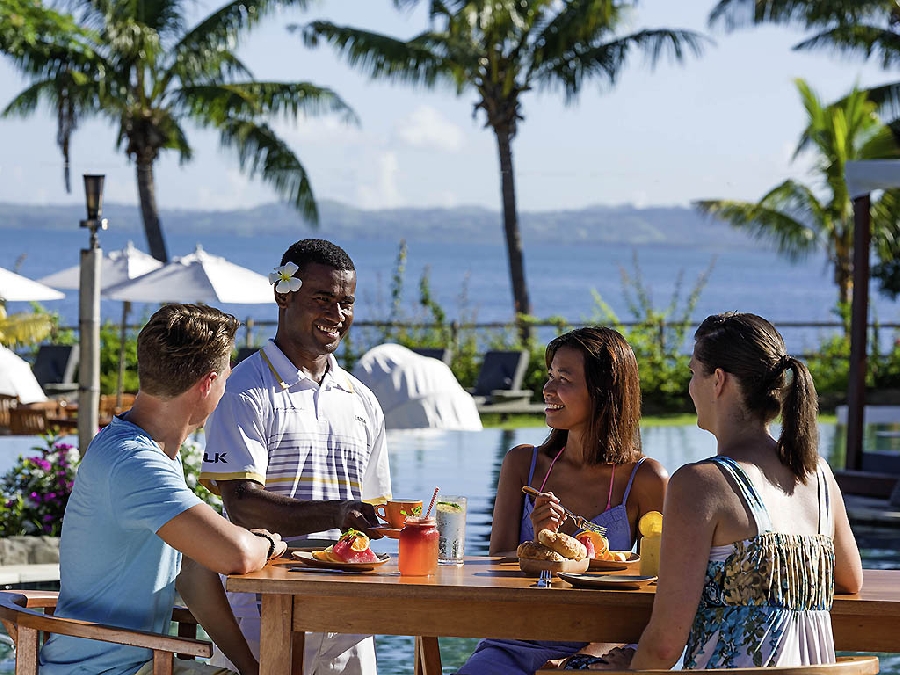 Denarau Island is well worth a visit to find an oceanfront restaurant at one of the resorts such as Radisson Blu or Sofitel to enjoy a delicious lunch. If there is anything else you have missed or might want to go back to, now is the time to do it! You might prefer to spend your last day relaxing by the resort pool or on the beach as there really is nothing like it.
DAY 9: MOCE NI SA MOCE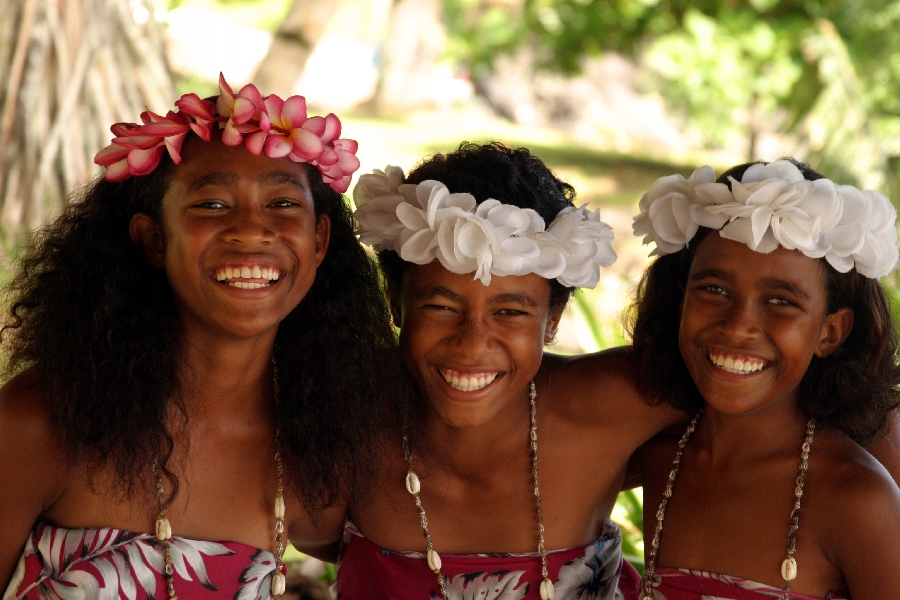 Unfortunately, even the best holidays must come to an end. Today you head back to Nadi to fly home after an incredible island experience that will leave you feeling revitalised and rejuvenated, like every holiday should. Drop your hire car off at the airport for a smooth departure and say goodbye to Fiji until next time.