Your Itinerary
From the fun, beachy vibe of Waikiki Beach to the beauty of Maui and off-the-beaten-path pursuits on Kaua'i and Hilo, the Hawaiian Islands offer enough to see, do and feel to fill a lifetime's worth of dreams. With 3 nights Waikiki Beach and 8 days cruising the islands, you'll have ample time to explore the spectacular beaches and lush valleys with onshore activities perfectly crafted to maximise your experience.
"And then there is the most dangerous risk of all the risk of spending your life not doing what you want on the bet you can buy yourself the freedom to do it later." - Randy Komisar
DAY 1: HONOLULU - WAIKIKI BEACH
Say 'Aloha' to gorgeous Hawaii with your direct flight to Honolulu. Your private car transfer driver will pick you up and take you to Waikiki Beach. Depending on your arrival time and room availability, you can either check-in immediately or drop your bags, grab a coffee, stroll along Waikiki Beach or go for walk to begin exploring this great destination. You'll find everything from historic landmarks to fine dining and world-class shopping.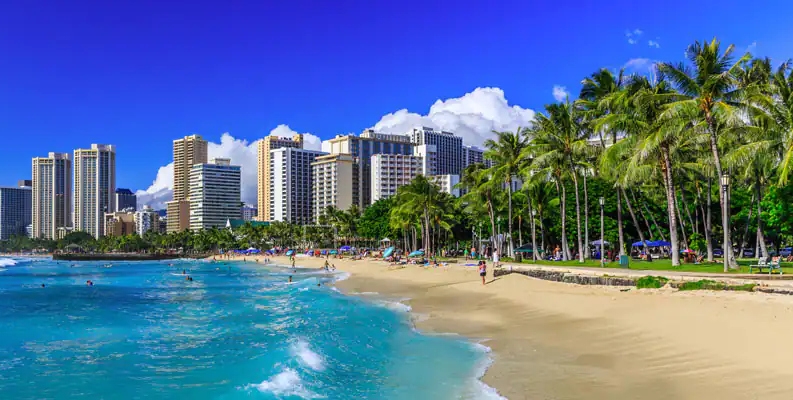 After checking into your accommodation, you have the rest of the day to relax at leisure. In the evening, enjoy the included sunset dinner cruise with traditional Polynesian show and Hawaiian buffet dinner. Start with a mai tai followed by a delicious dinner of tenderloin of beef steak and snow crab legs, an exquisite sunset, and an entertaining show.
DAY 2: WAIKIKI BEACH - PEARL HARBOUR
Perfect for anyone with an interest in the history of Pearl Harbour. Completely immerse yourself in WWII history today with a full-day touring the USS Arizona Memorial and Pearl Harbour Aviation Museum.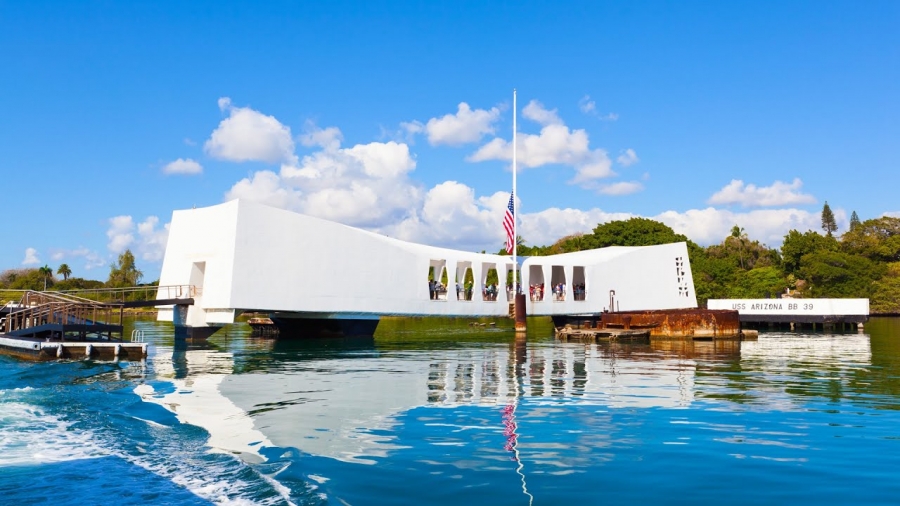 See an incredibly interesting collection of artefacts and aircrafts, stand where bombs fell in a way no one else can, ride the 360-degree Fighter Ace 360 Flight Simulator, and much more.
DAY 3: WAIKIKI BEACH - RELAX
Kick back and relax in Waikiki Beach. More than just a beach, attractions of Waikiki include the Honolulu Zoo and the Waikiki Aquarium. You can also learn about the history of Waikiki by reading the surfboard markers along the Waikiki Historical Trail.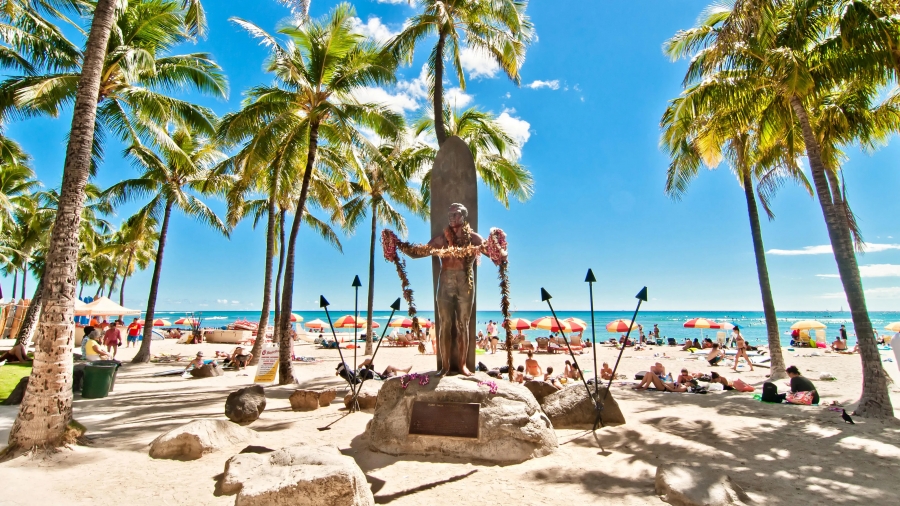 Among the various things to do, high-end boutiques, shops, and restaurants can be found all along Kalakaua and Kuhio Avenues and at gathering places like the Royal Hawaiian Center, the Waikiki Beach Walk and the newly transformed International Market Place. After the Waikiki sunset, the fun continues with amazing nightlife and live music.
DAY 4: HONOLULU (CRUISE DAY 1)
Check out of your resort this morning, leave your bags and head into Honolulu city. Your Lonely Planet guide will be invaluable when deciding how to spend your day. This afternoon you'll board your cruise ship to settle in. A full night of activities awaits.

DAY 5: MAUI (CRUISE DAY 2)
After a night of cruising, today you will dock in Kahului, Maui. A surplus of natural splendor and the genuine hospitality of its people have helped to make Maui Hawaii's second most popular island. Explore the fascinating history of the town of Lahaina, plant yourself on a pristine beach, or play one of the world's most beautiful golf courses.

Your cruise also offers a range of onshore excursions for you to take, such as Authentic Taste of Maui, a culinary tour designed to introduce you to a range of authentic Hawaiian dishes and beverages; Molokini Crater & Turtle Snorkel tour; a comprehensive tour of Maui's West, taking you to Iao Valley, Maui Tropical Plantation and the Maui Ocean Centre; and much more.
DAY 6: MAUI (CRUISE DAY 3)
Another day in beautiful Maui! Take the opportunity to soak up experiences you might've missed yesterday with another onshore tour, or explore at your own leisure, kicking back on one of its many golden sand beaches. In the evening, board your cruise ship and set your sights on the port city of Hilo.
DAY 7: HILO (CRUISE DAY 4)
The entire city of Hilo is like one giant greenhouse with spectacular tropical flowers at every turn. With a full day to explore, you have the opportunity to visit the town's well-preserved historic buildings, which date back to the turn of the century and showcase Hawaii's unique architecture.
Just 48 kilometers away, the Hawaii Volcanoes National Park is the home of the active Kilauea Volcano. You can visit this visually stunning countryside, with its lava fields from past eruptions and extraordinary black-sand beach composed of lava fragments, on an onshore tour.
Other activities you can participate in today include a comprehensive city tour, a waterfall and crater hiking tour, a ziplining adventure, and much more.
DAY 8: KONA (CRUISE DAY 5)
After a night of cruising, you will arrive in beautiful Kona. With sunny, warm weather and crystal blue waters, Kona offers the quintessential Hawaii experience.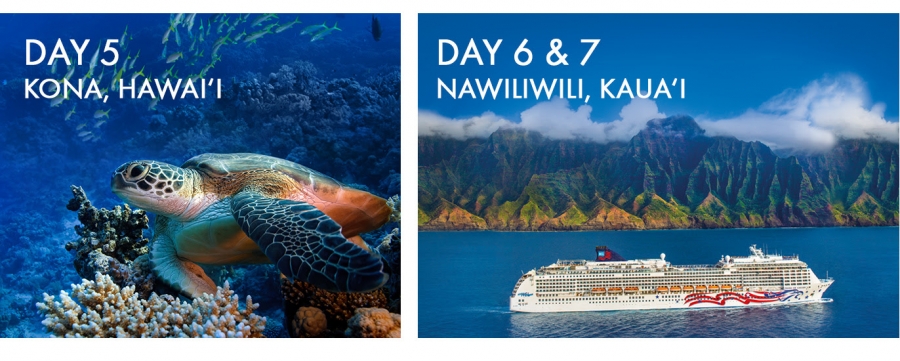 While here, we recommend you partake in a variety of surfside fun. Snorkel amongst a kaleidoscope of tropical marine life, take a surfing lesson or a kayaking trip, head out to deeper waters for some deep-sea fishing, and much more. The cruise line offers a variety of onshore tours and activities to help you make the most of your day.
DAY 9: KAUA'I (CRUISE DAY 6)
Leaving the mainland, you're off to visit one of Hawaii's smaller islands. Named after the Wiliwili trees, which once lined its picturesque harbour, this lovely port of Kaua'i is your gateway to what many believe to be Hawaii's most beautiful island. On "The Garden Island," nature is truly the star, from the dramatic mountains of Kokee to the cool rainforests of Haena.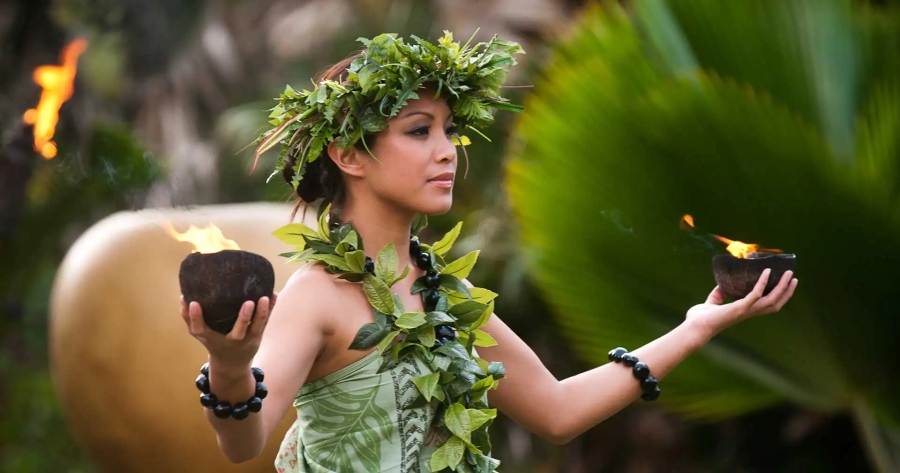 With overnight accommodation in Nawiliwili, you have the perfect opportunity to watch an extravagant luau while you dine on a delicious Hawaiian feast.
DAY 10: KAUA'I (CRUISE DAY 7)
With half a day left on Kaua'i, we recommend you embark on a guided journey to Waimea Canyon; discover this breathtaking gorge in the heart of Kauai that is one of the island's most dramatic natural attractions.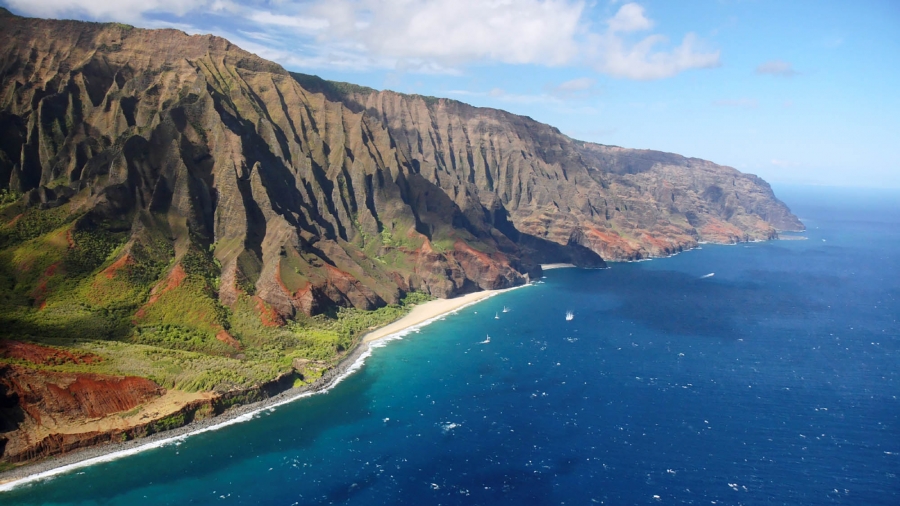 In the afternoon, enjoy a scenic cruising experience through the Napali Coast. Spanning 27 kilometers along Kauai's North Shore, the Napali Coast is a sacred place defined by extraordinary natural beauty. The emerald-hued cliffs with razor-sharp ridges tower above the Pacific Ocean, revealing beautiful beaches and waterfalls that plummet to the lush valley floor.
As this is your last full cruising day, take the opportunity to enjoy any onboard experiences you might've missed.
DAY 11: HONOLULU - RETURN HOME
The big, blue Pacific and stunning Koolau mountains serve as a dramatic setting for Hawaii's largest city, welcoming you back into Honolulu. Disembarking your cruise ship, say goodbye to any new found friends and make your way to airport for your flight home with your private airport transfer.
After such an unforgettable getaway, we're sure you'll be back. Until then you have the memories and photos you took along the way.