Border update 05/03/2021
Get ready to travel! State borders are getting more reliable. We will provide assistance with expert advice and border forms if required. Our "Border-proof travel guarantee" means that you will not be out of pocket if a border closes and you need to change your plans prior to trip commencement.
Border-proof travel guarantee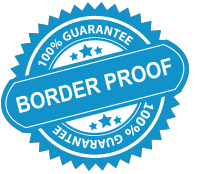 Guaranteed no cancellation or change fees. Travel today with genuine peace-of-mind.
Read about Australian Escapes Border-proof travel guarantee and learn why you should not be concerned about being locked out of your home state.
Confidence is already increasing. Don't wait for everyone to start booking.
Border status
With the vaccine roll-out state premiers are now easing restrictions and maintaining stability.
NSW:
From 24/02/2021: Travel to NSW is currently open to all states. No permit required.
Conclusion: Travel to New South Wales is currently GOOD TO GO from all states.
VIC:
From 24/01/2021: You will need to apply for a permit to enter Victoria from anywhere in Australia. Apply for a permit. The permit system is based on a traffic light system (Arrgh!!) which allows for areas across Australia to be designated as green, orange or red according to their risk. All areas of Australia are currently in the 'green zone'. Find more information about red, orange and green permit zones.
Conclusion: Travel to Victoria is GOOD TO GO.
QLD:
From 13/02/2021: The Queensland border is open to all except people who have been in a COVID-19 hotspot in the last 14 days or since the hotspot was declared (whichever is shorter). There are currently no declared hotspots in Australia.
Conclusion: Travel to Queensland is GOOD TO GO.
WA:
From 27/02/2021: Interstate and international arrivals need to complete a G2G PASS declaration to enter WA. You will not be required to quarantine if you are travelling from TAS, SA, QLD, ACT, NSW or NT. Travellers from VIC are required to have a suitable premises to enter self-quarantine for 14 days. If not, you will be directed to enter a Government-approved quarantine facility at your own expense for 14 days.
Conclusion: Travel to Western Australia is GOOD TO GO provided you are not travelling from VIC.
SA:
From 26/02/2021: All travellers coming to South Australia are required to complete a Cross-Border Travel Registration. People arriving directly from ACT, SA, NT, NSW, QLD and TAS are able to travel without restriction. If you are planning travel to SA, aim to complete the registration form at least 14 days before you leave, regardless of where your travel begins.
Conclusion: Travel to SA is GOOD TO GO.
TAS:
From 26/02/2021: Travellers from low-risk areas must still register via the 'Tas e-Travel' system within 72 hours prior to arrival. All states of Australia are currently low risk.
Conclusion: Travel to Tasmania is GOOD TO GO.
NT:
From 17/01/2021: Anyone arriving in the NT must complete a Border Entry Form. You will have to quarantine if you have been in a declared COVID-19 hotspot (There are currently no active Australian hopspots).
Conclusion: Travel to Northern Territory is GOOD TO GO.
NORFOLK ISLAND:
From 25/02/2020: All visitors and travellers to Norfolk Island MUST apply for a NORFOLK ISLAND TRAVEL PASS. Persons travelling to Norfolk Island will be free to enter Norfolk Island without quarantine as long as they have not come from any Commonwealth declared COVID Hotspots. There are currently no active Australian hotspots.
Conclusion: Travel to Norfolk Island is GOOD TO GO.
NEW ZEALAND:
From 23/11/2020: Travellers to New Zealand from all countries are tested for COVID-19 and a 14-day managed quarantine or isolation is mandatory.
The general view is that quarantine-free travel to New Zealand will be possible before June 2021. In all likelihood, there will be state-by-state arrangements, starting with New South Wales.
Conclusion: Travel to New Zealand is NO GO but looking positive for around June 2021.
AIRLINE POLICIES (SUBJECT TO CHANGE):
Jetstar:
Tickets are non-refundable. Date and time changes are allowed with a $55 change fee per person plus any fare difference if applicable. Free changes are available with eligible higher priced fare types.
Virgin Australia:
Tickets are non-refundable. You can pay a fee and fare difference to change the flights with upgrade to next available fare. Free changes are available with eligible fare types.
Qantas:
Tickets can be changed free of charge through to January 2022.
On a side note...
The evidence https://www.worldometers.info/coronavirus/country/australia/ literally shows that for 99.99% of people Covid 19 is no worse than a mild flu. Of those (usually very elderly) who have died to date in Australia, only a handful had positive PCR tests and no other known medical issues. The overreaction is extremely hard to explain. The USA and UK statistics are much the same as Australia.